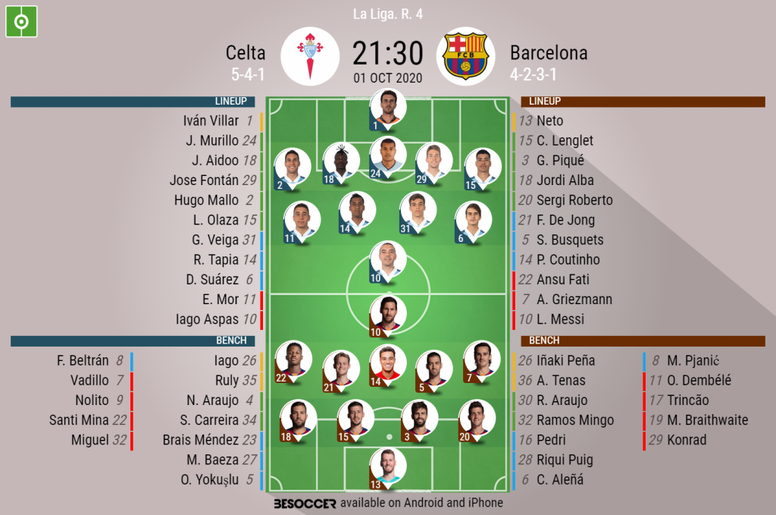 Celta v Barcelona - As it happened.
Post.
Thanks for joining me at the Abanca Balaídos. Celta Vigo were in the game at times but was unable to create chances against a far superior Barcelona team who looked close to their best tonight.
96'
That's that - a dominant Barca performance ends in a 3-0 win!
95'
GOAL BARCELONA: Messi at the centre of it again for the Catalans. This time a bit of individual brilliance from him as we entered the last minute of added time saw his shot blocked before the ball fell to Sergi Roberto who volleyed home perfectly for 3-0.
94'
Another Barca counter stopped, another Celta Vigo foul, another yellow card. This time it's Olaza who takes the hit.
93'
Another Barca counter stopped, another Celta Vigo foul, another yellow card. This time it's Olaza who takes the hit.
93'
Trincao picks off a stray pass and counters but losses control at the crucial moment.
91'
Pedri is fouled out of frustration as soon as he picks up the ball on the edge of the Celta Vigo box.
90'
Another cross in from Celta Vigo is sent wide.
89'
Messi gives away a free-kick whilst pressing Murillo in the Celta Vigo box.
88'
Celta earn back-to-back corners. They really need to make their chances count now if they are to have any chance of getting something from the game.
87'
Another yellow - this time it is Busquets with a late challenge just inside his own half.
86'
Celta Vigo keep on pushing but it just isn't going to be their night.
85'
Alba picks up a booking for that challenge.
84'
Oooooh - Barca broke away with Messi on the counter, his ball through was meant for Jordi Alba who slid into to Iván Villar with both players taking boots in the face. Both seem ok to carry on.
84'
Nolito forces a great save from the free-kick.
83'
Celta Vigo free kick on the edge of the box.
82'
Barca break away with Messi and Trincao but the final ball is cut out by Murillo.
80'
De Jong wins a free-kick on halfway.
79'
Nolito opens up his body well and shoots from the edge of the box. It looked in for a split second but ends up dropping just wide of the right post.
79'
Another Barca corner but this one is straight out for a goal kick.
77'
Celta Vigo continue to look the more likely but every move from them at the moment is ending with a sloppy pass going out of play.
75'
The Brazilian Murillo is the one who picks up the booking for a foul on Messi this time.
73'
Superb double save from Neto! Aspas takes the first effort on the left-hand corner of the six-yard box before the rebound falls directly into the path of Baeza 6 yards out who's tap-in is half blocked by Piqué half saved by Neto.
72'
Barcelona: Double change for them as Ansu Fati and Phillipe Coutinho go off. They are replaced by Francisco Trincao and Pedri.
71'
Piqué´s header is poor and away.
70'
Messi sends the freekick into the wall but earns a corner.
69'
Booking for Tapia after his challenge on Coutinho.
69'
Barca just happy to sit back and absorb the Celta Vigo pressure at the moment.
67'
Nolito tries to go on his own but loses possession poorly.
66'
Teasing ball in from Veiga on the far side with Aspas in the middle but no one could get a touch on it and it runs all the way through for a Barca throw.
65'
A long break in play here whilst the referee changes his microphone pack.
63'
Worrying for Barca - Piqué picked up a knock after colliding with the post when diving for that Messi cross. He is up now though and appears ok to carry on.
62'
Beautifully curled ball in from Leo Messi right onto the head of Piqué who was diving in at the far post but he couldn't get a touch on it.
62'
Headed away for yet another corner.
61'
Villar comes a long way for the ball and clips it before the wind carries it behind for another corner.
60'
Coutinho and Messi looking supreme again, a great bit of play between the two of them this time forces a great save from Villar and wins a corner.
59'
Messi turned it in after Coutinho's speculative effort as spilled into his path by Villar but it was ruled out for offside - VAR is checking.
57'
Barcelona on the defensive for now as Celta up the pressure.
56'
Header is wide for a Celta goal-kick.
55'
Messi grabs the game by the scruff of the neck again with a sensational bit of individual play before playing it into Ansu Fati who drops his shoulder and shoots well but sees his effort deflected wide. Corner to come.
54'
Aspas presses high and fouls Araujo.
53'
Celta are trying to create something now - a couple of potshots but nothing doing so far.
51'
GOAL BARCELONA: A beautiful bit of tiki-taka from Barca ends up with Messi beating three of four defenders all on his own before his shot from a tight angle is deflected on a defender and past a hopeless Villar. Lionel Messi really showed his brilliance there - simply stunning.
51'
Barca hold possession with a series of throw-ins on the Celta Vigo corner flag.
48'
Barca are pushing much higher out of the break - pinning Celta in and giving them no time to think. It is opening up spaces in behind though if Celta can play the outlet pass and counter.
47'
Booking for Araujo for his off the ball challenge on Ansu Fati.
46'
Celta Vigo: a half-time change sees Aidoo off after he took a knock at the end of the first half. He is replaced by Miguel Baeza as Celta switch to a back four.
46'
Back underway at the Abanca Balaídos after a short delay whilst Piqué, Messi and Koeman complained to the ref in the tunnel (presumably about Lenglet's sending off) - what does the second half have in store?
45'
That's finally it for the first half here - Barca have the lead through Ansu Fati but are down to 10 men after Piqué's second yellow card.
45'
Barca win a corner from the resulting free-kick.
45'
A crazy couple of minutes t the end of the first half here as Aidoo comes back on and is immediately booked for his challenge on Lionel Messi.
45'
This time its Aidoo down - should be ok to carry on though.
45'
Barcelona: Griezman goes off - presumably injured, and is replaced by youngster Araujo.
45'
Three added minutes to come.
44'
Messi kept arguing with the ref for a good two minutes - in the end the resulting free-kick comes to nothing.
42'
Lenglet is off! No VAR this time - Second yellow for the Frenchman who needlessly sticks out an arm whilst tracking back that catches Suarez in the face. Silly from him already on a booking. Messi and Piqué are protesting profusely.
40'
Messi so nearly beats Villar with a wickedly Bendig ball in directly from the corner! Looked intentional too - very bold from the Argentinian.
40'
Griezman sees his cross blocked and behind for a corner.
39'
It's Fati now who wins a free-kick after being dragged down whilst charging forward.
38'
Fati ignites the play with a great attacking run and ball in towards Messi. Villar is quick off his line though and cuts it out.
36'
VAR: spots the offside and overturns the red card!
35'
Piqué is sent off for a very sloppy challenge! VAR check is ongoing.
35'
Celta Vigo enjoy a good spell in Barca's half before Messi carries it forward.
32'
Celta Vigo: A slight knock has forced Fontán off - he is replaced by Araujo.
31'
Aspas carries it forward on the counter for Celta Vigo. It was 2 on 2 and he had Tapia in the middle but shot himself from a tight angle and it was a simple save for Neto.
30'
Neither side really dominating at the moment - both with brief periods of possession that comes to nothing.
27'
Barcelona with a brief foray forward on the counter and appeared to have all the space in the world but Griezman gave it away poorly and the defence recovered.
26'
Veiga plays the ball of Piqué to earn Celta a corner
25'
Straight into the wall from Aspas.
23'
Lenglet picks up a booking for a sloppy challenge that leaves Celta with a free-kick on the edge of the Barca box.
22'
Barcelona just look so composed on the ball at the moment - Koeman has them back playing like Barca should play (for now at least!)
19'
Barca back in Celta Vigo's half for the last couple of minutes - it appears like normal service may have resumed after that briefly positive period for Celta.
17'
It's a long-range effort from Denis Suárez that forces the Neto save this time. Fairly comfortable for the Spanish keep though.
15'
And just like that Celta come forward. Mor fizzes a cross across the face but Neto gets down to it fairly easily before Piqué heaves it away. Better though from Celta Vigo!
14'
Barca are just holding the ball on the edge of the Celta area - exactly how the move for the first goal started. Celta seem content with sitting back and hitting Barca on the counter for now but it is going to be a long night for them if they can't get more of the ball.
11'
GOAL BARCELONA: Ansu Fati. That was truly beautiful football from Barcelona - everyone involved on the edge of the box before Griezman squares it to Coutinho who clips a beautiful ball through the back four for teenage sensation Ansu Fati to calmly tap home.
9'
Sloppy challenge for Aspas on Jordi Alba wins Barca a free kick in their own area.
8'
Much better from Barcelona - De jong and Messi combine beautifully but it ends with a Griezman volley going over the bar.
7'
Barca are being pinned in superbly by Celta at the moment - they can't get out their own final third!
5'
Messi carries it forward well before playing it wide to Coutinho who gives it away poorly.
4'
It's Celta with the first shot of the game! Aspas breaks through after a lovely pass but trips and scuffs it wide.
3'
Celta are coming into the game a bit more now, a short period of possession just inside Barca's half.
2'
Barcelona start the more confident, winning a free kick on half-way and taking it quickly. The move breaks down though and it is a Celta goal-kick.
1'
We are underway at the Abanca Balaídos!
Prev.
The teams are out here at the Abanca Balaídos!
Prev.
Celta Vigo have been a bit of a bogey team for Barcelona in recent seasons, taking points off the Blaugrana in 7 of their last 10 encounters, including a 2-2 draw last season - can they do the same tonight?
Prev.
Barcelona: Neto; Sergi Roberto, Gerard Pique, Clement Lenglet, Jordi Alba; Sergio Busquets, Frenkie de Jong; Antoine Griezmann, Philippe Coutinho, Ansu Fati; Lionel Messi.
Prev.
Celta Vigo: Ivan Villar; Hugo Mallo, Jeison Murillo, Joseph Aidoo, Jose Fontan, Lucas Olaza; Emre Mor, Renato Tapia, Gabri Veiga, Denis Suarez; Iago Aspas.