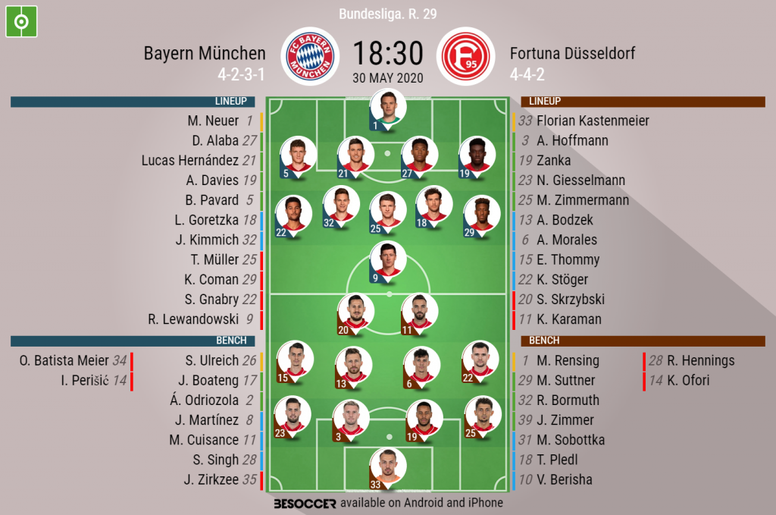 Bayern München v Fortuna Düsseldorf - as it happened
Bayern München

Fortuna Düsseldorf

Post.
Thanks for joining me today. See you next time for more Bundesliga action.
90'
FT: Bayern 5-0 Fortuna Dusseldorf. A very comfortable win for the hosts which sees them ove 10 points clear, Dusseldorf remain third bottom.
90'
Suttner is booked for Dussledorf.
83'
Bayern have a deflected shot that goes wide.
80'
Bayern will go 10 points clear, surely they can't be caught now.
79'
It's actually Batista-Meier's Bayern debt today.
78'
Bayern sub: Gnabry off for Batista-Meier.
75'
Bayern sub: Mueller off for Zirkzee.
74'
Dusseldorf sub: Pledl on for Sobottka.
70'
Gnabry wriggles his way into the net and his shot is saved well. Attack after attack.
67'
Cuisance spots a gap in the goal from his free-kick from far our but it goes miles over the bar.
67'
Dusseldorf sub: Suttner on for Thommy.
67'
Dusseldorf sub: Zimmer on for Zimmermann.
65'
Giesselmann's effort is parried by Neuer. Decent save.
65'
Berisha's deflected shot hits the side netting.
63'
Mueller blazes a shot over the bar from 7 yards out. You'd have expected him to smash the ball into the net.
62'
Bayern sub: Odriozola on for Pavard.
62'
Bayern sub: Perisic on for Coman.
61'
Thommy has a shot from about 30 yards out which doesn't trouble Neuer.
59'
Close from Dusseldorf. The cross comes in for Hoffmann but he heads wide. He should have scored.
56'
Dusseldorf sub: Sobottka on for Morales.
56'
Dusseldorf sub: Berisha on for Stoger.
56'
Another shot for Bayern. Pavard hits the half-volley from far out and the keeper gets down to his left and parries away.
55'
Davies crosses in for Lewandowski but he heads it over the bar.
53'
Incredible. Davies works his way into the box and he slots it past Kastenmeier.
51'
Cuisance has a shot from inside the box that goes over the bar.
51'
And it's 4-0 to Bayern Munich. Gnabry crosses and Lewandowski backheels it into the net through the goalkeeper's legs.
49'
Bayern don't look like they are taking the foot off the gas here.
46'
Bayern sub: Cuisance on for Hernández.
45'
HT: Bayern Munich 3-0 Fortuna Dusseldorf. This is easy for Bayern so far. It could easily be more in the 2nd half. An own goal and goals from Pavard and Lewandowski.
44'
Lovely play from Bayern Munich. Kimmich plays it back to Mueller, who plays it back to Lewandowski who knocks it into the net. Lewandowski has now scored against every team in the Bundesliga throughout his career.
38'
Gnabry has a shot from the edge of the box which goes over the bar.
37'
Bayern are passing the ball around very well.
33'
Karaman has a shot which is blocked by Davies. Best chance of the game for Dusseldorf.
30'
And Bayern make it 2-0. Kimmich crosses in and Pavard gets up and heads it into the net. Kastenmeier gets a touch to it but he can't keep it out. No doubt that it was Pavard's goal this time.
28'
Almost 2-0. Pavard crosses in for Mueller, but Kastenmeier gets down to his left and puts it out for a corner.
27'
Karaman is booked for a high foot on Hernández.
21'
Bayern could easily get more here. They look so dangerous when they go forward.
16'
And Bayern take the lead. Mueller plays the ball to Gnabry at the back post, he plays it back to Pavard and his effort is deflected in by Zanka. It'll go down as an own goal.
13'
Pavard has a very very ambitious shot from far out that goes wide.
11'
Dusseldorf are playing a good line here. Bayern have been caught offside again.
9'
I've said it before and I'll say it again. It's such a shame that this famous stadium is empty. Hopefully fans can be back soon.
6'
Kimmich flicks the ball over the top to Lewandowski but his touch is too hard and it goes to the keeper. He was offside though.
3'
First chance goes to Dusseldorf. The ball is cut back to Morales but he hits his shot from outside the box straight at Neuer.
2'
Close from Bayern. The ball is played to Davies on the left, he crosses in for Lewandowski but the striker just misses it. Davies was offside though.
Prev.
Also keep an eye on Gnabry who could get his 12th goal.
Prev.
Lewandowski could get his 28th goal today, while Hennings could get his 13th goal of the season.
Prev.
Bayern make 1 change from the side that beat Dortmund 1-0. Boateng is out for Hernández.
Prev.
Bayern have scored 8 goals in their last 2 matches against Fortuna Dusseldorf, and 24 in their last 6 Bundesliga matches against them. Last time they failed to score at least 3 goals at home to them was in 1996.
Prev.
Fortuna Dusseldorf XI: Kastenmeier, Zanka, Hoffmann, Giesselmann, Zimmermann, Stoger, Bodzek, Morales, Thommy, Karaman, Skrzybski.
Prev.
Bayern Munich XI: Neuer, Pavard, Hernandez, Alaba, Davies, Kimmich, Goretzka, Gnabry, Muller, Coman, Lewandowski.
Prev.
Hello and welcome to the Allianz Arena as Bayern Munich look to take one step closer to winning the league. If they win they will go 10 points clear, with Dortmund having 6 games left. Dusseldorf can move out of the playoff spot if they win. Team news to come.