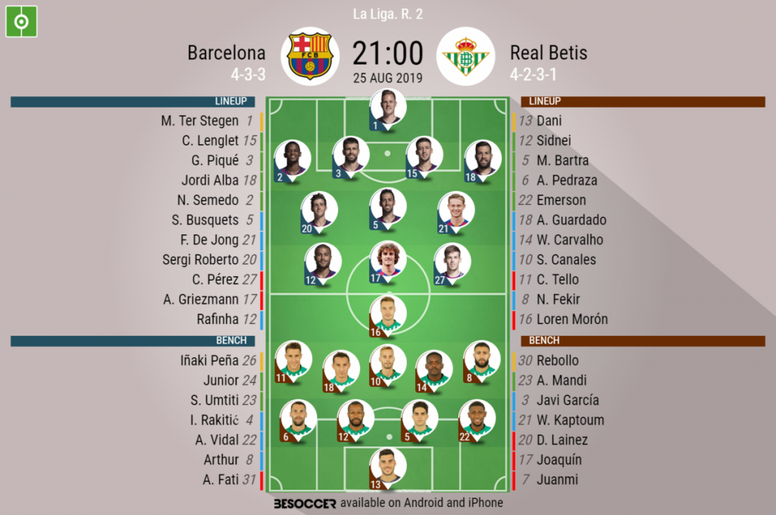 Barcelona v Real Betis - as it happened
Barcelona

Real Betis

93'
FT: Barcelona 5-2 Real Betis!!! All over here at the Camp Nou!!! Barca beat Betis on a great night for the home side. It was an easy win after Fekir gave them an early scare. Griezmann (2), Perez, Alba and Vidal all responded before Loren completed the scoring with a stunner. Fati even had time to make his debut. That's all from us, thanks for your company and enjoy the rest of your evening!
91'
Dani Martin saves from Griezmann! Corner.
90'
Carvalho sees it for pulling down and catching Roberto high with his leg.
89'
Fati makes another great run and he goes down just outside the box. No foul is given.
86'
Fati!!!!! He goes past Pedraza and his shot just goes a whisker past the far post.
84'
Betis attack again and Loren's cross goes to the goalie.
82'
Fati passes to Vidal in the area, but the Chilean can't do anything with it.
81'
Barca sub: Rafinha goes off and ex-Betis man Junior is on.
79'
Unbelievable!!! Griezmann plays a crazy back towards his own goal straight to Loren and he absolutely thumps it into the corner from 25 yards! Super strike. A mere consolation, but still.
78'
Barca sub: Perez off and Ansummame Fati is on. He's 16 and he is the second youngest player to ever put on a Barca shirt in a competitive game.
77'
Arturo Vidal scores now!!!! Perez charges down the middle of the pitch, he finds Griezmann to his left and he hits first time to Vidal on the right. The Chilean then hits a stunner right in the top corner. Off the post and in!
77'
Fati is getting ready to come on.
75'
Betis sub: Lainez replaces Canales
74'
Barca sub: Busquets off and Vidal on.
73'
Betis attack and Emerson's cross is so powerful is goes into the row seven on the other side of the field!
71'
Busquets is getting treatment after clashing accidentally with Joaquin.
68'
Alba is down injured after going for the ball with Fekir.
63'
Barca have had the cutting edge in the second half which they lacked in the first half and in Bilbao. The equaliser was key.
62'
Betis have seen this game slip away from them in 20 mins. 4 goals in 20 mins, three of them since half-time.
61'
Betis subs: Joaquin and Kaptoum on for Guardado and Tello.
60'
It's four!!! Jordi Alba gets in the act now! Betis are capitulating. Brilliant play by Barca, Busquets passes it for Alba who knocks it past Martin.
59'
Barca are in complete control of this now. There looks no way back for the away side.
56'
Perez gets his goal!!! Busquets starts it by winning the ball off Betis and Semedo cuts it back from the byline to Perez. He keeps his composure and shoots from outside the box to the right of Martin!!! Clear daylight between the two teams now.
54'
Chance for Carles Perez!!!! Betis are dispossessed, Barca counter and he hits it just wide of the goal from the edge of the box.
52'
Carles Perez's shot is deflected for a corner.
51'
Griezmann goes to someone in the corner and throws confetti up in the air to celebrate! That's an unusual one.
50'
What a brilliant goal by Griezmann!! Sergi Roberto lays it off to him just outside the box and he takes his time, picks his spot and slots it into the far corner past Dani Martin's outstretched hand.
48'
Griezmann is penalised for a foul from behind on Fekir. The Barca man can't believe the call.
47'
Griezmann feeds Perez and the youngster hit wide with his weaker right foot. It went well wide.
46'
Welcome back everyone! Betis get us going again!
45'
HT: Barcelona 1-1 Betis!!! Half-time at the Camp Nou in an entertaining first half. Barca were the much better team, but Fekir gave Betis a shock lead. Barca continued to attack and when it looked like they would trail at the break, Griezmann volleyed home to level the scores. See you shortly for the rest of this one.
45'
The ball has burst after someone's studs pierced it. Interesting.
43'
Rafinha misses a tap in by a whisker!!!! Perez's cross was perfect for Rafinha and he somehow couldn't make contact with the ball.
41'
Griezmann makes it all square!!! Carles Perez on this near side passes inside for Roberto and he puts in a pinpoint pass for Griezmann. The Frenchman runs onto it to volley home from less than 10 yards out. Fully deserved.
40'
Barca are penalised for a foul on Fekir. It may be Busquets who fouled him.
38'
Canales accidentally handballs inside his own box and nothing is given. Good call.
37'
Rafinha!!!!!! Alba squares from Betis' right after Busquets' great pass and Rafinha sees his goalbound hit deflected behind by Sidnei.
35'
Loren is inches away from getting on the end of the cross at the other end!
34'
Rafinha goes down in the box and wants a penalty!! Nothing is given and he just goes down. Roberto may have been offside in the build up.
33'
Fekir's free-kick along the ground is claimed at the second attempt.
32'
Pique goes in the book for a foul on Fekir. That was quite cynical and as it was going away from goal, it's only yellow.
30'
Guardado is down injured, but he gets up after a short while.
29'
Barca again boo as a goal kick is given, but this one definitely looked a corner. Not getting the rub of the green.
27'
Lenglet clearly obstructs Loren. No card is shown, just the foul.
26'
Barca are doing all the attacking, but they are lacking the cutting edge to penetrate the solid Betis back line.
26'
Not a handball by Loren as it's completely by his side.
25'
Sidnei deflects Roberto's effort and it's a corner. Griezmann's shot is blocked from the set piece.
23'
Barca want a corner, but the ref says goal kick.
22'
Barca are still losing and there is the odd whistle now in the stands.
20'
69% possession for the home side.
19'
Guardado concedes a corner after sliding in to prevent Perez gettign the ball.
15'
Betis have scored through Fekir! Unbelievable!! Rafinha doesn't focus as Busquets passes to him, Betis get the ball, play a few quick passes and then Loren plays in Fekir who makes no mistake!
14'
Griezmann gets the ball from Rafinha and he scuffs it straight to the goalie.
13'
What a chance! Alba's cross from the far side goes for Roberto 10 yards out who jumps. but can't get good contact on the header.
12'
Barca are surrounding the Betis box and the away side are defending solidly.
8'
What a brilliant backheel by Rafinha to pass for Alba after a superb team move, but Pedraza closes down Alba to end the move. That was brilliant! Griezmann is then caught offside.
7'
Griezmann curls a shot from outside the box which deflects off Sidnei for a corner.
6'
Perez passes to De Jong inside the box and he should have shot!!! He tries to pass it Roberto and it doesn't reach him.
6'
Alba goes down inside the box, but there's nothing there.
4'
Rafinha sees his shot blocked after good team play which started from just inside Betis' half. Alba gave Rafinha the ball.
3'
Nothing major has happened up to now. Barca having lots of possession.
1'
Betis won this fixture 3-4 last season
1'
Barca get us going and they are shooting from left to right!
Prev.
Busquets and Guardado shake hands in the middle and both teams are in their usual kits. This is about to start!
Prev.
The players are now making their way out onto the pitch!
Prev.
Anssumane Fati is on the bench for Barca and he's just 16 years of age.
Prev.
27 degrees this evening in Barcelona.
Prev.
Jose Luis Gonzalez Gonzalez is the referee this evening and Juan Martinez Munuera is the VAR.
Prev.
Barca lost 1-0 at Athletic Bilbao last week while Betis were defeated at home 1-2 by Valladolid.
Prev.
Messi got injured before the start of the season, Suarez went off at Bilbao last week and Dembele is out for five weeks after getting a hamstring injury in training.
Prev.
What an opportunity this is for Carles Perez. The youngster showed some signs of quality in the bits we saw of him in pre-season and due to Barca's numerous injuries up front, he gets his chance tonight. He's just 21.
Prev.
Betis team: Dani (GK); Pedraza, Sidnei, Bartra, Emerson; Tello, Guardado, Canales, Carvalho, Fekir; Loren
Prev.
Barca team: Ter Stegen (GK); Alba, Lenglet, Pique, Semedo; De Jong, Busquets, Sergi Roberto; Perez, Griezmann and Rafinha.
Prev.
Good evening and welcome to our live coverage of the La Liga game between Barca and Betis! Will Barca take advantage of Real's slip up yesterday?