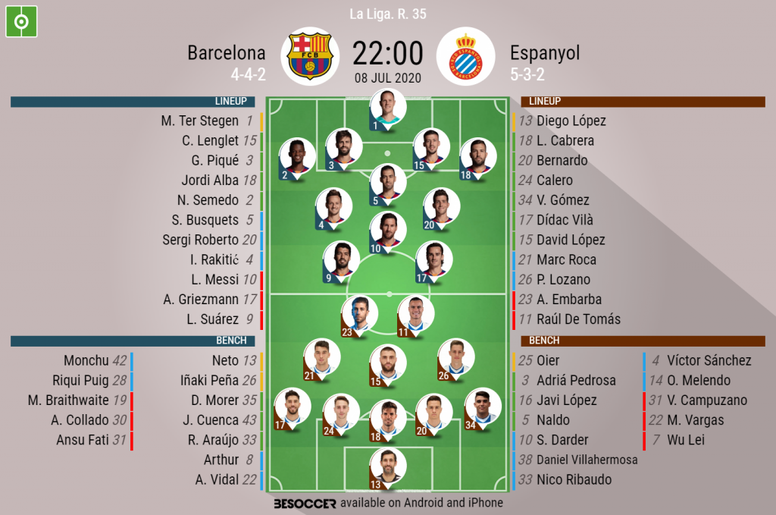 Barcelona v Espanyol - as it happened
Post.
Thanks for joining me today. See you tomorrow for the Manchester United match.
96'
FT: Barcelona 1-0 Espanyol. A narrow win for Barcelona thanks to a Luis Suárez goal. Barca pile the pressure on Real Madrid and Espanyol are relegated.
95'
Bernardo has a header that just goes over the bar. That'll be it.
93'
David López is booked for a foul.
92'
Big 3 minutes left for both teams.
91'
Barca sub: Araujo on for Rakitic.
90'
De Tomás has a shot from outside the box that Ter Stegen gets down and parries.
86'
Looks like Espanyol will be going down. They need something fast.
82'
Barca sub: Suárez off for Braithwaite.
75'
Just over 15 minutes left for Barca to hold on or get another and Espanyol to get two.
71'
Barcelona sub: Vidal on for Griezmann.
68'
What a save from the Espanyol keeper. The ball is played to the back post and Messi hits the volley as sweet as a nut, and the keeper pulls off a cracking save. Almost 2.
67'
An Espanyol shot is fired over the bar.
66'
Espanyol sub: Darder on for Calero.
63'
Espanyol need two goals while Barca only need to win because goal difference doesn't count as Madrid have a better head to head.
58'
So Espanyol are currently going down here and Barca are keeping the title race alive.
56'
And Barca are in front. Griezmann backheels it to Messi, his shot his blocked and Suárez slots it in.
54'
Griezmann has a header which goes wide.
53'
WHAT IS GOING ON ON THIS MATCH. Two VAR calls in the space of three minutes to send players off. 10 v 10 in this derby and what a spectacle we have.
53'
And VAR is checking once again.
52'
Lozano is booked for a foul on Piqué.
50'
FATI IS OFF!!! We have the exact same situation to Nketiah yesterday. Two young players just coming on the park and being sent off straight away for a high challenge. Setién has his hands on his head.
50'
VAR is checking to see if it should be more.
49'
Fati is booked for a foul on Calero.
46'
Barcelona sub: Roberto off for Fati.
45'
HT: Barcelona 0-0 Espanyol. Barca could actually count themselves lucky not to be behind as Espanyol have had the better chances.
44'
Oh my, what a chance. Dídac has just hit the post for Espanyol. Could have been 0-1.
41'
I wonder if Real Madrid will be watching on. In fact, if Barcelona draw this then it would be two home draws in a row.
36'
Just one shot on target so far.
31'
If Espanyol can get in at the break level then they will be very pleased.
27'
Only one shot on target so far and it was from Espanyol.
25'
Suárez is through and his shot is deflected wide.
22'
Messi steps up and hits it over the bar.
21'
A foul for Barcelona right at the edge of the box. A good chance here.
20'
Barcelona's next match after this is on Sunday away to Real Valladolid.
15'
Espanyol have done pretty well so far.
10'
First chance of the match actually goes to Espanyol. Ter Stegen makes a decent save with his foot from inside the box.
7'
A must win match this is for Barcelona.
5'
Still no chances yet in the match. Barca on top slightly.
Prev.
A reminder that if Espanyol don't win tonight then they are down.
Prev.
Barcelona are 4 points behind Real Madrid and can cut the gap to one point with a win. If they lose, then Madrid can win the league on Monday night against Granada.
Prev.
Espanyol haven't beaten Barca since 2018, they haven't beaten Barca in the league though since 2009. They will have to beat them tonight to stay up.
Prev.
A big game here. Barca need to win to keep the pressure on Real Madrid while Espanyol need to win to stay up.
Prev.
Espanyol XI: Diego López, Víctor, Bernardo, Cabrera, Calero, Dídac, Pol Lozano, David López, Marc Roca, Embarba and Raúl De Tomás.
Prev.
Barcelona XI: Ter Stegen; Alba, Lenglet, Piqué, Semedo; Roberto, Busquets, Rakitic, Messi; Luis Suárez and Griezmann.
Prev.
Hello and welcome to this crucial La Liga match. Team news to come.