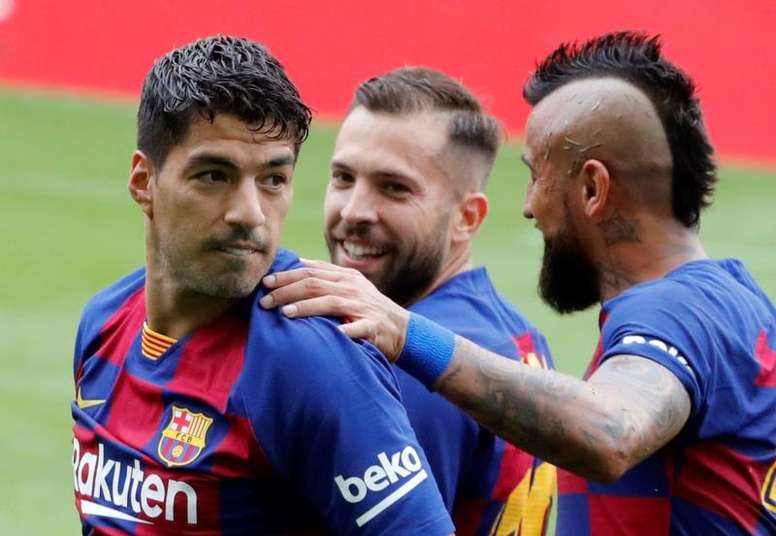 Suarez makes history: Barça's third top scorer
Luis Suarez scored the goal in Barcelona's victory over Espanyol in the Catalan derby, a goal that allowed him to enter the history of the team by becoming the third top scorer of the club.
The Uruguayan striker has now scored 195 goals in his sixth season with the club, which has earned him a place on the podium of Barça's top scorers, surpassing Ladislao Kubala himself.
That's what Barça say, but according to data from 'ProFootballDB', BeSoccer's statistical laboratory, Salto's has scored 194 goals in 278 matches. T
Following on from Barcelona's figures, the Catalan side shared this grandiose record on social media, with the Charrúa striker having already beaten Josep Samitier's 184 goals this season with his strike against Valladolid on 29 October.
A historic goalscoring record that comes after 278 official matches wearing the blue and burgundy kit, with LaLiga his clear preferred competition at 146 goals.
He has scored 23 goals in the Champions League, 19 in the Copa del Rey, five in the Club World Cup, one in the European Super Cup and one more in the Spanish Super Cup. In addition, of these goals 143 have been with the right leg, 33 with the left and 19 were headers.
July 9, 2020
As for titles, the 33-year-old forward has lifted a total of 13: four LaLiga titles, four Copa del Rey titles, one Champions League title, two Spanish Super Cups, one European Super Cup and one Club World Cup.
The Uruguayan international already has just two players to overtake: Leo Messi, 630, and César, 232. The 'Pistolero' is just 37 goals away from becoming Barcelona's second-leading scorer.