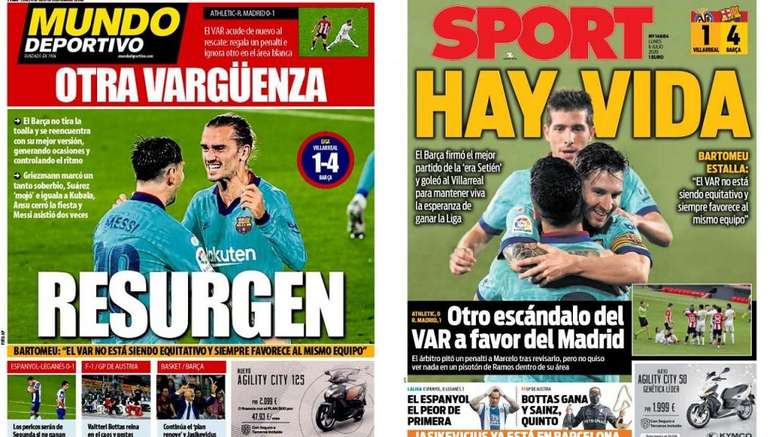 Barcelona complains: "Another VAR disgrace" in favour of Madrid
Madrid are closer than ever to winning LaLiga. The team won in Bilbao thanks to a penalty from Sergio Ramos (0-1).
Zidane's victory in Basque lands had some controversy. The captain's stamp on Raul Garcia was not seen by the referee or VAR.
For the Catalan press, the scandal was huge. Mundo Deportivo' headlined "Another VAR shame" and highlighted the favouritism towards Madrid.
"VAR comes to the rescue again: they give away a penalty and ignore another one in Real Madrix's box", said the Catalan newspaper, which also highlighted Barça's resurgence after beating Villarreal.
The newspaper 'Sport' was in the same line: "Another VAR scandal in favour of Madrid", it said in its cover.
"The referee gave a penalty to Marcelo after checking it, but he didn't want to see anything in a Ramos' step to Raul García", said the mentioned media.
The outrage of the Barcelona-friendly press is further fuelled by Bartomeu's and Dani Alves' controversial statements on twitter, as the former player and the current club president seemed to agree VAR has yet again helped Real Madrid.
July 6, 2020