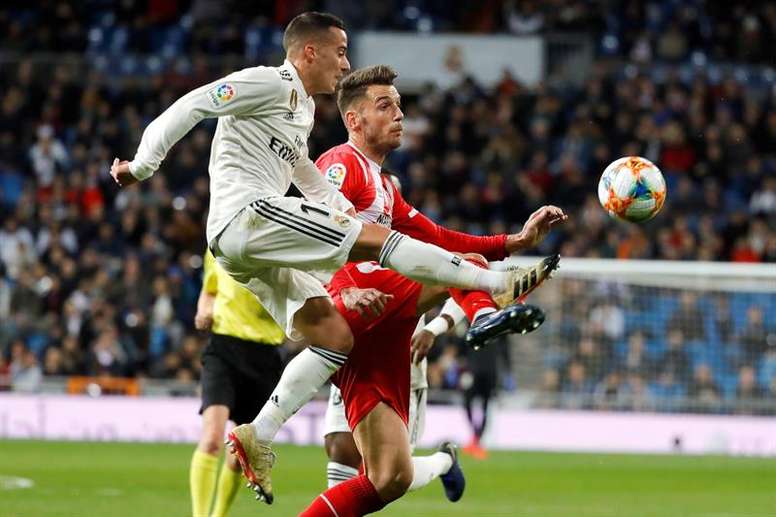 Advantage Real Madrid after Girona goalfest
After Sevilla's dismantling of Barcelona on Wednesday night, Madrid were aware that a similar upset could easily befall them in this Copa del Rey quarter-final first leg. Girona, who lie 12th in La Liga, clearly thought the same, and went into the encounter with one plan - to attack. At times the visitors' high line and enthusiasm to bomb forward seemed like madness against a skilful side like Madrid, but for much of the game it looked like it might work.
It was they that opened the scoring after only seven minutes, Alexander Lozano burying a Raul Carnero cross on the volley. But unlike in many of their matches this season, Madrid responded, driving at Girona with a veangance. Benzema slid a ball through to Odriozola, who cut back to the onrushing Vazquez. The little Spaniard made no mistake, and hammered the ball into the roof of the net.
Both sides continued to drive forward, but it was the hosts who had more success. Girona's high line was being sliced open with alarming frequency, and eventually they conceded a penalty after Vinicius was chopped down. Ramos, being Ramos, chipped the ball down the centre of the goal to make it 2-1.
The second half continued at the same frenetic pace of the first, and Girona had a penalty on 67 minutes when Marcos Llorente handled from a corner. Alex Granell made no mistake from the spot, and it was all square again. The Bernabeu was nervous - they knew 2-2 was a very dangerous scoreline to be taking to the Estadi Montilivi. With Modric susbstituted, again it was Ramos who rescued Real in their time of need.
Vinicius drove down the left and sent a cross spinning into the box, which the Madrid captain ran onto and headed into the top corner. And Real's fourth goal was remarkably similar. Barely three minutes later, Vinicius was released down the left again, and again he crossed. This time the ball fell to Karim Benzema at the back post, and he slotted into a half-empty net.
It's advantage Real heading into the second leg, but all is not lost for Girona, who managed to score two potentially important away goals. They will be hoping they can make home advantage count and produce a comeback, and a fairly historic one at that.