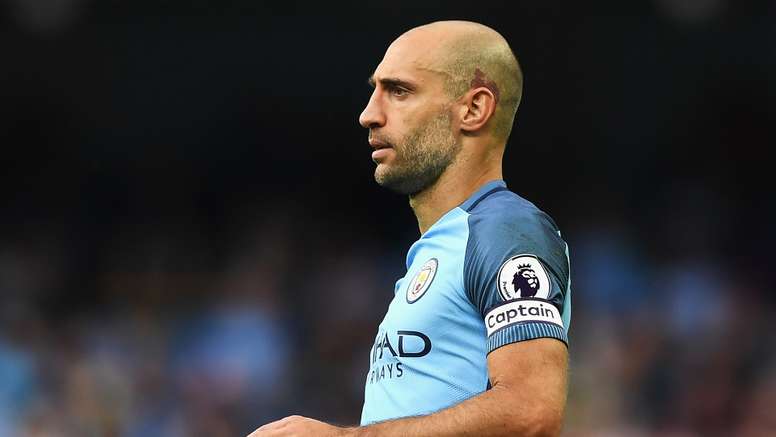 Zabaleta pictured in huge metal knee brace
Pablo Zabaleta fears he suffered a knee ligament injury during Manchester City's 2-1 victory over Arsenal on Sunday.
Zabaleta was withdrawn at half-time after picking up a problem early on in the game at the Etihad Stadium, and he will have tests on Monday to ascertain the exact extent of the damage.
The Argentina right-back left the stadium in a knee brace but, having suffered two separate knee injuries last season, is hopeful he has suffered a mild 'grade 1' sprain and that he could be back in action at the start of January.
"I am good. Unfortunately, I came off at half-time, a problem with my ligament," he said.
"I felt it straight away after 15 minutes, I just try to shoot on goal at the edge of the box, and I just tried to finish the first half.
"I had some pain in the ligament and it was a risk to continue playing, to possibly make it worse, and that's why I came off.
"I don't know [how bad it is]. I am going to see a specialist [Monday]. I need to have a scan and then we'll see.
"Hopefully from my experience because I did it twice last year, hopefully it is not too bad.
"My wish is a grade 1, maybe I can have an injection in there and be ready in, I don't know, maybe 10 days. We'll see."
Zabaleta's mood, however, was lifted by City's second-half fightback against Arsenal.
Pep Guardiola's side were a goal down after seven minutes but roared back after half-time and secured victory thanks to contentious goals from Leroy Sane and Raheem Sterling.
And Zabaleta believes results and performances like that will help his side keep up the pressure on league leaders Chelsea, who are on an 11-match winning streak.
"It was massive," he added.
"We had been talking before the game that it was a huge game for both teams because we are two teams that are looking to try to catch Chelsea, trying to reduce that gap to them.
"We know they are on a run of games and a real solid team at the moment, but of course we are not going to give up.
"We have confidence, we have belief. There's a long way to go until the end of the season.
"We showed in the last two games that playing that way we are one of those teams that can fight for the title for sure."
Zabaleta was especially pleased with the performances against Arsenal on Sunday and Watford in midweek given City had been conceding goals on the counter-attack with startling regularity.
But he believes they are starting to put that right and that the Blues' attacking players are starting to take their chances - another area of concern in recent weeks.
"We tried to make the pitch wide and play on the wings, very open and be an attacking team all the time," he added.
"We were talking before that probably we are struggling a little [with the] threat [on] counter-attacks and we needed to be concentrated, more focused on that.
"I felt that we had this in the last two games. We were solid at the back.
"Obviously today we conceded that early goal in the game but the reaction of the team was really good.
"That showed the personality that we also have apart from the talent. This is the way to continue playing."
He added: "It's different when you are so clinical in front of goal. It is completely different, especially because we have got players up front that can make the difference, they can create chances.
"But you have to score at the end of the day, when you are there in front of the goal.
"You need to take your chances and we did today, we did the last game and maybe even today in the second half we should have probably scored a few more goals, but at the end of the day we won the game so everyone is so pleased."
Zabaleta's considerable brace pic.twitter.com/Z7nLzXjUMm

— Sam Lee (@Sammy_Goal) December 18, 2016