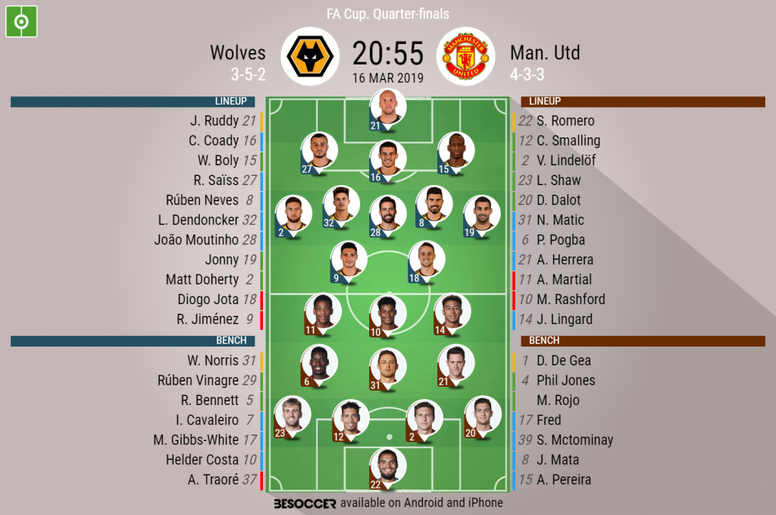 Wolverhampton Wanderers V Man United: As it happened.
96'
FT: Wolves 2-1 Man United. That's all at Molineux, a thrilling game sees Wolves through to the Semi-Finals of the FA Cup!
95'
GOOOOOOOOOOOOOOOOAAAAAAAAAAAAAALLLLLLL! SURELY NOT??? Marcus Rashford gives Man United an extremely faint hope of heading through as he smashes home from 10 yards out.
93'
Wolves change: Raul Jimenez is replaced by Helder Costa.
92'
MAN UNITED YELLOW CARD! Diogo Dalot is booked for a challenge on Ruben Neves.
91'
We're into overtime now... looks like Wolves are heading through!
90'
WOLVES CHANCE: Even now Wolves are pushing forward, this time Adama sends a wayward effort torwards the United goal.
87'
Wolves change: Adama Traore comes on for Diogo Jota.
87'
Man United change: Juan Mata on for Jesse Lingard.
86'
WOLVES YELLOW CARD! Connor Coady is booked for a foul on Marcus Rashford.
83'
It's overturned! Incredible, VAR has changed the referee's decision, Lindelof is instead shown a yellow card for the challenge.
82'
Oh hang on... We have VAR for this game and it's being used here....
82'
MAN UNITED RED CARD! IT'S RED!!! Victor Lindelof is shown a straight red card for bringing down Diogo Jota, Martin Atkinson deems him to be the last man and sends him to the showers early!
80'
Oddly in the last ten minutes, United have had 72% possession, in that time, Wolves have bagged 2 goals!
78'
United will have to think back to last week's incredible last minute stuff in Paris to try and overcome this deficit, Wolves leading, fans screaming and the rain pouring, everything going against Solskjaer's men at the moment.
76'
GOOOOOOOOOOOOOOOOOOOOOAAAAAAAALLLLLLLL! Diogo Jota sends Wolves into dreamland! Some incredible strength sees him get past Luke Shaw before slotting brilliantly home from just inside the box.
70'
GOOOOOOOOOOOOOOOOOOOAAAAAAAAAAAAALLLLLLL! Wolves finally break the deadlock as Raul Jimenez gets the ball brilliantly out of his feet with a group of United players around him and slots it bottom right, could we have a second shock of the day on the cards?
69'
A Wolves penalty shout after Diogo Jota is felled by Ander Herrera but not deemed to be a foul by the referee.
65'
Another Wolves foul, this time by Oumar Saiss on Marcus Rashford who has an opportunity to put in a dangerous ball.
64'
Ruben Neves makes a bad challenge on Jesse Lingard but the referee waves away United's pleas for a second yellow card.
62'
MAN UNITED YELLOW CARD: Ander Herrera is shown a yellow card for a foal on Diogo Jota on the half way line.
60'
Penalty shout for United as Luke Shaw is brought to ground, nothing given by the referee.
58'
WOLVES CHANCE: Romero is at it again! A fantastic long range effort from Joao Moutinho looked like it was sailing into the top right corner, only for Romero to stop it with his fingertips again.
53'
WOLVES CHANCE: Another incredible save by Romero, this time from a corner as Jimenez's headed effort is hit hard at the United goal, Romero gets a fingertip to it, pushing it onto the cross bar to once again deny the home side.
52'
MAN UNITED YELLOW CARD: Marcus Rashford is shown a yellow for a poor challenge on Ruben Neves.
48'
WOLVES CHANCE: Neves has another audacious effort and this time it sails miles wide of the right hand up right.
46'
MAN UNITED CHANCE: United look to start the half off in the best possible way as Rashford puts his effort off target.
46'
Second Half starts: We're back!
45'
HT: Wolves 0-0 Manchester United. After a slow start at Molineux, we had a very entertaining first half, Wolves came closest with Jota's chance which was remarkably saved by Sergio Romero, let's hope for another entertaining half!
45'
MAN UNITED YELLOW CARD: Nemanja Matic is shown a yellow card for cynically bringing down Raul Jimenez as Wolves looked to counter attack.
42'
WOLVES YELLOW CARD: Ruben Neves is shown a yellow card for bringing Pogba down as United looked to counter attack.
42'
WOLVES CHANCE! Incredible save by Romero! Diogo Jota was clean through to put Wolves 1-0 up but an incredible save by Romero denies the home side.
41'
Yet another United corner! Wolves defending well to prevent the crosses finding red shirts.
40'
WOLVES YELLOW CARD: Willy Boly is booked for a challenge on Pogba on half way.
39'
Wolves now push forward as this game opens up even more, a goal looks inevitable before half time...
37'
United now calling for a penalty of their own after Dalot's shot is blocked by Coady, referee Martin Atkinson isn't interested however, United have a corner.
36'
Wolves shouts for a penalty fall on deaf ears, the replay is up, oooh, they had a shout for a penalty there as Smalling handles Willy Boly.
35'
Wolves get upfield and earn a corner now after Pogba tackles Raul Jimenez, will we see our first goal?
32'
United earn another corner after Dalot's attempted cross is blocked.
29'
WOLVES CHANCE: Diogo Jota nearly puts Wolves into the lead but can't quite connect with the ball as he would have liked, another comfortable save for Sergio Romero.
28'
WOLVES CHANCE: Ruben Neves has a trademark long distance effort saved by Romero directly from the corner, comfortable save in the end.
27'
Wolves now go up the pitch as this game looks to open up, they win themselves a corner, can they grab themselves an unlikely lead?
26'
MAN UNITED CHANCE: An excellent ball in following the corner has a desperate lunge by Coady again to prevent Lingard from having a shot on goal from 7 yards out.
25'
A good block from Connor Coady after a nice cross from Rashford, can United convert from the resulting corner?
24'
United fans in good voice in the away end and you can see why as their team continue to push forward.
22'
United really looking like the most likely team to score, once again in a high up position on the pitch, but this time Pogba's pass goes astray.
21'
Incredible piece of skill by Rashford, but Martial slips as he attempts to receive the pass of the English forward.
19'
United looking threatening going forward but each time, Wolves are able to stop the attempted cross or pass.
16'
Wolves push forward and win the first corner of the evening after Jimenez's cross is blocked by Lindelof.
15'
United starting to take control of this tie now and it's the midfield trio who are the main reason for this.
13'
MANCHESTER UNITED CHANCE: Rashford has a rather ambitious effort saved comfortably by John Ruddy.
10'
MAN UNITED CHANCE: Close! Pogba nearly puts the visitors in the lead after a stunning counter attack from a Matic tackle, we nearly had our first goal at Molineux tonight!
7'
United enter the Wolves box again, but this time the cross cannot be completed, the midfield of Pogba, Matic and Herrera looking to dominate this game from the start.
5'
Neither side being given much opportunity to play with the defenders working hard on both sides.
3'
Both teams starting fairly brightly, Wolves advance highest up the pitch before Jimenez gives away a foul in the United box.
Prev.
That's all for tonight folks! Thank you for joining us in what can only be described as a thrilling day of FA Cup action, see you next time for more!
Prev.
That's all for tonight folks! Thanks for joining us in what can only be described as a thrilling day of FA Cup action.
Prev.
The two teams coming out to a raucous atmosphere at Molineux led out be captains Paul Pogba and Connor Coady respectively
Prev.
Wolves are 4 times winners and have not lost in 6 games at home, Manchester United have won this competition 12 times and were beaten finalists last year, a tight game in Wolverhampton looks to be on the cards
Prev.
Just 9 minutes to go before the 3rd FA Cup Quarter final of 2019 takes place, Watford and Manchester City have made it to the Semi-Finals, in about 2 hours time we'll know our 3rd team through
Prev.
The potential key men for Manchester United tonight as Jesse Lingard returns to the starting lineup, in a competition he famously loves.
Prev.
The players are out and warming up as kick off approaches.
Prev.
Manchester United: Romero: Dalot, Lindelof, Smalling, Shaw: Ander Herrera, Matic, Pogba: Lingard, Rashford, Martial
Prev.
LINEUPS: Wolves: Ruddy: Otto, Boly, Coady, Saiss, Doherty: Neves, Dendoncker, Moutinho: Jota, JImenez
Prev.
Welcome to our live coverage of this FA Cup Quarter-Final clash between Wolverhampton Wanderers and Manchester United from Molineux