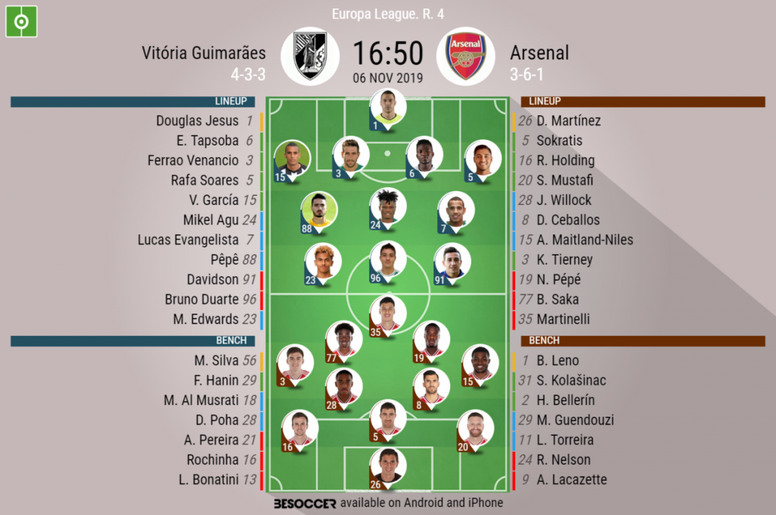 Vitória Guimarães v Arsenal - as it happened
Vitória Guimarães

Arsenal

96'
FT: Guimaraes 1-1 Arsenal!! It's all over in Portugal! It was fairly dull in the second half until Mustafi put the Gunners in front 10 minutes from the end. They were looking comfortable until Duarte levelled with a 91st minute overhead kick and the Portuguese side then had two chances in injury time to win it. A draw was fair, but it does not do the hosts much good. Arsenal are slightly closer to qualifying for the last 32. That's all from us, thanks for your company and see you again soon!
96'
Guimaraes attack again down Arsenal's right as Soares nutmegs Mustafi, but the pass is cut out and the referee blows for full-time! What an exciting ending to the match and Guimaraes deservedly get a draw!
93'
From the corner, Rochinha hits a shot across the goal from the far stick and it nearly goes in!!! Unbelievable stuff!! Arsenal hanging on!
92'
Victor Garcia!!! His ball into the box is flicked on by a teammate and then it deflects off Mustafi narrowly wide!!!
91'
Edwards makes a brilliant run down this near side, he gets to the byline before crossing to the far post, Rochinha heads it back into the six yard box and Duarte scores with a stunning overhead kick!!
91'
It's 1-1!!!! As 5 added minutes go up!!!
90'
Chance for Guimaraes!!! Bonatini fires over after a cross from Arsenal' right is laid off by Duarte!
89'
Arsenal are very comfortable here and they have just won a free-kick in midfield.
86'
The Portuguese outfit try and attack down the far side, but Poha is caught offside.
85'
An ambitious effort by the hosts goes nowhere near Martinez's net.
85'
Soares sends a pass to the far post and Holding knocks it for a corner. Nothing comes from it.
84'
Guimaraes are going to have to try and find something now.
82'
Guimaraes sub: Bonatini on for Evangelista.
81'
I certainly wasn't expecting. Arsenal are all but through if they hold onto this and Guimaraes are all but out. A set piece seems to have decided this one.
80'
Arsenal score!!! Pepe sends in the free-kick to the far post and Mustafi heads it into the opposite corner!
80'
Free-kick to Arsenal on the edge of the area after Martinelli is fouled. The pitch is very wet now.
78'
Arsenal sub: Torreira on for Willock.
75'
The free-kick is dreadful. It could not have been any easier for Martinez.
74'
The Guimaraes player is getting treatment because he bumps into Mustafi after being fouled from behind. Rochinha is bleeding from the nose.
73'
Guendouzi pulls back Rochinha on the edge of the box.
72'
Willock fires from 25 yards out and it's more like a rugby conversion!
71'
Little to report here in the last few minutes. It's still pouring down, there's still no goals. Shots on target: Gui 3-0 Ars.
68'
Guimaraes sub: Davidson goes off, Rochinha on.
66'
Holding trips Evangelists from behind and is booked.
65'
Arsenal sub: Lacazette on for Saka.
64'
A draw for Guimaraes is practically useless here. They really need to win to have a realistic chance of qualify. A draw will be good for the Gunners though. They could qualify tomorrow.
63'
Mustafi heads over the bar at the far post!
62'
Tierney's cross into the box is deflected for a corner by Evangelista.
61'
Guimaraes sub: Pepe replaced by Poha.
60'
Arsenal flagged offside again, but don't think it was.
58'
This game desperately needs a goal. There's a fair chance this one is going to end goalless.
57'
Arsenal win a corner. The set piece is cleared initially before Arsenal try and continue the attack, but the ball is miscontrolled out of play.
56'
Saka is caught offside for the away side.
53'
Arsenal sub: Guendouzi on for Ceballos.
52'
Super run by Pepe of Arsenal to get into the area before he is halted by Guimaraes players.
50'
Saka's shot towards goal is blocked and on the counter, Edwards unsuccessfully tries to find Duarte.
48'
Edwards!!!! He gets the ball at halfway and drives through the middle before Ceballos forces him out wide. I think he should have shot earlier as he kept waiting and could not find a pass when he reached the byline.
47'
Arsenal make the first move, but it comes to nothing and then Ceballos slides in to knock the ball onto Duarte for a goal kick at the other end.
46'
Welcome back! Arsenal have got us going again!
45'
HT: Guimaraes 0-0 Arsenal! No goals at the interval. Guimaraes were the better team in the first 20 minutes and Martinez had to make various saves. The closest the hosts came was when Pepe hit the post in the eighth minute. The match calmed down in the last 20 minutes though and 0-0 is fair. Join us for more in a bit!
45'
It flies miles over the bar and the GK is angry with his defence for some reason. It was nowhere near the goal though.
44'
Tierney is brought down by Pepe and Arsenal have a great opportunity to score from here.
43'
Foul on behind by Holding on Edwards.
43'
Guimaraes were better in the first 20 minutes, but the match has calmed down since then.
41'
62% possession for the away side. Guimaraes have made better use of their ball though.
40'
Corner for Guimaraes after Evangelista plays a lovely backheel!
38'
Maitland-Niles is brought down on this near side by Davidson. Once again, the set piece is harmless though.
36'
Arsenal win a corner on the far side. It's taken short and nothing comes of it.
34'
The rain is getting heavier here in Portugal.
33'
Soares' name is taken for sliding in late on Pepe.
31'
Free-kick on this near side and Venancio's heads over the bar! He had a free header once again! Arsenal marking very poorly.
29'
Martinez easily claims a Guimaraes effort which rolls all along the ground.
27'
Arsenal win a corner. However, Emery's men commit a foul from the set piece.
26'
Davidson!!! What an opportunity! The free-kick is sent in by Evangelista, Sokratis tries to clear with his foot, but it falls straight to Davidson. He curls an effort looking for the top corner and it flies narrowly wide.
25'
Free-kick in a good position now for the hosts after Edwards is brought down by Holding.
22'
Holding heads over the crossbar Saka's cut back from the byline! Arsenal coming into the game now.
21'
Vital defending by Venancio!! Martinelli does a lovely turn inside the box to get past the defender, his ball towards goal is half cleared and then Venancio clears after Pepe miscontrols the rebound!
21'
Ceballos is fouled by Mikel.
19'
Tapsoba!!! Pepe's delivery is headed by Tapsoba and Martinez has to make another stop!
18'
Mustafi booked for a pull on the back of Davidson's shirt.
16'
Play is stopped here as Maitland-Niles has to remove a necklace.
15'
Agu miscues a long range shot along the ground and it goes well wide.
13'
Duarte close to getting on the end of Davidson's cross!!! It's all Guimaraes now.
12'
And now Martinez has to catch on his own goalline as the corner was creeping in!
11'
What a save!!! Willock loses the ball on the far side and Evangelista forces a tremendous save out of Martinez.
11'
Nothing comes of the free-kick.
10'
Free-kick to Guimaraes in a dangerous position.
8'
Off the post!!!! Davidson has the ball 30 yards out, he lays it off to Pepe who fires a powerful shot towards goal and it cannons off Martinez's right hand post!
8'
Arsenal look more dangerous, but few chances so far.
6'
Two balls on the pitch so play is stopped.
5'
Guimaraes try to attack, but lose the ball and Willock on the counter spots Saka on the left. His ball into the box is poor though and it beats everyone.
4'
The corner was cleared easily.
3'
Chance for Arsenal!!! Pepe almost gets on the end of a cross on the far side and then Maitland-Niles' ball back is turned wide by Venancio for a corner.
1'
Davidson hits wide of the target from 25 yards inside 30 seconds!
1'
Guimaraes get us going from right to left in the white! Arsenal in yellow.
Prev.
Tapsoba is the only player in the starting XI's who would miss the next game if he sees yellow today.
Prev.
The stadium is fairly empty because of the 3.50pm kick-off local time, but many Arsenal fans have made the trip.
Prev.
The players are out onto the pitch!
Prev.
It's pouring down in Portugal. The players are in the tunnel.
Prev.
Halis Ozkahya of Turkey is the referee. No VAR. The temperature is 12 degrees celsius and it's raining.
Prev.
When they met two weeks ago, Arsenal won 3-2 thanks to two late Nicolas Pepe goals. Edwards and Duarte had put Guimaraes ahead twice and Martinelli made it 1-1.
Prev.
Guimaraes have put Jesus in goal, Rafa Soares, Evangelista and Pepe instead of Silva in goal, Hanin, Poha and Almeida.
Prev.
Arsenal have made eight changes from their last Premier League game, but it's better to compare to the meeting between the two teams two weeks back. Sokratis, Pepe, Saka, Ceballos replace Bellerin, Torreira, Smith-Rowe and Lacazette.
Prev.
Arsenal are top of the group with nine points while Guimaraes are bottom with none. It's a must win game for them. Eintracht Frankfurt have six and Standard Liege three.
Prev.
Why are we playing at this time? The reason is because nearby Braga are also at home tomorrow night against Besiktas and the police do not want to deal with Turkish fans and English fans on the same evening. As Guimaraes finished lower than Braga in the table, they have to play on Wednesday and before the CL games begin at 6.55pm CET. Even though Guimaraes managed to get their other two home games moved back to Thursday, they were unsuccessful in trying to move this game.
Prev.
Arsenal side: Martinez (GK); Holding, Sokratis, Mustafi; Willock, Ceballos; Tierney, Saka, Pepe, Maitland-Niles; Martinelli.
Prev.
Let's give you the teams first though! Guimaraes XI: Jesus (GK); Soares, Tapsoba, Venancio, Garcia; Evangelista, Agu, Pepe; Davidson, Duarte and Edwards.
Prev.
Hello and good afternoon to live coverage of the Europa League clash between Guimaraes and Arsenal at this rather unusual kick-off time on a Wednesday!