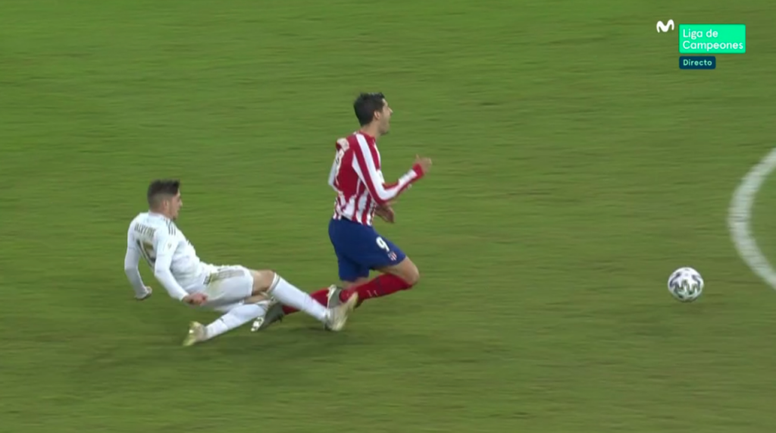 Valverde dismissed for DOGSO after terrible challenge on Morata!
The best chance of their being a goal was halted in illegal fashion. After a chance for Real Madrid, Morata began a very clear counter from his own half. It was three versus one. The man from Madrid ran with the ball towards Courtois in the goal... until Valverde appeared.
The Uruguayan midfielder, seeing how Morata was clean through on goal, went to bring down the Atletico player at all costs.
Valverde went down and made a nasty challenge on Morata on the edge of the area. First, he caught him with his left leg and despite having already brought down the striker, he also caught him a second time with his right leg.
It was an obvious red card for DOGSO and the referee, Sanchez Martinez, did not hesitate to go to his back pocket. Several Atletico players then pushed Valverde.
In fact, a mini-fight broke out which, fortunately did not get too serious. Morata did not seem to be too badly injured by the challenge.
Valverde went to the dressing room as a villain, but ended up helping his team reach penalties with his challenge. There was talk of Valverde receiving a longer ban for the challenge, but the referee confirmed in his match report that the red card was for DOGSO and not for the force of the challenge.