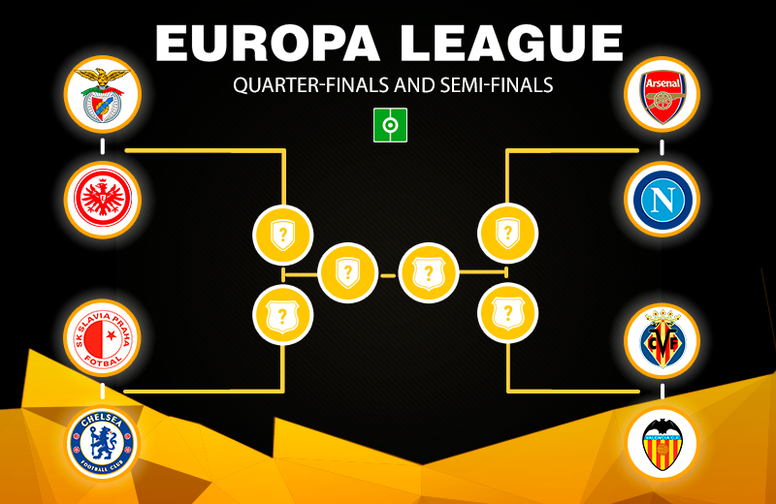 These are the matches for the quarter finals of the Europa League 18-19
Eight sides remain in the Europa League and the teams found out on Friday morning who they would face in the quarters as well as their potential opponent in the semis.
The first leg of the quarter-final ties will take place on 11th April while the return legs will be played on 18th April. Just like in the previous round, the VAR will not be used.
The objective for all is the same: reach the Europa League final in Baku on 29th May at Baku National Stadium. There are two sides each from England and Spain. Italy, Germany, Portugal and Czech Republic are also represented.
Atletico Madrid will not be able to defend their crown as they qualified for the Champions League last 16 this season.
These are the ties for the quarter-finals:
Arsenal v Napoli
March 15, 2019
A cracking tie in store. Arsenal should have hosted the second leg at home, but the tie was reversed after Chelsea were also drawn to host the return game. It looks the most difficult game to call.
Villarreal v Valencia
March 15, 2019
A local derby and an all Spanish affair in the quarter-finals of the Europa League. Villarreal are at the wrong end of the table in the domestic competition whereas Marcelinho's side lie in 7th, just five points off the Champions League spots.
Benfica v Eintracht Frankfurt
March 15, 2019
Benfica and Eintracht will do battle in one of the more interesting ties. Most people would think Benfica should cruise through, but Eintracht have shown that last season's German Cup triumph was no fluke. They knocked out Inter Milan in the last round by beating them 0-1 on their own turf and the Germans are currently in 5th in the Bundesliga.
Slavia Prague v Chelsea
March 15, 2019
The Czech's side reward for knocking out Sevilla with two goals in extra-time, the second of them in the 119th minute, is a tie against Chelsea. Maurizio Sarri's side will be strong favourites, but they have been warned of Prague's ability.