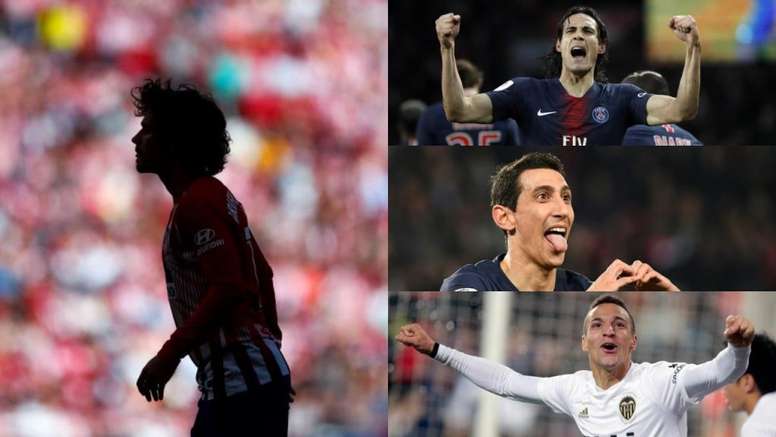 The search for a new star: five candidates and an almost impossible dream
The news of the Frenchman's farewell exploded like a bomb. Although the rumours had been flying for a while, the way his exit was annouced has widely surprised the public.
That's why, during these last days, different names have been appearing as a replacement to replace Antoine Griezmann.
As far as the position in the field, two types of players are currently being discussed. But those profiles would firslty need to respond to the need to incorporate a star. A flagship for the fans after the loss of the French star.
Several famous goalscorers have been rumoured to be options. Edinson Cavani has been at the top of Atletico's list for a while, as the 31 year old PSG star could still play at the highest level.
Sergio Aguero would also fit into these characteristics. His return to what was his home is a dream that is difficult to see fulfilled but that fills anyone with enthusiasm. The Kun is still scoring goals, but also knows how to live outside the margins of the area, and Simeone's influence and melancholy can play an important role.
Griezmann never disguised himself as '9' despite his scoring records. Paulo Dybala, who's been linked to Atletico Madrid frequently, along with Angel di Maria, Rodrigo Moreno, Iago Aspas, are four of the names that have been lined to the Wanda Metropolitano and that gather profiles of an attacker.
The 'Jewel' Dybala has not found his place in the Juve and joining Atletico could serve him, meanwhile Di María has already been hinting at a return to La Liga, and his past performances at city rivals Real Madrid could prove to be a double edged sword. Meanwhile Rodrigo and Aspas lead Valencia and Celta, respectively, although Atletico could be a good option to climb a step.
Of the clause's 120 million, Atletico will receive 96 (Real Sociedad, Griezmann's former team, will receive 24). With that budget, any of these names could reach Simeone's team, although the club will have to be spend big money to alleviate other casualties (Godin, Juanfran, possibly Filipe ...).