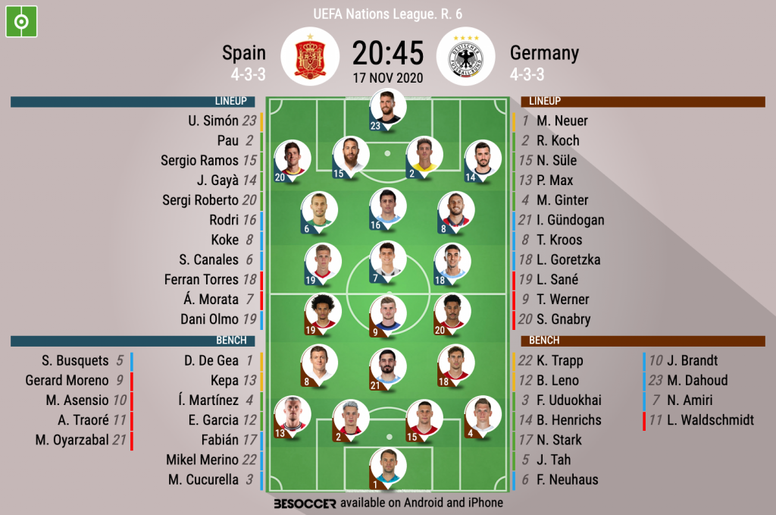 Spain v Germany - as it happened
Post.
That's all from us, thanks for your company and see you again soon!
93'
FT: Spain 6-0 Germany!! All over in Sevilla and about as one sided as you can get! Ferran Torres scored a hat-trick while Morata, Rodri and Oyarzabal also got on the scoresheet. The only bad news for Spain was losing Ramos and Canales to injury. They will be in the final four. Germany have lots to think about. They only needed a draw, but they were outplayed. Apart from a Gnabry bar shot at 5-0, they were toothless going forward.
92'
Take out the Gnabry shot which hit the bar at 5-0 and they've done nothing.
91'
Two added minutes. No need for them.
90'
Joachim Low's position has to be severely questioned after this. He was already being criticised back in Germany before this.
89'
Six for Spain!!!! Oyarzabal joins the party!!! Spain still looking for more, a scooped pass for Gaya is cut back to Oyarzabal in the middle and he makes no mistake.
87'
Spain are still looking for a sixth and Germany are just about getting it away.
84'
Spain are caught offside.
83'
This game was done a long time ago and I think both teams will be happy for this game to be ended at 90 minutes.
80'
Germany attack through Max and Rodri heads the ball away.
77'
Off the bar by Gnabry!! That's the Germans only chance of the match so far and his effort from distance cannons back off the bar!
76'
Germany sub: Henrichs on for Werner.
76'
Spain are just passing the ball around patiently waiting for another opportunity now. This has been very one sided.
73'
Spain triple sub: Morata, Torres and Olmo off, Oyarzabal, Asensio and Moreno on.
71'
Ferran completes the hat-trick!!! Spain attack, Olmo counters, he given to Fabian who puts it on a plate for Ferran Torres Neuer had no chance once again. The German defence is completely non-existent.
69'
Spain win a corner now, but it comes to nothing.
68'
Morata!!! Fabian passes for Morata in the middle, but the Juve man can't reach it.
67'
Tah gets the second yellow fo the match after bringing down Morata.
65'
Very little is happening here.
62'
Ferran Torres!! Koke lays it off to Ferran and it goes well wide.
61'
Germany double sub: Goretzka and Sane off, Neuhaus and Waldschmidt on.
58'
Ginter has a problem in the neck area and is getting treatment on the far side.
57'
Koke sends in a ball and Rodri heads over the goal.
55'
It's 4-0!!! Ferran Torres once again and this is getting embarrassing for the Germans. Spain attack, Gaya is clean through after a pass by Fabian and Gaya squares for Ferran to score. Neuer is visibly furious and I'm not surprised.
53'
Nice play by Gnabry down this near byline, but the move comes to nothing.
50'
Little has changed here. Spain are still dominating.
50'
Tah loses the ball, Morata looks to play Ferran on the right, but he can't find him.
47'
Double chance for Spain! Olmo is clean through, his strike is stopped by Neuer and Koke is denied by a defender on the rebound.
46'
Germany HT sub: Sule was replaced by Tah.
46'
Spain get us going again!
45'
HT: Spain 3-0 Germany!! Half-time in Sevilla and it's been easy for Spain. Morata headed Spain in front after 16 minutes, Ferran Torres then got his deserved goal after Olmo hit the bar and then Rodri headed over a corner to make it three. Spain should have had a penalty at 0-0 and Morata had a goal controversially disallowed for offside. The bas news is they've lost Canales and Ramos to injury. Germany need 3 goals and they've done next to nothing. Back in a bit!
45'
Spain keeping the balll here looking for the opening. Koke crosses the ball and goes down wanting a foul, but the ref says no.
45'
Germany have done next to nothing.
43'
Spain sub: Eric Garcia on for Ramos.
42'
Big news! Sergio Ramos has pulled a muscle here in his right leg and the RM captain won't be able to continue.
42'
Olmo has a shot and it goes wide of the goal!
38'
Rodri makes it 3!!! This could be a cricket score if Germany aren't careful. The corner comes in, Rodri is completely unmarked and his header goes into the corner. Neuer had no chance, but the German defence is extremely poor.
38'
Fabian runs into the box, he looks for Ferran in the middle and Max knocks it out for a corner.
37'
Koch sees yellow for a foul on Morata.
35'
Ginter concedes a foul now.
34'
Had it not been for a couple of dodgy decisions, Spain would be out of sight. The Germans need 2 and they are being outplayed at the moment.
33'
Ferran finally gets his goal and he deserves it!!! Gaya's cross is headed by Olmo, the ball hits the bar, the ball bounces twice before Ferran smashes it into the goal from just outside the 6. Spain all over the Germans.
33'
Another dangerous Spanish move ends with Ferran having a good shot, but it comes to nothing.
30'
Neuer!!!! Ferran is clean through on goal, he hits the ball across the goalie and Neuer deflects it wide!
29'
I think Germany should have attacked from the beginning as they looked to be playing for a draw.
27'
Werner gives to Max on this near side and he gets a corner off Ramos.
26'
Koke fouls Kroos and Germany have a free-kick in their own half.
25'
Seen again and Koch's foot looks to be playing him onside. No VAR though...
23'
Morata scores, but the flag is up!!! Lovely move by Spain down this near side, Ferran squares for Morata at the far post and the flag is up for offside. I think he was onside, but I'd need to see it again.
22'
Rodri is penalised for a poor challenge on Goretzka and the Spain player is given a warning.
21'
Ferran!! A long pass forward is controlled by the Man City man and his shot across Neuer goes wide.
20'
Spain win a free-kick near midfield.
18'
Spain have started the better here and now Germany need a goal.
16'
Spain score!!! Morata makes it 1-0!! Fabian sends a corner to the far post and Morata heada in from inside the 6! 1-0.
15'
Morata goes for goal and fires over the bar!
13'
Werner passes for Max down this near side and his cross is easily saved.
12'
Spain sub: Fabian Ruiz on for Canales.
11'
Fabian Ruiz is waiting to come on, Spain with 10 for now.
10'
Canales has pulled a muscle when trying to clear and he won't be able to continue.
9'
Vital defence by Torres!!! A long pass finds Werner who squares for Sane, but the defender gets there first.
7'
Ramos!!!! The RM man hits a low free-kick to the side of the wall and Neuer makes a fine save to his right.
6'
Absolutely unbelievable there's no VAR...
5'
The corner is only half-cleared and Olmo is brought down in the box by Gundogan, but the ref says it's a free-kick. It's clearly in the box...
4'
Morata wins a corner off Koch.
3'
Spain having the early possession here, Germany counter and an attempted pass for Gnabry is cut out.
2'
Spain have the first dangerous move, Ferran passes to Morata who cuts inside and his shot along the ground is easy for Neuer.
1'
Germany get us going from right to left!!
Prev.
The players are out and the anthems have been played!
Prev.
Germany make just one substitution from the 3-1 win over Ukraine. Kroos is in for Rudiger.
Prev.
20 degrees and dry in Sevilla this evening.
Prev.
Five changes for Spain from the 1-1 draw with Switzerland. Reguilon,. Busquets, Fabian Ruiz, Mikel Merino and Oyarzabal are replaced by Gaya, Rodri, Koke, Canales and Morata. Unai Simon once again starts in goal.
Prev.
Spain need a win while Germany just need a draw.
Prev.
It's a straight shootout for a Nations League final four spot which goes to the group winners. It gives you a second chance to qualify for the World Cup if you do not qualify via the usual qualification process.
Prev.
Andreas Ekberg of Sweden is the referee here. There's no VAR remember.
Prev.
Germany XI: Neuer (GK); Max, Koch, Sule, Ginter; Kroos, Gundogan, Goretzka; Sane, Werner and Gnabry.
Prev.
Spain XI: Simon (GK); Gaya, Pau Torres, Ramos, Gaya; Koke, Rodri, Canales; Ferran Torres, Morata and Olmo.
Prev.
Hello and welcome to live coverage of the crucial Nations League clash between Spain and Germany!