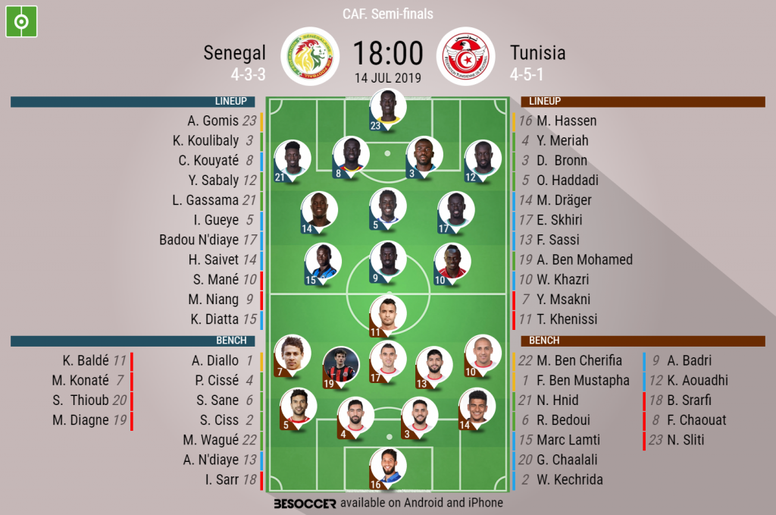 Senegal v Tunisia - as it happened
Post.
That's all for this game, but be sure to check out our coverage of Algeria v Nigeria right now!!
120'
FT of ET: SENEGAL 1-0 TUNISIA! A thrilling semi-final comes to an end, and Bronn's own goal is enough to carry Senegal through to the final and give them a shot at their first ever AFCON title.
120'
Khazri's free-kick is terrible and Senegal clear. Less than a minute to go...
120'
Wagué fouls Khazri on the left, and Tunisia have a late chance to level...
120'
Only three minutes are being added on here despite that long VAR delay. Khazri again gets angry as he squares up to Wagué after shoving the ball into his chest...
119'
It's all kicking off as both sets of players are pushing and shoving each other. Khazri looks particularly angry and the referee doesn't seem to have control right now.
117'
Extra sub for Tunisia as Firas Chaouat replaces Khenissi.
115'
NO PENALTY!! The referee has overruled his decision after watching the replay. I have to say, this one looked like more of a penalty than the first awarded to Tunisia, but who knows what the rules regarding handballs and penalties are anymore?
114'
The referee is running over to check it on VAR...
112'
ANOTHER PENALTY TO TUNISIA! ANOTHER HANDBALL! Sané heads down onto Gueye's hand, and the referee points to the spot. Incredible drama...
111'
Senegal counter and Sarr looks to be chopped down on the right, but the referee waves play on.
109'
Gassama makes way for Barça youth product Moussa Wagué as Senegal use their extra substitution.
106'
Back underway in Cairo! Can Senegal hang on?
105'
HT in ET! Senegal 15 minutes from the final...
104'
Tunisia are pushing forward now, as they have to, but are yet to trouble the Senegal defence.
100'
GOAAAAALLLLLL! OH MY WORD WHAT A MESS! Senegal take the lead!! A Mané free-kick from the right is palmed by Hassen onto the head of Bronn and into the back of the net. What a shocking own goal, and Senegal are just over 20 minutes away from the final.
97'
A promising Tunisia counter from the Senegal corner ends with Skhiri firing over from 25 yards out. Wasteful stuff.
96'
A clever through ball from Mané slides Gassama in behind the defence, but his cross is headed behind.
95'
Gueye kneels down with the ball in the area to bring a promising Senegal attack to an end. Not sure if he was looking for a penalty there or what exactly he was doing...
93'
Tired legs out there now. Sliti worms his way through the Senegal midfield before winning a free-kick.
90'
Underway in extra-time...
90'
FT: SENEGAL 0-0 TUNISIA! Extra-time and possibly penalties (uh-oh) it is...
90'
Three minutes of added time here in Cairo...
89'
Saivet nearly redeems himself! The Newcastle man brings the ball down in the area, but fires his left-footed effort wide of the near post.
86'
Ndiaye has a chance as he collects a ball over the top on the right side of the area, but he stumbles and fires high and wide.
82'
Tunisia also make a change as Ghailene Chaalali replaces Ben Mohamed.
82'
Salif Sané has come on to replace Badou Ndiaye as Senegal make their final change.
80'
PENALTY SAVED! WOAH! Saivet steps up and fires low to the right, but Hassen goes the right way and pushes his effort around the post.
79'
A long delay here, but the ref isn't going to check VAR...
77'
PENALTY TO SENEGAL! You couldn't write this! Sarr is taken down as he weaved his way into the box from the right, and the referee points to the spot.
76'
Sliti finds himself in acres of space on the left, but his first touch is poor and his second is not much better as he puts in a weak cross/shot that's comfortable for Gomis.
75'
Yellow for Sliti as he brings down Gassama.
74'
PENALTY SAVED! A terrible effort from Sassi, who never looked confident in his slow, tense run-up, and Gomis saves AND holds on. Let-off for Senegal...
73'
Koulibaly gets a yellow for the handball. Sassi will take...
72'
PENALTY TO TUNISIA! Sassi fires a shot off from the edge of the box, and Koulibaly blocks with his arm as he slides in to block.
67'
Another change for Senegal as Ismaila Sarr replaces Diatta.
66'
Substitute Diagne makes an instant impact as he beats his man down the left and flashes a dangerous ball across goal, but no one is there to get on the end of it.
65'
Another chance goes begging! Khenissi is slid through one on one with Gomis, but his touch is heavy and the goalkeeper grabs the ball away.
63'
Mbaye Niang makes way for Mbaye Diagne...very similar names, but Senegal will be hoping for rather different performances from the two strikers given Niang's lack of impact today...
62'
Khazri gets a yellow for a push and his angry reaction to the foul being given.
60'
Senegal are all of a sudden short of men at the back, and it's Sliti once again who shoots but his effort deflects off of Gassama and behind.
59'
Sliti fires a shot on the run well wide, but this game has certainly become a lot more open and hotly contested in this second half.
56'
Great goalkeeping from Hassen! Niang backheels through to Mané, who tries to round the goalkeeper. Hassen doesn't commit too early and steals the ball away from the Liverpool forward's feet.
54'
Things are heating up! Diatta flies in and takes out a Tunisia defender at a Senegal corner, before a small scuffle breaks out involving Kouyate and Meriah. Still no cards have been shown here (somehow)...
52'
This second half is a lot more open than the first already. Senegal are outraged as the referee stops a promising counter-attack to give Senegal a free-kick, but then proceeds not to book Mohamed for his pull-back on Gueye. Strange refereeing there.
49'
Another chance for Tunisia! They break quickly with Khazri, whose pass finds Sassi on the edge of the area. His footwork is neat and he works space for a shot, but Gomis beats away well at the near post.
47'
Chance for Tunisia! Dräger sends a long straight ball over the top of the Senegal defence that Khenissi races on to. The Tunisia striker tries to lift the ball over Gomis, but gets too much on it and it flies over the bar. Big chance for Tunisia!
46'
Half-time change for Tunisia then as Naim Sliti replaces captain Msakni.
45'
Tunisia get us back underway in Cairo...let's have a goal, please!!
45'
HT: SENGAL 0-0 TUNISIA! Senegal were much the better team in the first half, but couldn't find the breakthrough. Will they be able to find that elusive goal in the second half? See you in 15 to find out...
45'
Khazri goes down in a heap after knocking the ball past Sabaly as he looked to break into the area, but the referee gives nothing.
44'
Gueye seems to have space down the left, but takes too long crossing and ends up fouling Dräger.
42'
Hassen may have been bleeding from his mouth there, but he shall continue in goal. Play back underway.
40'
Mané chases a ball in behind and collides with goalkeeper Hassen, who looks in pain on the floor. He's got to be careful here Mané - a yellow would see him miss the final is Senegal do get through...
37'
Another chance for Senegal! Mané again gets in behind but this time he's one on one on the right. He rounds the keeper but, from a tight angle, can't find a finish and scuffs his effort wide.
36'
Big chance for Senegal! Sabaly slides Mané in behind the defence on the left-wing. The Liverpool man cuts inside and looks to shoot, but Niang takes the ball and fires well wide.
34'
Sabaly again tries his luck from distance and hits the ball well as he slips over, but it flies just wide of the left post.
31'
Mane's free-kick from the right just about evades everyone and goes behind for a goal-kick.
30'
Meriah fouls Niang in an aerial battle this time after another long ball pumped up to the forward. Senegal have seemingly targeted the two centre-backs in the air, and Niang is certainly seeing a lot of the ball in this first half.
28'
Big penalty shout for Tunisia! Khenissi gets to a bouncing ball before Kouyaté and goes down under pressure from the Crystal Palace player in the area, but the referee gives nothing. We do have VAR here, remember, but it won't be needed. No penalty.
25'
Senegal hit the post! Left-back Sabaly cuts in from the left and curls a stunning effort with his right foot towards the far corner. Hassen is beaten all ends up, but Sabaly's effort cannons off the post and away to safety. So close to a stunning opener for the Teranga Lions!
24'
Kouyate shows great composure to bring down a ball in his own area under pressure from Msakni, before turning him and coolly bringing the ball out of defence.
21'
Chance for Msakni! Khazri whips in a corner from the right and Tunisia's captain finds himself unmarked on the edge of the six-yard box, but he headers over the bar. He should have done better there and Tunisia should have an early lead.
20'
Niang brings down Khenissi on the break and Tunisia have a free-kick on the right. Could easily have been a yellow there.
19'
After some treatment from the medical team, Niang is back on his feet and ready to carry on.
17'
Niang is down after Bronn seemed to catch him in the face whilst the two battled for a header.
15'
More bright play from Mané as he brings down a tough long ball excellently on the left wing before beating his man with a couple of stepovers and crossing in. His cross is easily cleared, however, but he does look the danger man early on.
12'
Tunisia's first venture into the Senegal half sees them win a free-kick that Khazri whips in from the right, but Senegal clear. Ndiaye seems to have taken a knock as he cleared the ball there, but he should be ok to carry on.
10'
Tunisia are yet to leave their own half in the opening 10 minutes here. A very promising start for Aliou Cisse's team.
8'
The ball is headed away from the corner and Sabaly tries his luck with an ambitious first time volley from 25 yards that flies over. Some goal that would have been.
6'
Mané has started brightly and looks Senegal's biggest threat so far. He turns quickly in the middle of the pitch and slides in Sabaly down the left, but the full-back is slow to get off his cross and Senegal must settle for a corner.
5'
First shot of the game is a Senegal one as Niang turns and shoots from the edge of the area, but his left-footed area flies well over the bar. Senegal on top so far.
4'
Another long ball from Senegal and this one causes more panic as Mané chases it in behind, but Tunisia scramble clear through Dräger and Bronn.
3'
Senegal have twice looked to go long to Niang early on, with the striker following his marker on the second of these occasions - neither side has really settled yet. Mané goes down on the left, but the referee only gives a Tunisia throw-in and tells him to get us.
1'
Senegal get us underway! Who will reach next week's final?
Prev.
Senegal's anthem is swiftly followed by Tunisia's, and we're all ready to go here in Cairo!
Prev.
Time for the national anthems at a sparsely populated 30 June stadium. Senegal up first...
Prev.
Tunisia are in the semi-finals after a 3-0 thrashing of surprise package Madagascar, which followed a dramatic penalty win against Ghana in the Round of 16. They started this tournament poorly, drawing all three of their group games, but seem to have hit form at the right time.
Prev.
So, Senegal reached this stage of the tournament thanks to a nervy 1-0 win against a resilient Benin side in the quarter-final after they also beat Uganda by the same scoreline. They finished runners-up in their group behind Algeria, who we will see play in the second semi-final later on.
Prev.
One thing to watch out for today is that yellow cards are still being totted up in the knockout rounds, meaning Sadio Mané and Youssef Msakni would miss the final if they were to get booked today.
Prev.
So, a couple of Premier League stars on show today for Senegal as Everton's Idrissa Gueye and Liverpool's Sadio Mané take to the field, whilst Tunisia winger Wahbi Khazri spent two seasons in the Premier League with Sunderland.
Prev.
Tunisia: Hassen; Dräger, Bronn, Meriah, Haddadi; Mohamed, Skhiri, Sassi; Msakni, Khenissi, Khazri.
Prev.
Senegal: Gomis; Gassama, Kouyaté, Koulibaly, Sabaly; Gueye, Ndiaye; Diatta, Saivet, Mané; Niang.
Prev.
With both sides arriving at the stadium, let's check out how the teams will line up...
Prev.
Good afternoon and welcome to our live coverage of the first Africa Cup of Nations semi-final between Senegal and Tunisia at the 30 June Stadium in Cairo.