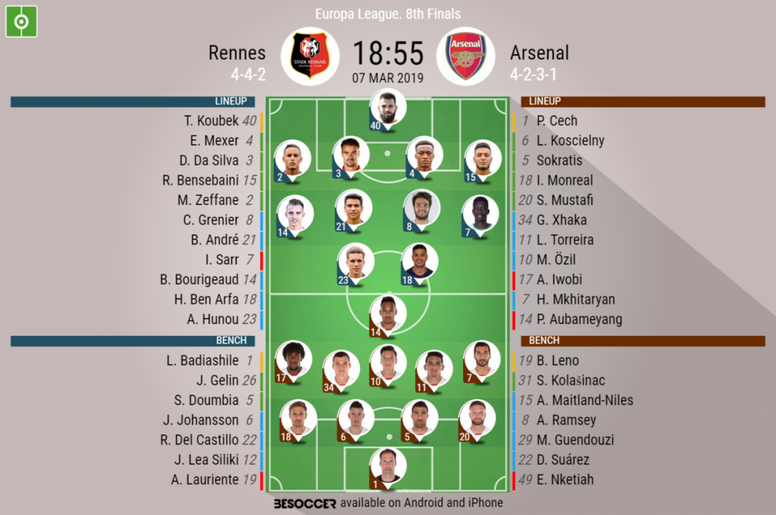 Rennes v Arsenal - as it happened
94'
That's all from us. Thanks very much for joining us and enjoy the rest of your evening!
94'
FT: Rennes 3-1 (10) Arsenal!!!! The referee blows the final whistle here in France and that brings proceedings to a close. Arsenal got the perfect start through Iwobi and were in control for the first half an hour. But then Sokratis got himself sent off for two quick yellows and they never recovered. Rennes equalised and then absolutely dominated the second half. They couldn't handle Bourigeaud and Sarr, who scored the first and third goals for the French outfit and Monreal scored an own goal.
94'
Rennes comfortable here now.
92'
Guendouzi makes a foul on a Rennes player now.
91'
By the way, Aubameyang's face says it all. He looks even worse than when he went off as you can imagine. A disastrous night for Arsenal, possibly Rennes best night ever.
91'
Rennes sub: Grenier leaves and Gelin comes on. Four minutes of stoppage time.
88'
Rennes score!!!! What a superb team goal!!! The move started deep inside their own half, there were at least 10 passes and they travelled all the way up the field on the counter after Arsenal had a throw in. The substitute Siliki put in a tremendous cross for Sarr to head in at the far post from inside the six-yard box. The crowd go ballistic and you have to say it's fully deserved.
87'
Yellow for Rennes! Zeffane see it for a cynical shirt pull on Guendouzi when the Arsenal man had got away. Knew exactly what he was doing.
85'
The home faithful are in full voice! Waving their scarves and singing club songs.
83'
All Rennes here. Will Rennes find a third or will Arsenal keep it at two? Arsenal will fancy their chances at home if it stays like this. Xhaka has once again been forced to clear objects near the corner flag.
80'
Siliki is fouled by Xhaka, who has already been booked. Dangerous position. The free kick can't beat the man in the wall and it's a throw in.
79'
Arsenal sub: Aubameyang is taken off and Kolasinac joins the action. The Gabonese player is looking glum on the bench.
77'
Almost 3-1!!! Another dangerous cross from that far side by Sarr, but Cech gets there before Hunou can.
75'
Arsenal have a corner, but first some objects have to be cleared by Xhaka. Disappointing. Monreal forces another corner. Nothing comes from the second one.
74'
Arsenal want a penalty for handball! They feel Monreal's shot struck a hand. Nothing given.
73'
Rennes sub: Bourigeaud leaves to a standing ovation from the full house. Lea Siliki replaces him.
71'
Arsenal just need to get out of here sharpish. It can only get worse for them. The red card has proved costly.
69'
Arsenal sub: Ozil goes off and Ramsey is thrown into the action.
68'
Cech is tested once again! He has to deflect it for a corner to thwart Ben Arfa.
68'
For the first time this half, Arsenal create something! Ozil's tame shot finds the hands of Koubek.
66'
Bensebaini shoots wide now!
65'
Goal for Rennes!!! Own goal by Arsenal!!! Mishit shot by Bensebaini, Zeffane runs onto the loose ball, he puts in the cross and Monreal turns it into his own net after it hit him on the left thigh/hip. Was coming.
63'
54% possession for the home side. Arsenal have just had to clear another couple of crosses into the box.
61'
Free kick to Rennes! Xhaka tugged back Ben Arfa. Ben Arfa takes the free kick and Cech tips it over the bar. Xhaka was booked, by the way.
59'
Penalty shout for Rennes! Sarr gets into the box and Koscielny nudges him off the ball. The Senegalese went down, but I think Koscielny was just stronger. The ref agreed with me.
58'
Double save by Cech just now! Two Rennes players had the shots. Do I really need to tell you who had them? Bourigeaud and Sarr.
56'
What a glorious chance for the hosts! It's that same combination again. Sarr and Bourigeaud. Sarr is causing havoc down Arsenal's left. He beat Monreal and Bourigeaud would have had a tap-in, but Koscielny got a vital touch on it to take it away from the Rennes man.
53'
Emery's side have created next to nothing in the second half. They will be delighted if it stays like this. They just need to hold on.
53'
Sarr sends in another cross. Nobody gets on the end of it and it's a throw in for the visitors.
52'
Arsenal sub: The goalscorer Iwobi leaves the pitch and Guendouzi comes on.
50'
Another opportunity for Bourigeaud! Very good play by Sarr on the far side, he finds Bourigeaud in the box, but Cech holds onto the shot. Arsenal on the ropes! Emery is looking towards the bench.
49'
Bourigeaud has an curling effort! It looked he was attempting a cross, but the ball went past the far post.
48'
Sarr has a shot, but it goes wide! Strong start by Rennes
47'
Torreira fouled by Zeffane.
46'
Arsenal get us back underway in their turquoise kits!
46'
Welcome back everyone for the second half! No changes here.
45'
HT: Rennes 1-1 (10) Arsenal! It's half time here in Brittany after an eventful first half! Iwobi open the scoring in the third minute and while both teams were attacking, Arsenal definitely had the upper hand. However, that changed around the 30 minute mark. Rennes started to take control, had a few good chances and ended up levelling the score through a screamer from Bourigeaud. Seconds before that, Sokratis was dismissed for Arsenal for a second bookable. Join us shortly for the second period.
45'
Torreira looks for Aubameyang, but the Gambian went too early.
45'
Rennes are definitely finishing the half on top. Arsenal need half-time as soon as possible to be able to regroup.
44'
Arsenal go up the other end! Aubameyang tries to find space in the area, he can't find any, the ball ends up with Mkhitaryan, but the Armenian finds the top tier.
42'
Rennes equalise!!! What a hit! The free kick hit the wall, but Bourigeaud struck the rebound sweetly into the top corner! Absolutely unstoppable. Double whammy for the Gunners.
41'
Red card for Arsenal!!!!! Sokratis clearly brought down Sarr when he was bearing down on goal! Rennes were after a straight red, but there was cover. He saw a yellow card, his second of the game and he walked the plank! Arsenal with 10.
39'
Rennes have had a good spell in the last five minutes after Arsenal were comfortable.
38'
Yellow card for Rennes! Bourigeaud pleads with the ref not to give the card after catching Torreira, but his protests were fruitless.
36'
Emery has just been spoken to by the referee after he wanted a yellow after Torreira was sent tumbling. Told to calm down.
35'
Hunou has a go, but his effort goes over!
35'
Save! Ben Arfa went for goal and Cech had to dive to his right to prevent the equaliser!
34'
Free kick to Rennes after Ben Arfa was brought down! Sokratis, who had already been warned, got booked.
32'
Aubameyang is flagged offside when he was one on one with the goalkeeper! He had a nicely timed through ball played to him by Ozil and he wasn't offside!!! Controversial.
30'
Free kick to Arsenal here! Mhkitaryan takes it short to Monreal, he finds Torreira, the ball ends up at the feet of Mustafi who can't hit the target! That was a well worked move.
28'
Free kick delivered by Bourigeaud finds Mexer at the far post, but it hits his hip and goes out of play. Was miles offside anyway.
27'
Flashpoint here! Sokratis kicks Hunou in the back of the leg when he tried to win the ball. Kruzliak gave the foul, but some Rennes players took exception to the challenge!
25'
Arsenal definitely looking the more dangerous. Would be very surprised if this finishes 0-1.
23'
Top save by Koubek once again from Iwobi's cross after good build up play by Ozil.
22'
Ben Arfa tries to launch another Rennes attack, but Torreira clears the danger.
21'
Mustafi goes down again!!!! It looks the German can't continue. He grimaced after the previous move and his night seems to be over.On the replay it seems he planted his right foot badly. Not sure there was any contact from any Rennes player.
20'
Mustafi tries to force a corner, but the ball rebounds off the Arsenal man for a goal kick.
18'
51% possession for Rennes. Both teams attacking, but Arsenal have more quality in the final third.
18'
Opportunity for Arsenal! Aubameyang tries to beat the goalkeeper at his near post, but the Czech is up to the task.
17'
Rennes looking to try and find an equaliser, but Arsenal look dangerous on the counter. They need to be careful they don't concede another.
16'
Rennes are putting on the pressure now! Another effort goes wide from Grenier after Ben Arfa's free kick was headed away!
15'
Chance for Rennes! Grenier strikes a free kick from 30 yards out, but he can only find the stanchion post!
13'
Injury for Arsenal! Mustafi goes down and requires treatment after being stepped on by an opponent. Rennes have a free kick here.
12'
What a great save by Koubek!!!! Ball played to Iwobi, who crosses to Torreira. Torreira's fierce shot is parried away by the Rennes goalkeeper! A golden opportunity to double the lead.
10'
Ozil goes down on the edge of the Rennes box wanting a free kick, but the ref isn't interested!
9'
Good play by Grenier, but the ball for Bensebaini is too strong and the it goes out of play for a goal kick.
7'
That early goal has settled any early nerves for the away side and they are keeping the ball well now.
5'
That was Iwobi's fifth goal of the campaign and a crucial away goal for the English side.
3'
Goal for Arsenal!!!! Monreal plays the ball for Iwobi. He turns, goes into the box before slotting it into the far corner after hitting the upright! Was it a cross or a shot? Looked like a cross to me. Iwobi won't care. Dream start for the Gunners.
2'
Rennes have seen more of the ball so far, but nothing major up to now. Just one cross cut out by Mustafi.
1'
Underway!! Rennes get us underway in the red shirts. They are attacking from left to right.
Prev.
Andre and Koscielny, the two captains, shake hands in the middle and we are about to start. Sit back and enjoy!
Prev.
The players are now making their way out onto the pitch!!! 10 degrees and dry.
Prev.
For Rennes, Niang and Traore are suspended and Zeffane and Hunou take their places. The other big news is that Hatem Ben Arfa starts for the French side. He will see Unai Emery on the opposition bench with whom he had a bad relationship when they were together at PSG.
Prev.
Our referee for this evening's game is Ivan Kruzliak from Slovakia! Hopefully we won't have to speak about him later on! Just a reminder that there is no VAR for this match, only goal-line technology.
Prev.
The home side come into this game well rested after the French League called off their league game against Nimes to give them extra recovery time for this encounter. They haven't played since February 27.
Prev.
Arsenal make four changes for tonight's clash with regards to the 1-1 draw versus Tottenham at Wembley last Saturday. Lacazette is suspended so Aubameyang takes his place, Ramsey is rested so Ozil gets a start and Torreira plays instead of Guendouzi given that the Uruguayan saw red on the weekend and will therefore be unavailable to play against Man Utd on Sunday. Cech replaces Leno in goal as has been the norm in cup matches.
Prev.
Rennes reached this phase after stunning Spanish side Real Betis by winning 1-3 in the return leg after drawing three all at home whereas Arsenal overturned a one goal deficit against Bate Borisov of Belarus thanks to goals from Mustafi, Sokratis and an own goal. Arsenal were actually drawn to play the first leg at the Emirates, but the order was reversed after Chelsea were also drawn to play at home tonight as well.
Prev.
The visitors line up like this: Cech (GK); Mustafi, Koscielny, Sokratis, Monreal; Torreira, Xhaka; Mkhitaryan, Ozil, Iwobi; Aubameyang
Prev.
Rennes side to face Arsenal: Koubek (GK); Zeffane, Da Silva, Mexer, Bensebaini; Bourigeaud, Andre, Grenier, Sarr; Hunou, Ben Arfa
Prev.
Good afternoon and welcome along to our live coverage of the Europa League last 16 1st leg tie between Rennes and Arsenal. Stay tuned for all the latest info before kick off in just under 45 minutes time!