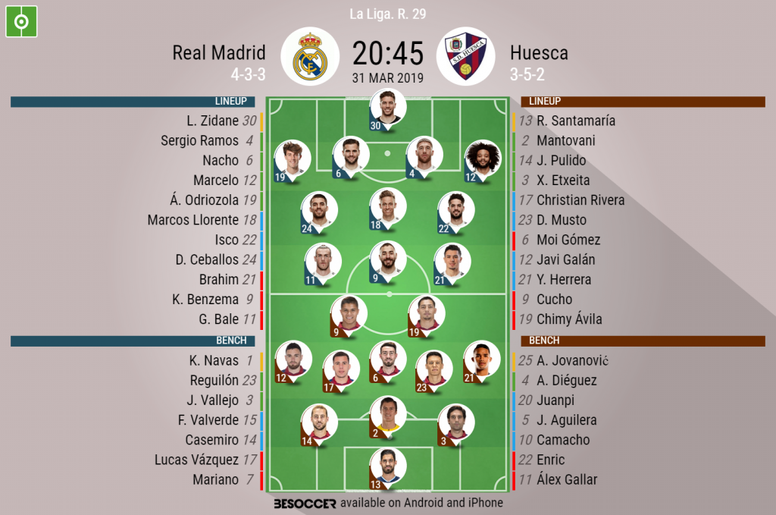 Real Madrid v Huesca - As it happened
Real Madrid

Huesca

94'
Thanks for joining our live coverage, we hope to see you again soon!
94'
It was a close one, but Zidane's risky team selection has paid off! That's two wins from two in his second reign at Madrid.
94'
FT: Real Madrid 3-2 Huesca - A breathless encounter swings the hosts' way right at the death. Huesca took a shock lead after just three minutes before Isco replied for Madrid. Dani Ceballos scrambled in his side's second of the game before Xabier Etxeita made it 2-2 with 17 minutes to go. But Karim Benzema was on hand to give the game a grandstand finish, curling in a sensational strike from the edge of the area to win it.
92'
You've got to feel for Huesca, they've deserved at least a point from this match.
89'
GOOOOAAALL FOR MADRID!! Karim Benzema to the rescue again! Marcelo feeds the Frenchman on the edge of the box, and he takes one touch to get the ball out from under his feet before bending a beautiful effort into the far top corner of the net.
88'
Marcelo whips in a free-kick from the left and Ramos runs onto it, but his touch is too heavy and it bounces out for a goal kick. Time is running out for the hosts...
86'
MADRID CHANCE - Lucas Vazquez takes aim from range but Santamaria parries away.
84'
HUESCA CHANCE - Mantovani meets a corner at the near post, but his flicked header goes just high and wide of the upright.
81'
Huesca are somehow enjoying the better of the closing stages. You'd never guess Madrid are supposed to be the far superior team...
78'
The hosts make a change too, and Mariano is on for Marcos Llorente.
78'
Christian Rivera is off for Huesca, with Juanpi Anor on to replace him.
77'
MADRID CHANCE - Bale fires wide from the edge of the area.
73'
GOOOOAAALL FOR HUESCA!! Huesca play a short corner, Madrid are slow to react and a cross is whipped into the box. Xabier Etxeita heads home at the near post to bring his side level. What a final 17 minutes we have in store!
70'
MADRID CHANCE - Benzema bursts down the left and squares across the six yard box for Bale, who pokes a leg out. Somehow he diverts it well over the bar, much to the anger of Zidane and most of the stadium.
66'
Nacho picks up a yellow card, meaning he will be suspended for Madrid's league game against Valencia on Wednesday.
64'
Brahim Diaz comes off for Madrid - he's replaced by Lucas Vazquez. A show of faith in Bale by Zidane.
62'
GOOOAAALL FOR MADRID!! Gareth Bale pops up on the right and hits an absolute peach of a cross into the box with the outside of his boot. Benzema arrives at the back post to nod the ball across goal, where Dani Ceballos is waiting on the line to bundle home.
59'
Muted atmosphere in the Bernabeu, where half the stadium is empty. Can Real Madrid do something to bring their fans to life?
56'
Now Huesca come back, and Nacho does well to head a dangerous cross behind for a corner. Not bad for the league's bottom-placed club playing away to the Champions League holders!
54'
Real Madrid just starting to get a measure of control over this one. They've had Huesca penned back in their own half for over five minutes now.
50'
And Gareth Bale goes for a rugby conversion with the resulting free-kick. Well over - it really hasn't been his day so far.
49'
Pulido goes into the book for tugging at Odriozola's shirt.
48'
MADRID CHANCE - Benzema slams a low shot towards the bottom corner, but Santimaria does excellently to dive to his right and hold onto the ball.
45'
HT: Real Madrid 1-1 Huesca - A far from perfect half for Zidane's men, who have not looked at all comfortable so far. Huesca took a shock lead after only three minutes thanks to a well-placed Cucho finish, but Isco scrambled home an equaliser 20 minutes later. Since then both sides have looked like scoring, with Huesca missing a gilt-edged chance just before the break. All to play for in the second period!
44'
HUESCA CHANCE - Chimy Avila blows a huge opportunity to give his side the lead! He receives the ball near the penalty spot and fires a half-volley at goal, but his effort flies over the bar.
39'
Huesca are being afforded acres of space in between Madrid's midfield and defence. This is a far from dominant performance by the hosts.
35'
Bale almost gives the ball away in a dangerous position again, but this time can poke the ball back to Luca Zidane just in time.
32'
HUESCA CHANCE - Huesca play a corner direct to the edge of the area where Chimy Avila is waiting. He leaps into the air and attempts a spectacular bicycle kick, slamming the ball into the ground and spinning wickedly towards Luca Zidane. Real's goalkeeper for the day initially drops it before gathering. Hairy moment for the manager's son.
29'
It's end to end stuff here, Huesca also not looking too far from another goal.
26'
At least my prediction of a Real Madrid goal came true.
24'
GOOOAAALL FOR MADRID!! Benzema saw a low shot parried back into the six yard box by Santimaria, and Isco was on hand to tuck away. Two games under Zidane, two goals. Not bad!
20'
Famous last words though, this will probably finish 5-0 to Huesca.
19'
Huesca need to sort their defence out, this lead doesn't look like it'll last long.
16'
Alvaro Odriozola bursts down the right, rides one tackle and squares for Benzema, who turns and sends a shot straight down Huesca goalkeeper Roberto Santamaria's throat. Easy save.
14'
MADRID CHANCE - Karim Benzema races into the box and gets on the end of a cut-back, but it's slightly behind him and he can only slam a shot wide with his trailing leg. Another awkward chance.
12'
MADRID CHANCE - Marcelo, who has come back into the fold under Zidane, clips a ball into the box and Dani Ceballos fails to divert his awkward flick towards goal. It rolls out for a goal kick.
8'
Gareth Bale's evening doesn't get any better as he is barged off the ball near the halfway line. The Real Madrid fans' opinion of him doesn't look like it will be changing any time soon.
5'
How will Madrid respond? Not very well, by the looks of it, as Gareth Bale sends a limp cross into the area to be cleared easily.
3'
GOOOAAALL FOR HUESCA!! Did anybody predict that? The visitors take a shock lead after barely 120 seconds in, with their striker Cucho finding the net after a cut-back on the right found him unmarked in the penalty area. What a start!
Prev.
The players are out, here we go...
Prev.
Real Madrid are currently 15 points off league leaders Barcelona and five off second-placed Atletico. They do have a game in hand, however.
Prev.
The Huesca players check out the pitch. This is quite the occasion for La Liga's bottom club, who endured rather less glamorous away trips in the Segunda last season.
Prev.
Zinedine Zidane's second reign as Real Madrid manager got off to a positive start thanks to a 2-0 home victory over Celta Vigo. That all feels a long time ago, with the international break having come and gone since then. Will the Zidane era continue its smooth progress? We're about to find out...
Prev.
Real Madrid are in the building!
Prev.
Some surprising additions to the Real Madrid side, none more so than the inclusion of Luca Zidane in goal. Nepotism, much? Brahim Diaz, recently signed from Manchester City, also makes a rare appearance, while Gareth Bale gets the nod on the right wing ahead of Lucas Vazquez.
Prev.
And this evening's visitors, Huesca: Roberto Santamaría; Herrera, Etxeita, Mantovani, Pulido, Javi Galán; Musto, Moi Gómez, Rivera; 'Chimy' Ávila, 'Cuchu' Hernández.
Prev.
Time for some team news, starting with our hosts, Real Madrid: Luca Zidane; Odriozola, Sergio Ramos, Nacho, Marcelo; Marcos Llorente, Dani Ceballos, Isco; Brahim, Benzema, Bale.
Prev.
Hello and welcome to our live coverage of the La Liga clash between Real Madrid and Huesca from the Santiago Bernabeu!