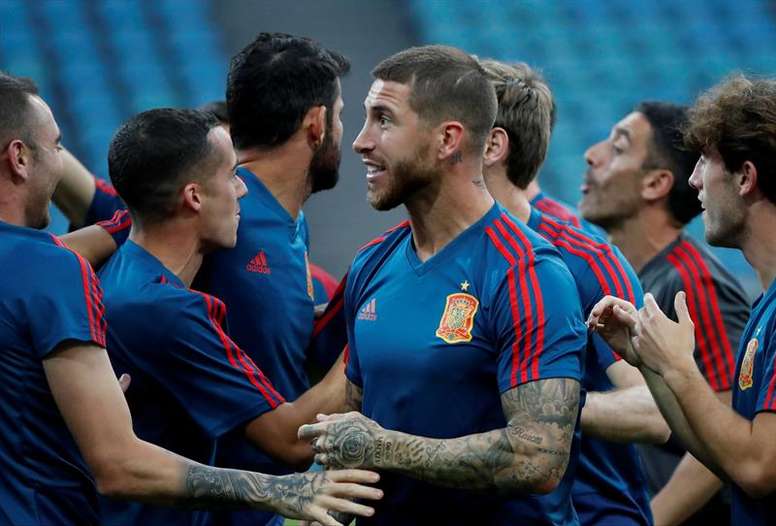 "Ramos is one of the best in the world, but he can also be a bit of a brute"
Olsen won the European Championship with Denmark as central defender. Now, from his position as coach of the Faroe Islands, he spoke about Ramos, who this Sunday will equal Iker Casillas as the player with the most matches in the history of the Spanish national team.
"I've seen him for a long time in Real Madrid and in the Spanish national team. In my opinion he is one of the best central defenders in the world, he is very strong but sometimes he can be a little rough in his style. I think he has some red cards that he could avoid. That said, I admire him a lot," he said in the press room of El Molinón.
The coach was tough on the image of the Faroe Islands against Sweden in their last defeat. "We're in the final stages of preparations to face Spain after the last match against Sweden in which we played very badly, especially the first half. We hope to show a better face.
He pointed to the Spanish national team as "the best in the group" and stressed his style that will not change from Luis Enrique Martinez to Robert Moreno: "They have possession of the ball in very high percentages. We know what we're up against and we'll try to do our best."
"On Friday I was able to watch the match against Romania and Spain's style is the same. I'm sure Luis Enrique and Robert Moreno have talked about how he wants the team to play in the past, and now Robert is the coach and will have difficulties to overcome. He has very precise football," he said before finishing by sending a message of encouragement to Luis Enrique after the death of his daughter Xana.
For his part, goalkeeper Gunnar Nielsen praised the Spanish national team: "It's a very difficult match against one of the best teams in the world. We've come from a disappointment in our game against Sweden and we're up against Spain, which is one of the best, but we're used to the pressure."
"The Spanish national team is a tough opponent who always has a lot of possession. For us it's a new day and we're going to try to do our best against the best in the group. We know they're going to have chances but we'll try to play a good game," he added.