Osasuna vs Barcelona - as it happened

Samuel Frape
2 months ago
12.4k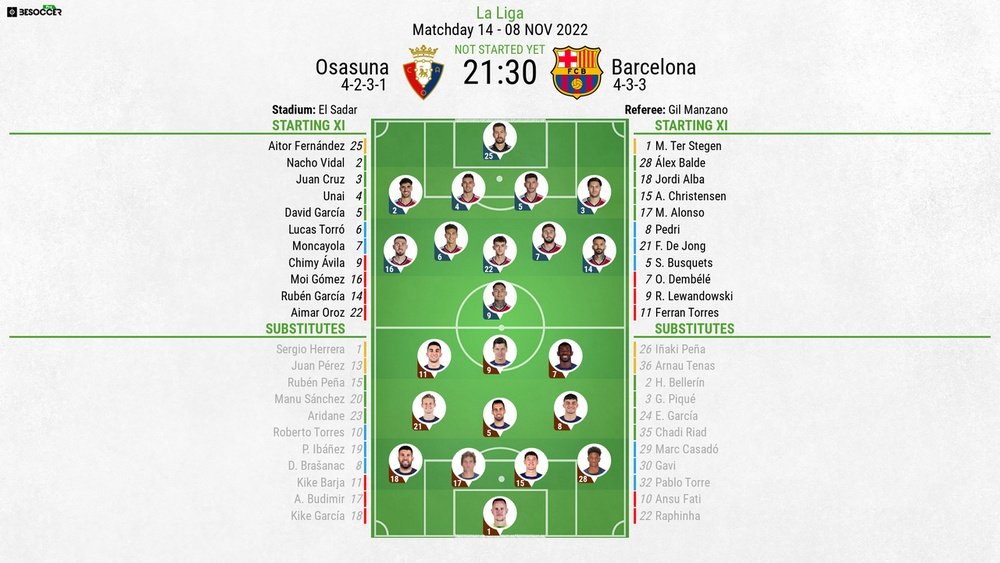 Osasuna vs Barcelona, LaLiga matchday 14, 8/11/2022, line-ups, BeSoccer.

List of goalscorers

End of match
FT: Osasuna 1-2 Barcelona. Xavi's men complete the comeback and claim all three points in Pamplona! Thanks for joining our live coverage tonight and we hope to see you again soon.

90+4: Osasuna go close from a cross/shot, but curved just wide.

Corner for Barca as Raphinha presses forward even more.

Osasuna not giving up yet, and are continuing to press. 4 minute added on...

Substitution
at Barcelona
SUB for Barca: Pedri off for Riad

Goaaaaaal!
de Barcelona en el 85'
Statistics of Raphinha in Primera División

0.13
GOAL for Barca!! Raphinha puts away a great through ball over the top, who loops the header over the keepr, great finish.

SUBS for Osasuna: Avila and Gomez off for Budimir and Kike Bajar.

Substitution
at Barcelona
SUB for Barca: Ansu Fati and Raphinha on for Ferran Torres and Dembele.
Osasuna header put just ober after a teasing cross.

Gavi fouled straight away after entering gaining ground.
SUB for Barca: Christensen off for Gavi.
SUBS for Osasuna: Brasanac and Pena coming on for Oroz and Ruben Garcia.
Dembele fires too high, not getting anywhere with that.

Osasuna continue making the most of the man advantage in terms of possession, with Barca trying to get back into it by putting together simple passes.

Avila hopefully puts one in from distance in hope of catching Ter Stegen out, but the Barca keeper back-pedals enough and tips it over for a corner.

Balde booked for coming in hard from behind.
Balde makes a great run all up the pitch and the Osasuna man forced to take him down.

Cross floated into the box, but no one gets on the end of it and Ter Stegen welcomes it with open arms.

SUB for Osasuna: Torro off for Kike Garcia

Torro booked for challenge on Ferran Torres.

Goaaaaaal!
de Barcelona en el 48'
Statistics of Pedri in Primera División

0.24
GOAL for Barcelona!!!! Pedri gets Barcelona back into the game after pouncing off a loose ball. The younster fires home emphatically and gives Barcelona a chance to come back and win the game.
Barca with their first chance of the second half, with a free kick in a promising position.

Barcelona start us off for the second half.

News coming in that Pique was sent off during the break after his confrontation with the ref. Won't be his fairytale retirement ending.
HT: Osasuna 1-0 Barcelona! Xavi's men went a goal down early on, then Lewandowski did not help their cause by being sent off. Home side have the advantage and momentum at the moment...

Barca goal ruled out for offside! Torres clearly offside despite a neat finish.

Dembele forces a corner after cutting in and his shot deflects out.

Ferran Torres unable to convert a corner where he had a good chance at the back post.

Osasuna try their luck from distance, but it easily flies over Ter Stegen's goal.

Barcelona still trying everything possible to get back into this one, despite going down to 10.

Marcos Alonso brings down Osasuna striker down in the box, but nothing doing says the ref.
RED CARD for Lewandowski! The Barca striker goes in on the Osasuna defender hard with a slightly raised elbow and sees him second yellow!
Barca have continued their attack, but the Osasuna defence has remained strong and solid up until now...

Lewandowski puts one goal-bound, but it is easily saved by Fernandez.

Balde goes close for the visitors, letting fly from outside the box, but it flies wide.

Barca continue pressing, but the Osasuna dominates his area and claims the cross.

Osasuna go close, but Avila can only manage to find the side netting.

Barcelona looking for equaliser by putting in a few crosses, nothing doing as of yet.

Lewandoski is the first man in the book tonight.
GOAL for Osasuna!!!! David Garcia finds himself free from Busquets in the box, and headers powerfully into Ter Stegen's bottom corner.
Sloppy defence from Barcelona gifts Osasuna a chance, but the striker get a shot off a defender.

Osasuna comfortable passing the ball round their defence to dominate early possession.
The home side get us underway for this one!

Start of match
Both sides coming out here in Pamplona, ready for kick off!

Just the one change for the visitors tonight, with Pique making way for Christensen in defence!

Four changes for the home side this evening. Vidal, Cruz, Moncayola and Ruben Garcia IN for Sanchez, Pena, Budimir and Barja.

Barcelona starting XI: Ter Stegen, Balde, Alba, Christensen, Alonso, Pedri, De Jong, Busquets, Dembele, Lewandowski, Torres

November 8, 2022

Osasuna starting XI: Fernandez, Vidal, Cruz, Unai, David Garcia, Torro, Moncayola, Avila, Gomez, Ruben Garcia, Oroz

November 8, 2022

Line-ups will be out shortly for this one, as Osasuna look to get into the top three, while Barcelona need the win to move five points clear of nearest rivals Real Madrid.

Pre-match
08 November 2022, 21:30
Stadium: El Sadar
Hello and welcome to our live coverage of the La Liga clash between Osasuna and Barcelona!
Mentioned in the news story
La Liga

Barcelona

Osasuna