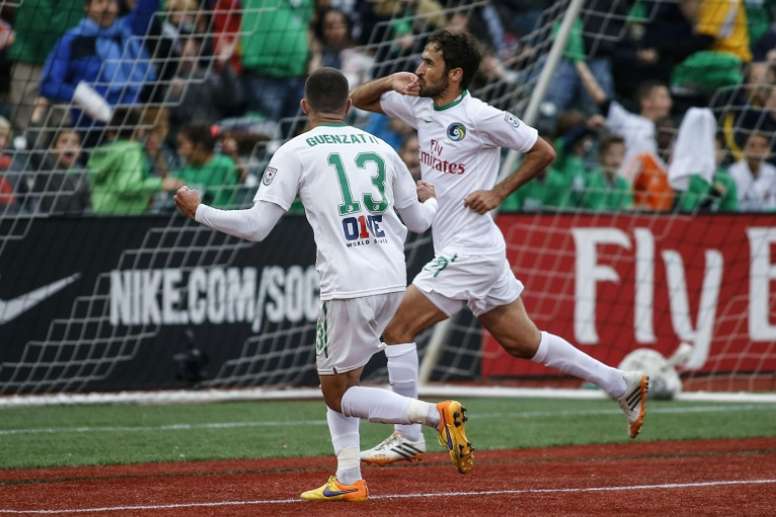 NY Cosmos fate uncertain as crisis engulfs US lower leagues
Five years ago, the New York Cosmos announced their rebirth after decades of hibernation with Pele and Eric Cantona heading their delegation for a friendly against Manchester United at Old Trafford.
The team, which became an iconic franchise during the 1970s heyday of the North American Soccer League -- when the likes of Pele, Franz Beckenbauer and Carlos Alberto played before enthusiastic crowds of 70,000 -- were back.
But fast-forward to 2016, and the ambitions which accompanied the team's 2011 relaunch have stalled.
A crisis in the North American Soccer League (NASL), US soccer's second tier, has prompted the Cosmos ownership to terminate the contracts of its players. While Cosmos sources insist the franchise is still in business, with no players and no stadium, it remains a club in name only.
The uncertainty shrouding the Cosmos is a direct consequence of the problems engulfing the NASL.
The league, which had once entertained hopes of becoming a viable alternative to Major League Soccer, is fighting for survival. Many teams are bleeding money, others have defected.
Minnesota United is joining Major League Soccer, while the Tampa Bay Rowdies and Ottawa Fury are heading to the United Soccer League, the third tier of US football which has close links to MLS.
Other NASL teams such as the Fort Lauderdale Strikers, are in financial trouble. Rayo Oklahoma City have released their players.
'The league's collapsed'
"Bottom line is, the league's collapsed," a senior official with an NASL club told AFP on condition of anonymity this week.
The crisis forced the Cosmos, which remains the strongest brand in club football in the United States despite their status outside Major League Soccer, to furlough its playing staff.
"We can't play in a league of seven teams. Doesn't make any sense for us at all," a Cosmos source told AFP. "We're not going out of business. But we can't play in a seven-team league. So if we can't play in a seven-team league, we don't need players on the payroll."
"It's a strategic decision we've taken because we can see that the league doesn't work anymore". An NASL spokesman did not respond to requests for comment.
Kartik Krishnaiyer, the former NASL director of communications who now writes about football, believes the league has faltered by trying to do much too soon.
"You have to crawl before you walk, and walk before you run," Krishnaiyer told AFP. "The clubs in the league have not been terribly relevant locally.
"They've been interested in making a big splash and getting international attention, operating at a very high level without having fundamentals in place.
"There's been a culture of overspending on players and technical staff across the league ... I think if the league hasn't collapsed it probably has one more year if it doesn't fix its structural problems."
Where now for Cosmos?
The USL meanwhile is pushing to be reclassified as a Division Two league by the United States Soccer Federation (USSF), a distinction which is essentially meaningless as there is no system of promotion and relegation in US soccer.
A meeting of the USSF's board of directors ended on Tuesday with no decision about whether to reclassify the status of the USL and NASL.
While some reports described the delay in a USSF decision as representing a lifeline to the NASL, the FiftyFive.One blog reported on Thursday that a deal to make the USL the sole second division league was "99 percent complete."
Delaying a decision on Tuesday was a tactical move designed to allow NASL clubs interested in moving to the USL more time to finalize deals, FiftyFive.One reported.
The confusion embroiling the lower leagues leaves the Cosmos struggling to find a harbor that makes sense for a team with its rich history and aspirations.
Club officials say playing in a league regarded as the third tier of US soccer is not an option, neither is playing in the USL, where many opponents would be the reserve teams of Major League Soccer sides.
Could the Cosmos eventually end up in the MLS? With two New York clubs already in the Big Apple -- New York City FC and New York Red Bulls -- it is debatable whether there is room for a third.
Krishnaiyer believes the Cosmos could possibly end up in the MLS but questioned whether it would happen under the club's current foreign-based ownership, which has previously rejected the MLS's business model and terms of entry in order to retain control of the club.
"I think it's certainly possible. Every single American investor that invests in a soccer club wants to be in the MLS at some point," Krishnaiyer said.
"Whether they're investing in a USL team or an NASL team, ultimately they want to be in the MLS ... The Cosmos with the goal of being in MLS, if that's their goal, would have to figure out a place to play.
"But I think they need a different set of investors. The important lesson from NASL is that teams have to be relevant to local markets."