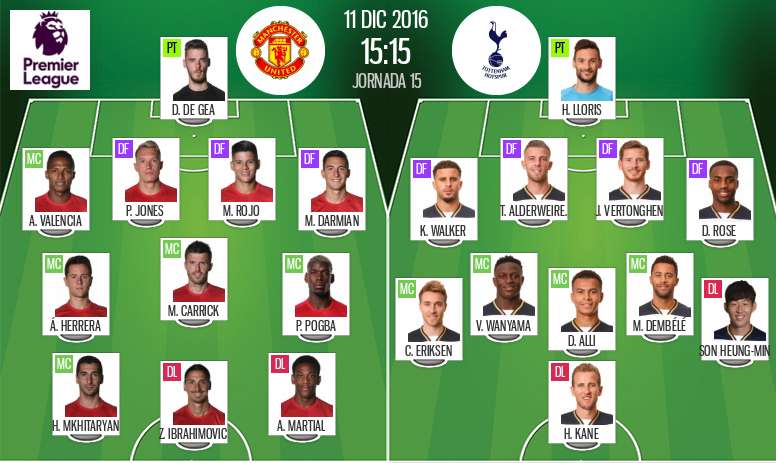 Manchester United vs Tottenham - As it happened
FULL-TIME: Manchester United 1-0 Tottenham
The match is over. Manchester United have won.
Fellaini on, Herrera off
Mourinho makes a change in the last minute.
Six minutes added
Six more weeks and we will know whether this game ends in a draw or United win.
Mkhitaryan leaves the pitch injured
The Armenian leaves the pitch on a stretcher. Rose has kicked him quite hard and received a yellow card for it.
Mkhitaryan injured
Will he leave the pitch?
Booking for Mkhitaryan
The Armenian receives a yellow card in minute 75.
Eriksen, Tottenham's only hope
He has been for now the guest's most active player. Son and Dele Alli haven't been attacking enough.
Martial off, Rashford on
Rashford enters the field in mimnute 72. Will he be able to score another goal?
Dembele off, Winks on
The hosts make their second replacement in minute 67.
Booking for Pogba
Pogba receives booking in minute 64.
Missed chance for United
Pogba has had already several chances in the second half but for now he has just hit the post.
Heung-Min off, Sissoko on
Heung-Min gets replaced after successful 57 minutes.
Second half underway
The second half has been kicked off at Old Trafford.
HALF-TIME: Manchester United 1-0 Tottenham
The first half is over. United are leading for now. Will Tottenham equalize in the second half?
More chances for United, higher possession for Tottenham
United have already scored their first goal and had more chances to net but Tottenham have the higher ball possession (58%).
Another chance for Heung-Min
The South Corean receives his second chance in minute 35. However, De Gea defends the goal.
Another chance for United
Ibrahimovic attacks the guest's goal but Lloris saves his ball.
Booking for Valencia
The United player receives a yellow card for fouling Rose.
GOAL: Manchester United 1-0 Tottenham
Mkhitaryan proves once again that Jose Mourinho was wrong. He scores his side's first goal in minute 29, Herrera has made the assist.
Tottenham are getting stronger
The guest are advancing carefully but United are defending quite good.
First chance for Heung-Min
Heung-Min tries to score his sides first goal from a 25m distance.
United start strong
Pogba scored almost the first goal in minute 2 but Lloris prevented the ball from entering. However, if they keep playing that strong, they have good chances to win.
Match underway
The game has been kicked-off at Old Trafford. Which side will win today?
The players are out on the field
Both sides have entered the pitch and the game will be kicked-off within a few minutes.
Five minutes until kick-off
The game will start within five minutes. Which side is your favourite?
Official line-ups have been announced
Manchester United: De Gea, Valencia, Jones, Rojo, Darmian, Herrera, Carrick, Pogba, Mkhitaryan, Ibrahimovic, Martial.
Tottenham: Lloris, Walker, Alderweired, Vertonghen, Rose, Eriksen, Wanyama, Alli, Dembele, Son Heung-Min, Kane.
Manchester United receive Tottenham today at 15.15h in the 15th round of the Premier League. Follow all the updates with us.