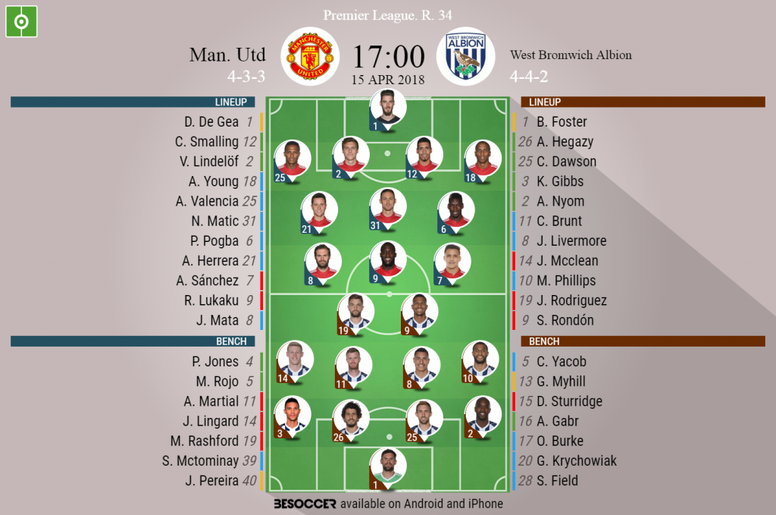 Man. Utd v West Bromwich Albion - As it happened.
Manchester United FC

West Bromwich

94'
FT: United 0 - 1 West Brom!! The visitors have done it!! They have secured a famous victory over Jose Mourinho's side thanks to a second-half header by Jay Rodriguez! United's defeat hands Manchester City the Premier League crown!
93'
West Brom waste some time by making their final change. Yacob replaces captain Brunt.
92'
Smalling gets on the end of a ball from the right but Foster is there again to catch it. He has been outstanding in goal today.
90'
Four minutes added on at Old Trafford. Time is running out for United.
89'
CLOSE!! Sanchez whips in a fierce ball from the left, putting it on a plate for Lukaku but he misjudges the flight of the ball and it skims the top of his hand, instead going neatly into Foster's arms.
88'
West Brom are pretty much penned in their box but are doing well to weather the United onslaught.
86'
Foster does well to catch a lofting ball from the right with Lukaku poaching.
85'
A massive boost for the visitors as Sturridge comes on for Rondon. Let's hope he doesn't get injured straight away this time...
83'
Going into the final 10 minutes and United don't look like scoring. Alex Ferguson is watching on in the stands in utter disbelief at today's performance.
80'
To put this score into context, West Brom have won just one of their last 30 league games.
79'
The game has really opened up now and United throw caution to the wind. At the moment though, West Brom are holding strong.
77'
Nyom is booked for a naughty late challenge on Martial.
76'
West Brom make their first change of the game as Phillips comes off for Krychowiak. Defensive move there for Moore.
75'
The goal certainly has put a spanner in the works. As it stands, Manchester City have secured the Premier League title!!
72'
GOAL!! WEST BROM!! The corner is whipped into the box as Matic accidentally heads it back across the six-yard box and perfectly into the path of Rodriguez who can't miss the target from there. 1-0!!
71'
West Brom have a corner after Phillip's cross is headed out of play.
68'
Lingard is miffed that his side don't have a corner after his shot takes a deflection and makes sure the referee is aware of his displeasure.
65'
SAVE!!! It's a brilliant save from Foster to deny United again. Lukaku appears to hang in the air for ages which gives him the perfect opportunity to place some power behind his head but it isn't far enough to the corner and Foster gets an important hand to parry it away!
64'
United appeal for a handball just outside the box after Livermore handles the ball but he was so close and had little time to get it out of the way. Tough one for the referee but he waves play on.
63'
Nothing really to write home about in this second half...
60'
United have a corner. Can they mount a clear-cut opportunity? No.
57'
Mourinho, realising that Pogba is looking a liability on that yellow, pulls him off. Martial comes on instead.
55'
Brunt's shot is blocked for a West Brom throw-in.
54'
West Brom have a free-kick just outside the box on the left after Pogba commits a silly foul.
53'
Mata lets loose just outside the box but he cuts the shot too much and it fires out for a goal-kick.
52'
The home side have a free-kick in midfield after McClean is penalised for a foul.
49'
De Gea easily saves a header by Rondon.
47'
United have a corner early on after Dawson blocks a Lingard shot but it's headed away by West Brom. Better start.
46'
The home side get the second half underway, making a change as Lingard takes to the field in place of Herrera.
45'
HT: United 0 - 0 West Brom! The referee blows for half-time and Sanchez can be seen shaking his head. It tells the tale of a pretty dire first 45 minutes for Jose Mourinho's side who haven't found a breakthough yet. Both goalkeepers have made fine saves but apart from that, nothing much to write home about. Let's hope the second half is better...
44'
United have a corner after the West Brom defence block a shot from Pogba. It leads to nothing...
43'
Considering the chance of handing rivals Manchester City the league title rests on this game, many would have expected a more electric performance from United in front of their home crowd but that hasn't been the case today.
41'
CHANCE!! It's a dangerous set-piece to the back post and Dawson heads it into the six-yard box but no one is there to finish it off!!
39'
West Brom starting to build some momentum again. Can they nick a goal before half-time with the first corner of the game?
35'
Lukaku breaks through for United but Foster is quick to latch onto the ball before the Belgian can.
32'
Matic tries his luck from range but it trickles past the post.
28'
Pogba is booked for deliberately handling the ball in the box. It was quite acrobatic but also very clear.
27'
It's turned into a bit of a scrappy battle in midfield at the moment, but United are looking stronger.
24'
A deep cross from the left-hand side finds Rondon in the box but his header is too weak and De Gea comfortably catches.
21'
Replays show Dawson's tackle on Herrera in the box. It looks a foul but the United player also made the most of it. Could've gone either way.
19'
DOUBLE SAVE!! Ben Foster is called into action twice in quick succession to block shots by Lukaku and Sanchez to keep his side on level terms.
18'
United appeal for a penalty after Herrera goes down in the box but the referee is having none of it. The player wasn't protesting too much so there can't have been much in it.
15'
United have had 70% possession so far but no real chances whilst the visitors are definitely looking more dangerous, forcing a save from De Gea early on.
13'
McClean whips it into the box from the left wing and Rondon jumps ahead of his marker to get a head on the ball but it flies over the crossbar. Encouraging start by the visitors.
11'
SAVE!! David De Gea saves United's blushes, getting down low to stop a strike by Livermore.
9'
Mata goes far too early and doesn't get back onside quick enough as a ball is played over-the-top to him. Lazy positioning from the Spaniard.
7'
United work the ball well just outside the box but the final pass is too strong and West Brom sweep in to clear the danger. Low key start for both teams.
5'
Lindelof and Rodriguez both hobbling a bit after a coming together but the two look okay to continue.
3'
Free-kick in midfield for West Brom after a clumsy challenge from Pogba.
2'
United moving the ball around nicely in the early stages, trying to settle into the game.
1'
West Brom get the game underway!
Prev.
The players are gathering in the tunnel. We are minutes away from starting.
Prev.
Mourinho has explained the reasoning behind playing Lindelof over Bailly which is tactical and not the result of an injury. Good news for United.
Prev.
20 minutes to go until kick-off!
Prev.
Two changes for United today as Eric Bailly and Jesse Lingard give way for Lindelof and Mata whilst the visitors will be boosted by the appearance of loan-signing Daniel Sturridge on the bench.
Prev.
West Brom: Foster; Gibbs, Hegazi, Dawson, Nyom; Livermore, Brunt (c), McClean, Phillips; Rodriguez, Rondon. Subs: Myhill, Yacob, Sturridge, Gabr, Burke, Krychowiak, Field.
Prev.
United: De Gea; Valencia (c), Lindelof, Smalling, Young; Matic, Herrera, Pogba, Mata; Lukaku, Sanchez. Subs: Pereira, Jones, Rojo, McTominay, Lingard, Martial, Rashford.
Prev.
Wonder if we will see a 5-5 thriller again today?
Prev.
Hello and welcome to Sunday's late kick-off between United and West Brom at Old Trafford. It's an important game for Jose Mourinho's side because if they lose, they will hand rivals Manchester City the Premier League title. Let's see what's in store for us today.