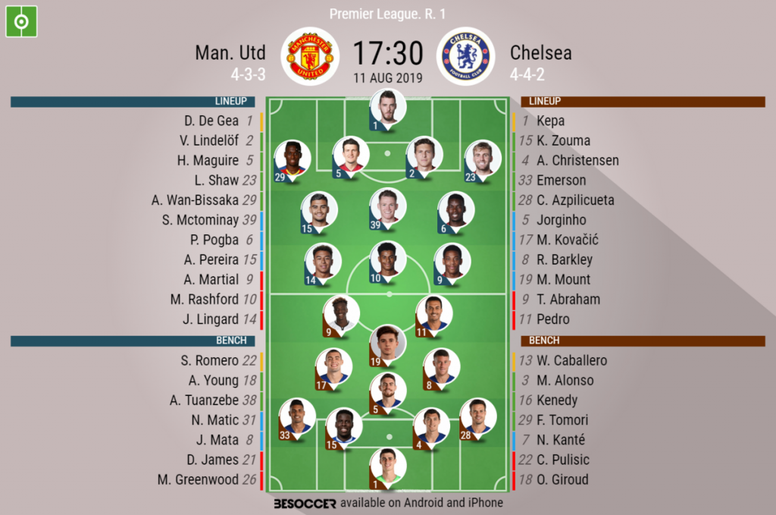 Man Utd v Chelsea - as it happened
Manchester United FC

Chelsea FC

94'
FT: Man U 4-0 Chelsea!!! All over at Old Trafford as United inflict a crushing victory on their opponents who hit the post twice, made two defensive errors and can claim a foul in the second goal. United were clinical and claimed three points here through Rashford (2), Martial and James. Thanks for your company and hope to see you again soon!
94'
Pulisic feeds Emerson to his left and the Brazilian's strike is punched away for a corner by De Gea. The corner is headed away and that's it!
93'
Pulisic's ball is strong for Giroud.
92'
Rashford is caught offside.
90'
Kante is carded now after fouling James.
89'
Pedro heads wide of the goal now.
87'
Wan-Bissaka's ball almost finds Greenwood inside the box.
86'
Man U double sub: Rashford and Lingard off, Greenwood and Mata on
85'
Mason Mount makes De Gea dive down to his right with a good 20 yard effort.
84'
Chelsea have a corner which comes to nothing.
81'
And it's 4-0!!!! Daniel James scores the 4th!!!! McTominay clears in his own box, Man O counter, Pogba makes a wonderful run and James' shot takes a massive deflection off Emerson and leaves Kepa for dead.
79'
Rashford is bearing down on goal again and Kante comes in right at the last minute.
77'
This game has gone now for Chelsea and United are enjoying themselves. They have just got another corner.
74'
United sub: Pereira off and Daniel James is coming on.
73'
Chelsea sub: Jorginho off and Kante on.
71'
Chelsea are really unlucky to be losing this 3-0. United have just been more clinical and luckier, that's all.
70'
Zouma heads a free-kick over the bar!
68'
VAR may say there were quite a few passes after Rashford countered in the second goal, but I don't agree, that was a foul in my book. Stuart Attwell in the box has missed that in my view.
66'
Straight from the kick-off, Pogba sends a lovely ball forward after Pulisic was dispossessed and Rashford makes no mistake.
66'
Chelsea sub: Abraham off, Giroud on. And now Rashford is in and scores again!!!!!!
66'
I think Abraham was hauled down there, Pereira put in a brilliant ball across the box to hit home, but I think it shouldn't count.
65'
Chelsea want a free-kick on the edge of the box, not given, Rashford counter, he gives it to Lingard and then Martial finishes home the cross!!! VAR will look at this as Chelsea wanted a foul!
64'
Attempts: 6-12, on target: 2-4
62'
Zouma needlessly concedes a corner. By the way, United are comfortable now.
60'
Pulisic is taken down by Pogba.
58'
Chelsea sub: Pulisic on for Barkley.
58'
VAR checking a possible red card, but no red card is given. Was definitely not a red.
57'
That's a terrible challenge on McTominay and Abraham deservedly goes in the book.
56'
Super shot now by Emerson of Chelsea saved by De Gea!!
53'
The free-kick is straight off the training ground! Pereira kids everyone by passing it wide to Wan-Bissaka , but they finally clear. Then Rashford sees his shot blocked after Maguire held up the ball inside the box.
52'
Jorginho sees yellow after Lingard's promising run is illegally halted by Jorginho's sliding challenge.
51'
Pedro is given the ball by Barkley and his curling shot from just outside the D takes a deflection behind. Corner.
49'
Throw in for Chelsea despite the crowd thinking Shaw played it off Pedro.
47'
Kovacic receives a nasty challenge and Lingard is carded. He stepped on his foot.
46'
Nothing came of the corner.
46'
Back underway and Chelsea win a quick corner!
45'
HT: Man U 1-0 Chelsea!!! Half-time at OT!!! Chelsea started really well and hit the post through Abraham, but Rashford scored from the spot after being fouled by Zouma. They then picked up for a bit, but Emerson hit the woodwork again for Chelsea who deserve to be level at the break. Join us for more shortly.
45'
Chelsea play a 20-25 pass move 25 yards from Chelsea's goal and then Kovacic launches the ball in which is caught by the goalie.
45'
United attack again and Lingard waits for the square ball, but it's intercepted. 2 added mins.
44'
Martial and Rashford link up well in a move which comes to nothing.
43'
United want a handball on the edge of the area, but nothing given.
40'
Emerson hits the junction!!! A looping ball in by Jorginho, Abraham tries to flick on and the ball reaches Emerson inside the box. He aims for the near corner, but can only hit the junction.
39'
What a save by De Gea to deny Barkley!!! Pedro plays Barkley in and from just outside the six yard box, he shoots and the GK stops with his foot. Top save.
38'
Free kick here for Chelsea on the near side. Mason Mount to swing this one in.
36'
Zouma goes into the book for a poor challenge on Pereira.
35'
Barkley hits wide of the De Gea's left hand post now for Chelsea
34'
Rashford scores, but he is given offside!! It is played by Pogba, not by Kovacic and then it flies to Rashford and he taps in. Off by a distance. VAR confirms.
32'
United attack, but Pogba can't direct his header goalwards and then Barkley counters and is dispossessed by Wan Bissaka.
31'
Chance for Mount after Barkley plays him in, but the pass then to a teammate was not accurate.
30'
Barkley loses the ball in a dangerous area and after a couple of passes, Martial hits over the bar.
28'
Man U have definitely been lifted by the goal.
25'
Abraham brings down Maguire and is penalised.
24'
Wan Bissaka gets the ball on the edge of the box after good play by Lingard, but the cross in is cleared.
22'
Referee stops play after Christiansen is down injured. He got a stray arm in the face from Pogba. It could have been a yellow and the Chelsea man has got an ice pack on his face.
21'
United get a free-kick, the ball in beats everyone and Maguire at the far stick wins a corner.
19'
Man Utd score completely against the run of play, but they won't care about that.
18'
Rashford to take. He scores!!!!! Right in the top corner!!! Kepa came slightly off his line, but it was irrelevant. It was a great penalty. The keeper dived to his right, but it was too high.
17'
Penalty to Man Utd after Rashford is brought down by Zouma! He steps on his left foot. Clear pen for me.
15'
It's been a very frenetic start to the game and Chelsea clearly have the upper hand.
12'
Mason Mount gets the ball now and shoots at De Gea! The move was started by Pedro and the shot took a nick off Maguire.
11'
74% possession for Chelsea up to now.
10'
Cross in by Azpilicueta beats everybody and the ball back in by Azpilicueta sees De Gea make a simple save.
7'
What a mistake by Chelsea in defence! A stupid lateral pass in their own box by Zouma and Martial gets on the end of it before shooting straight at Kepa.
6'
Foul now in midfield by Mctominay.
4'
Abraham hits the post from outside the box!!! And then Pedro fires over. De Gea had no chance there!
3'
Mason Mount wins a corner off Maguire over on the far side.
2'
Nice run by Emerson down this near side before he is dispossessed.
1'
No Willian even in the 18 for Chelsea surprisingly. United get us underway shooting from left to right! Both in their usual strips!
Prev.
The teams are on their way out here!!
Prev.
Anthony Taylor is the referee and Stuart Attwell the VAR.
Prev.
Chelsea team: Kepa (GK); Emerson, Zouma, Christensen, Azpilicueta; Kovacic, Jorginho, Barkley; Mount, Abraham and Pedro.
Prev.
Man U team: De Gea (GK); Shaw, Lindelof, Maguire, Wan-Bissaka; Pogba, Mctominay, Pereira; Martial, Rashford and Lingard.
Prev.
This is both teams first game of the season and remember Chelsea have an important game on Wednesday in Istanbul aganst Liverpool in the UEFA Super Cup.
Prev.
Good afternoon and welcome to live coverage of the Premier League clash between Manchester United and Chelsea from Old Trafford. All you are ready for this one? It should be a cracker.