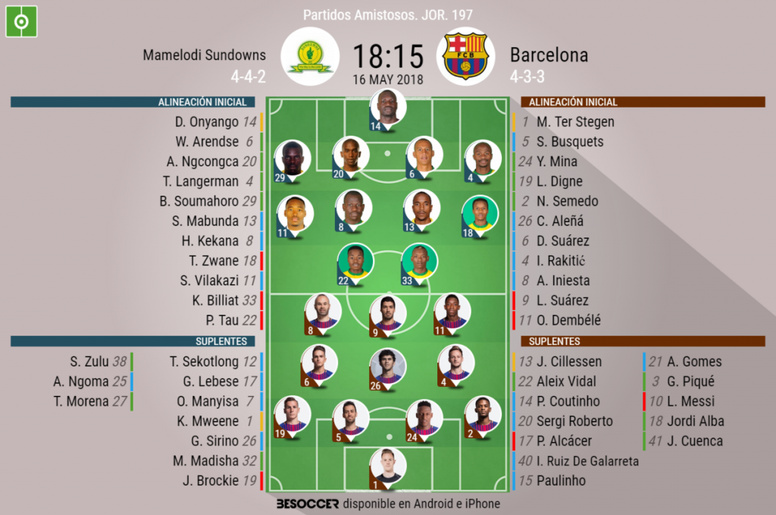 Mamelodi Sundowns V Barcelona - As it happened
Mamelodi Sundowns

Barcelona

90'
[+3] FULL-TIME! BARCA 3-1 SUNDOWNS.
90'
[+3] Into stoppage time, and as Downs made several substitions, Pique was heard asking how long left to play...
90'
[+2] SUBS: Lebese comes on for Zwane, Morena comes on for Ngongca.
90'
SUBS: Tau gives way for Brockie.
89'
SAVE! Messi attempts a long-range shot from 25 yards that looks promising, but Mweene gathers on the second attempt.
84'
OFFSIDE! Zwane's shot bounces off the inside of the crossbar and looked to be tantalisingly close, except the offside flag was up...
79'
CHANCE! Downs nearly make it two with a fab ball from the right-hand side but squander their chance.
76'
GOAL! 3-1! Vilakazi puts Sundowns on the scoreboard!
73'
Barca star Leo Messi comes on for youngster Galarreta.
68'
Messi is out on the touchline warming up, to the delight of supporters who have been calling for the Argentina star to come on since about the second-minute of the first-half.
67'
GOAL! Some dismal defending allows Barca to capitalise and Andre Gomes makes it magic number 3! Alcacer picks up the assist.
66'
Sundowns swap off their goalkeeper, who despite conceding twice, has been on good form. SUB: Onyango comes off for Mweene.
63'
SAVE! Onyango makes a very comfortable two-handed save after a somewhat half-hearted attempt from Barca on the right wing.
57'
OVER! Sergi Roberto ramps up the pace to threaten on goal, but gets the angle slightly wrong and shoots over the bar.
56'
SAVE! Onyango gets on the end of Andre Gomes' shot to deny them a third.
52'
SAVE! Goalkeeper Cillessen immediately proves his worth as he gets low to stop a Sundowns' strike.
47'
CLOSE! Alcacer and Vidal link up to provide a chance for Galarreta but he shoots just wide.
46'
SUBS: Valverde fields a strikingly different squad in this second half. Cillessen, Roberto, Pique, Alba, Cuenca, Paulinho, A Gomes, Coutinho, Vidal, Galarreta, Alcacer.
46'
The second-half gets underway at the FNB Stadium!
45'
[+2] The whistle blows for the end of the first half! Barcelona 2-0 Sundowns.
45'
[+2] Downs have a corner, and aim for a long-range strike from just outside the area but the ball is over.
45'
2 minutes of added time...
44'
Onyango comes flying forward from his line to claim a Barca chip from the right wing.
42'
CLOSE! SO CLOSE! Downs get into the box and the pace slows. Before teeing up a shot that just scrapes the wrong side of the netting on the near post.
40'
Approaching the end of the second half, and the two sides are fairly well matched on possession. Downs 48% to Barca 52%.
34'
SAVE! Kekana takes a shot from 30 yards outside the area, forcing Ter Stegen into action.
31'
There was a lot of confusion just there. Luis lost his footing, Denis thought he had scored and Onyango was nowhere to be found.
31'
CHANCE! Barca quick on the counter-attack with Denis Suarez making a break into the box. His shot is lacking power and a Downs defender scrambles to clear before Onyango can get back into position.
30'
CHANCE! Downs make rapid progress up the pitch, but their pass into the box is intercepted.
27'
CHANCE! Downs have two chances within two minutes. They are very nearly gifted their first goal by a Barca defender but Ter Stegen gets on the end of it.
26'
Langerman intercepts a Barca ball and immediately puts the pace on but nothing comes of it.
24'
Suarez and Downs' goalkeeper Onyango take a tumble together in the box.
20'
Messi and Pique looking cheerful on the Barcelona bench.
19'
GOAL! Luis Suarez doubles Barca's advantage. 2-0!
17'
OVER! Tau's kick goes sailing both over and wide.
17'
Penalty to Downs after Iniesta catches Vilakazi.
15'
Oops. Referee gets in the middle of a Barca pass...
13'
WIDE! Barca are on the counter attack but see Suarez shoot wide of the post.
12'
SAVE! Tau outpaces Mina on the attack, but Ter Stegen is able to gather the chip with both hands to stop the threat.
7'
CHANCE! Sundowns get into Barca's area and attempt a two touch pass, but are halted by the Spanish defence.
3'
GOAL! Dembele opened the scoring with a clear shot on goal, having intercepted some poor Downs defending right in front of the box. Barcelona 1-0!
1'
And the first half gets underway as Barca kicks-off...
Prev.
Messi will be starting out on the bench, likely to the disappointment of the spectators.
Prev.
Both sides are out warming up on the pitch as the sun is setting in Johannesburg...
Prev.
This is how Sundowns will be fielding their first XI: Onyango, Arendse, Ngongca, Langerman, Soumahoro, Mabunda, Kekana, Zwane, Vilakazi, Billiat, Tau. Subs: Sekotlong, Lebese, Manyisa, Mweene, Sirino, Madisha, Brockie, Zulu, Ngoma, Morena.
Prev.
Take a look at how the Barca starting XI lineup: Ter Stegen, N. Semedo, Rakitic, Sergio, Denis Suarez, Iniesta, Suarez, Dembele, Digne, Yerry Mina, Alena. Subs: Cillessen, Pique, Messi, Coutinho, Paulinho, Paco Alcacer, Jordi Alba, S. Roberto, Andre Gomes, Aleix Vidal, De Galarreta, J. Cuenca.
Prev.
Hello and welcome to this afternoon's match as South African Premier Division champions Mamelodi Sundowns host Barcelona in a commemorative match for the Nelson Mandela Centenary Cup.