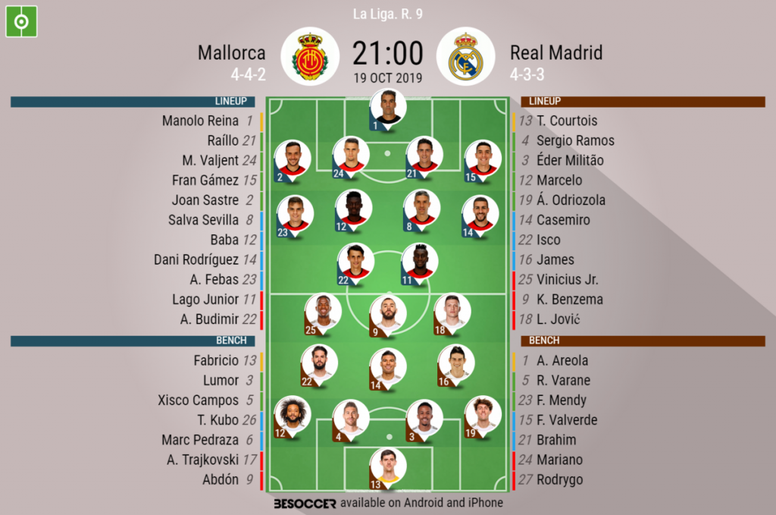 Mallorca v Real Madrid - as it happened
Mallorca

Real Madrid

95'
FT: Mallorca 1-0 R Madrid!!! It's all over at Son Moix!! Mallorca scored early one through Lago and then defended solidly against a RM side who were better in the first half and quite average in the second. In fact, Odriozola was sent off 16 minutes from the end. Vinicius was good in the first half, but struggled to impress in the second half and Zidane's men should have had a penalty after Sevilla pulled back Brahim five minutes from time. Thanks for your company and see you again soon!
95'
James' ball beats everyone and then RM commit a foul. Ramos wants a pen and Raillo was pulling him. Could have been given, but the Brahim one was scandalous.
94'
RM attack and now a free-kick after Brahim is fouled by Baba. His boot was very, very high!!
93'
He's still limping, but up now.
92'
Baba is down injured. Someone may have fallen on him.
92'
Free kick to RM here!! The delivery in is headed by Militao and Reina catches.
90'
Free kick given away by Trajkovski on the RM player.
88'
It's fair to say RM have been denied a stonewall pen. Ignacio Iglesias Villanueva is the guilty man. His shirt was almost ripped off him!
86'
Brahim Diaz has his shirt clearly pulled by Sevilla a minute back and the VAR didn't intervene. His shirt was clearly held. It was a penalty. Inexplicable the VAR stayed silent.
85'
Mallorca almost catch RM on the counter with a quick goal kick. Courtois was alert though.
83'
RM free-kick comes to nothing and Baba is on the floor.
82'
RM sub: Brahim on for Vinicius.
80'
Mallorca sub: Lago off and Trajkovski on.
79'
Lago Junior plays it off the defender for a corner.
78'
Odriozola is just standing there on the sideline. He can't believe what he's done.
76'
Vinicius!!! We finally see him in the second half! He goes down the same side past Gamez and Mallorca half clear. RM then win a corner which is wasted.
74'
Odriozola is given his marching orders!! Terrible challenge on the far side on Lago. Scissor style and could have even been a straight red. Straight forward decision and no need for it. Frustration probably.
72'
RM are doing all the attacking here, but they can't break down this ordered Mallorca defence. Lots of crosses going into the box and they are easily being dealt with.
70'
We've seen a lot less of Vinicius in the second half since Sastre was substituted.
69'
RM attack and Rodrygo's cross for Vinicius is cut out and then Reina picks up the ball.
66'
Double switch for RM: Jovic and Isco off, Rodrygo and Valverde on.
64'
Ramos goes for goal and it goes over.
63'
Rodriguez concedes a foul after bringing down James. The Mallorca man doesn't like the decision one bit.
61'
That was nasty!!! Budimir and Militao jump for the ball and the RM man lands nastily on his lower back. He was in pain, but he's up now.
59'
Mallorca sub: Febas is replaced by Kubo.
58'
Budimir!!!!! The Bosnian heads Gamez's cross wide of the goal. He was just offside.
56'
RM continuing to look for the openings. Mallorca look more comfortable in this second half though.
55'
Mallorca win a corner and Courtois comes out to punch the set piece.
53'
Benzema shoots from distance, it deflects off Baba and into Reina's hands.
51'
Febas is penalised for a foul.
50'
James gets to the byline before crossing for a teammate. Lago boots it away.
48'
RM having some good possession early on here.
46'
Lumor tries his luck from 30 yards seconds after coming on!!! It goes over the bar though.
46'
Mallorca sub: Sastre has not surprisingly been subbed. Lumor is on for him.
46'
Welcome back everyone!! We are back underway.
45'
HT: Mallorca 1-0 R Madrid!! Half-time as Lago is down as he clashed with Casemiro. He walks off limping. Mallorca started brilliantly thanks to a Lago game early on and then saw a goal disallowed, but RM have been much better after the first 15 minutes. Benzema came the closest when he hit the bar and Vinicius has been a threat down Sastre's flank all night. Join us for more in 10 minutes!
45'
The ball travels towards Lago at the far post and Odriozola clears for a throw-in. It goes RM's way though as they may have been a deflection.
44'
Free kick to Mallorca 30 yards from goal.
43'
Benzema plays a one-two with Vinicius inside the Mallorca box before losing the ball.
42'
James' free-kick in finds Casemiro who's offside. He wasn't though.
40'
Salva Sevilla delivers a Mallorca free-kick and Raillo is flagged offside.
38'
Isco passes to Casemiro and his strike sails well over.
36'
Marcelo shoots along the ground from 20 yards and Reina makes a good save.
33'
Benzema looks for Jovic and Raillo stops the Serb getting there with his body. Good defending.
31'
The free-kick is sent in and Reina claims.
31'
Sastre can't cope with him.
30'
Vinicius makes another charge towards goal and Sastre has to pull him back just as he was about to go into the area.
28'
Mallorca win a corner which is dealt with.
27'
Off the bar!!!! Benzema strikes the crossbar. James sends a stunning long pass and Benzema lets it bounce before chipping the ball onto the bar. Getting closer.
26'
Vinicius again!!! He's causing Havoc down Sastre's flank. He's beating him all ends up!! This time Mallorca scramble it clear once Vinicius' strike is blocked. The hosts are living dangerously now.
25'
Vinicius dribbles and dribbles before shooting wide of the post from inside the D. I think he scuffed it. RM on top now.
23'
Militao is called offside from a free-kick sent into the area.
23'
Baba is down after taking a stray arm to the face from Marcelo.
21'
Vinicius makes another dangerous move down Mallorca's right and his pass for a teammate is cut out by Valjent.
19'
Seconds before that, Vinicius made a great run past Sastre, but couldn't get a cross off.
19'
Odriozola is carded for a bad challenge on Lago Junior.
16'
Unbelievable!!!! Mallorca attack down the far side and Lago Junior cuts the ball back across the face of the goal but Febas and Fran Gamez can't reach to take it in.
14'
Mallorca have it in the net, but it's offside!!!! Budimir scores after Lago Junior gets the ball after a mix up between Ramos and Militao. Budimir was offside and the VAR confirms the linesman's call. Still 1-0.
11'
RM are trying to get back on level terms as soon as possible, but Mallorca have not really been threatened so far.
9'
RM win a corner, but Mallorca deal with it easily.
7'
Lago Junior scores for Mallorca!!! Lago Junior is given the ball by on the near side by Febas just inside the RM half, he sprints down RM's right past Odriozola, cuts inside and then hits a shot across Courtois into the far corner.
6'
RM lose the ball, but Febas' pass is too strong for Budimir.
5'
The set piece comes to nothing.
4'
RM get a free-kick on the far side and then the ball in is headed behind for a corner.
3'
There's standing water on the pitch. The groundsman has watered it too much. Maybe to neutralise things a bit?
3'
Febas brings down Isco from behind.
1'
Isco has a pop from just outside the D after being fed the ball by Odriozola. It was easily saved by Reina. RM worked it well down the near touchline.
1'
RM get us underway from left to right!! It has started a few seconds before the scheduled start time. The ref must be in a hurry!
Prev.
Reina and Ramos shakes hands in the middle with the ref! Both teams in their usual kits. Mallorca in red, RM in white.
Prev.
This is the clubs' first meeting since 2012. The good old days of Mallorca playing in La Liga against the very best are back!
Prev.
It's a pleasant evening on the island of Mallorca. Dry and 21 degrees.
Prev.
Remember Rafa Nadal will not be at San Moix tonight for the match between his two favourite teams as it clashes with his wedding. Congratulations, Rafa!
Prev.
Mallorca are unchanged from the Espanyol game.
Prev.
RM make various changes from the win over Granada. Courtois is back, Militao and Marcelo replace Varane and Carvajal, Kroos and Modric are out injured and Valverde also misses out. Isco, James and Jovic come in for them.
Prev.
RM have CL on Tuesday night at Galatasaray, but get the weekend off after that because of the Clasico being postponed.
Prev.
Mallorca got a much needed win v Espanyol by two goals to nil just before the int'l break. Can they pick up points again tonight?
Prev.
Real Madrid are in 2nd place after Barca's win at Eibar earlier, but a win here will see them go top again. Mallorca are in the bottom 3 (18th) and need a victory to get out of the relegation zone.
Prev.
The referee for this one is Javier Alberola Rojas and Ignacio Iglesias Villanueva is the VAR.
Prev.
RM team: Courtois (GK); Marcelo, Ramos, Militao, Odriozola; Isco, Casemiro, James; Vinicius, Benzema and Jovic.
Prev.
The line-ups are in!! Mallorca team: Reina (GK); Gamez, Raillo, Valjent, Sastre; Rodriguez, Sevilla, Baba, Febas; Lago Junior and Budimir.
Prev.
Good evening and welcome to live coverage of this La Liga encounter between Mallorca and Real Madrid from Son Moix. Both teams need the points for different reasons. This should be exciting so stay with us!