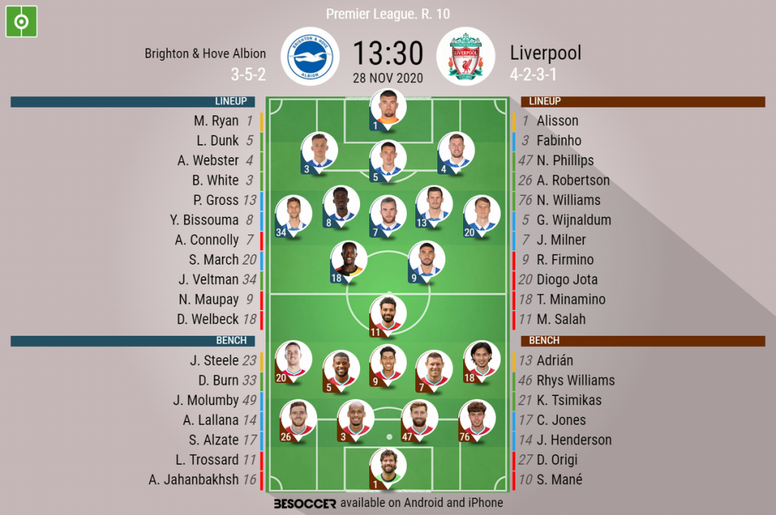 Brighton & Hove Albion V Liverpool - As it happened.
Post.
FT: Liverpool were denied all 3 points but after surviving a missed penalty in the first half perhaps Klopp should be happy with a point. VAR will certainly be on everybody's lips again after today!
90'
+6: Brighton strike in the dying moments of the game but put it just wide! Klopp will take the point right now!
90'
+2: Penalty is given! and Brighton equalise! What a disaster for Liverpool.
90'
+1: Robertson kicks Welbeck and VAR are checking for a pen!!!
90'
5 minutes added time for Brighton as Liverpool hold on by the skin of their teeth!
88'
Brighton corner is cleared by the Liverpool defence and Brighton regain possession in their own half.
86'
Brighton are piling on the pressure! Liverpool are parking the bus for now. Just minutes left to survive.
83'
Mané puts it in the back of the net with a header after a long cross in but VAR rules the goal offside! Less controversial then before as he was well offside.
82'
White gets the ball but Jota goes down and gets the FK. Questionable call from the ref.
80'
Robertson clears a ball off the line but March looked to be offside at the beginning of the play regardless. Brilliant clearance from the angle.
79'
There has been some back and forth but no real chances in the last few minutes. Liverpool have eased off the pressure and if they dig deep at the back should come out of this with 3 points.
77'
Phillips goes down but he was just winded. Klopp breathes a sigh of relief!
75'
Brighton FK on the edge of the area was on target but Alisson was barely tested by the shot.
73'
Curtis Jones comes on for Milner.
71'
Phillips goes for the header but collides with a Brighton player as Milner touches his hamstring on the floor at the same time.
69'
Liverpool corner headed away by Veltman as Liverpool keep up the attacking pressure.
67'
Liverpool are ahead but it's not been convincing, although the second half has seen a big improvement in performance for the Reds.
64'
Salah throws a tantrum as he is brought off for Mané. Similarly Connoly looks mad as he is brought off for Lallana.
61'
Fabino saved by the offside as he handballs in the area. Var was checking the penalty as the offside was given.
59'
JOTA SCORES! Signing of the season for Liverpool as Robertson builds the attack, Jota takes a touch and fools the defence with a dummy and shoots from a central position. Great goal and work from Jota.
57'
Bizarre decision from March who slices the ball into the stands from the corner of the area. He had time and space but went for the shot.
54'
Dunk beats Salah to a long ball down the wing and passes back to Ryan. The Brighton GK hasn't really been tested so far today.
53'
Welbeck steals the ball and runs down the wing and is 3 on 2 v Liverpool. Goes for goal himself but should have looked for a pass as it was hit straight at Allison.
51'
Minamino spoken to by the ref after a hard entry on Connoly. Lucky to not be booked.
49'
Dunk clears a Jota cross into the box but there were no Red shirts to put a touch onto it!
48'
Liverpool on the attack once again, let's see if they can keep up the pressure with Milner playing on the wing and the addition of Henderson.
46'
Connoly dispossessed by Phillips after a bad touch. Good movement by the forward.
46'
Henderson has come on for Liverpool as the second half begins.
45'
HT: First half ends 0-0 as Klopp will be worried about his teams weaknesses at the back... Brighton also should have done better with the chances they have been given so far.
45'
Veltman sends in a cross from way out that lands at Welbeck's feet. Instantly cleared by the defence when his touch gets away from him.
43'
Bissouma goes down with a problem in his hip. He'll be treated at the sideline.
41'
Minamino goes for goal on the outside of the foot of a deflection from the box but Ryan saw it coming and dealt with it easily.
39'
Connoly and Wellbeck are in the box awaiting a Brighton delivery. Can Brighton go ahead before the break?
36'
Wellbeck comes close! Brighton weren't expecting him to beat the defence so he was all alone in the box.
34'
OFFSIDE! Goal disallowed as Salah was just a toe offside. That will cause some controversy no doubt!
33'
And right on the other end Salah counterattacks and finds the goal after a ball over the top! Checking for offside from VAR.
33'
Quick counter attack finds Trossard in space who aims for the far corner but it goes well wide.
31'
Salah makes a nice run in the area but Milner's looping ball bounces one too many times and Ryan is there to save the day.
28'
Liverpool launch the ball up from the back looking for some kind of attacking move to come from thin air. Worrying stuff that now they even seem to be losing their attacking sting too!
26'
Connoly is causing problems for Liverpool at the back. The dynamic of the match has changed since Liverpool have eased off the pressure. Klopp will be worried about his strength at the back.
23'
Trossard comes on to replace Maupay.
21'
Maupay goes off with a hamstring problem after missing the pen, he's fully throwing a tantrum on the sidelines... He is not happy.
20'
What more can Brighton ask for early on? Liverpool have been a threat upfront but dire at the back. Brighton haven't taken advantage of that though...
19'
Maupay puts it wide! Brighton have wasted too many chances already, what a disaster!
18'
PENALTY FOR BRIGHTON! Williams brings down Connoly in the box!
16'
Yet again Allison does his job outside the area. He's been the best Liverpool defender so far!
15'
White fouls Jota on the turn, he would have been 2 on 2 had he gotten through.
13'
Phillips dealt with that ball in an orthodox fashion - he put his foot through it and sent it for a throw!
12'
Alisson to the rescue as once again Connoly finds himself through on goal 1 v 1. He saw the ball and came out of his area to clear the threat. Great goalkeeping, worrying defending.
10'
Liverpool were wide open at the back. Worrying stuff from Liverpool's defence.
9'
Liverpool escape an early disaster as Connoly breaks down the centre of the pitch and is 1 on 1 with Allison. Tries to finesse the shot but puts it wide under pressure. It was their only chance so far.
7'
Firmino and Jota link up on the left wing with men in the box in a smooth passing move. Firmino shoots and it's deflected by a defender.
5'
Liverpool are battering the Brighton defence who have so far held out. Liverpool look like a different side to the one who lost to Atalanta.
3'
Salah is through on goal after a great timed run and just hits it wide. Fantastic ball.
2'
Minamino crosses it in as Liverpool look to go ahead early. It's cleared for now but Liverpool are putting on the early pressure.
1'
Liverpool warn Brighton not to switch off as Jota breaks and crosses it to Salah who was through on goal. It was cleared just in the nick of time. Great start for Liverpool.
1'
And we are off! Who will strike first?
Prev.
Just minutes to kick off! It's a big game for both teams at opposite ends of the table.
Prev.
Put your predictions for goal scorers and winners below! Jota is in form...
Prev.
A win here for Liverpool could worry Mourinho's Tottenham who play Chelsea tomorrow... Klopp could do more damage to his rivals today than you might think.
Prev.
Will Welbeck score today?
Prev.
Congratulations to Alisson Becker!
Prev.
The attacking talent available to Liverpool is astounding as Mané starts on the bench today.
Prev.
Lallana will start on the bench against his former club! Will he come back to haunt the Reds today?
Prev.
LIVERPOOL XI: Alisson; N Williams, Phillips, Fabinho, Robertson; Milner, Wijnaldum; Minamino, Firmino, Jota; Salah. Substitutes: Adrian, Tsimikas, R Williams, Henderson, Jones, Mane, Origi.
Prev.
BRIGHTON XI: Ryan; White, Dunk, Webster; Veltman, Bissouma, Gross, March; Connolly, Welbeck; Maupay. Substitutes: Steele, Burn, Lallana, Alzate, Molumby, Trossard, Jahanbakhsh.