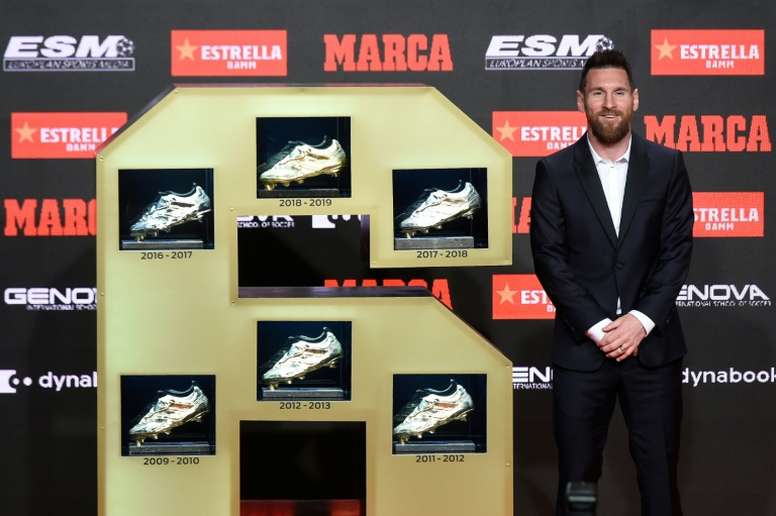 "I never felt the need to leave the best club on the world"
Asked about his usual discretion when winning individual awards, Leo Messi said he prefers when others speak, keeping his usual shyness. "I prefer people to talk about me. I know what I am, what I did and what I can give, but I keep it to myself. Then let people have their say. I don't like to talk about myself, but about the collective," said the Argentinian, to whom 'Marca' mentions two examples of players who are constantly talking about their own personal achievements, such as Cristiano Ronaldo and Zlatan Ibrahimovic.
"I always say that individual awards are not my goal. It's not 'The Best', the Ballon D'Or or the Golden Shoe and least of all the best goal of the year. If it happens, good, and if not, it's fine," said Leo Messi, who puts the team ahead.
Is he starting to think about his retirement, as a 32-year-old? "You realize how long you can go on for. I will discover it over time. I myself will be the first to say I got this far and I can't do this for any longer'. Or If I feel good to continue. Over the years I'll find out," Leo said.
In his evolution as a footballer the Argentine has had several positions on the field . From central midfielder to winger, to becoming a 'false nine' to finally becoming a total player, able to dominate any offensive position. Messi doesn't know if he'll end up being a midfielder: "I don't know, it depends on how it all goes. Now I usually throw myself back, to receive and be in contact with the ball and the other midfielders. I don't know what will happen in the future."
He feels no nostalgia for Guardiola's Barcelona and their game applauded all over the world. "The truth is that a lot of time has passed since then. There are a lot of new players, I think there are only three or four of us left from that time. The team was transformed and adapted to the players who were present in each season," says Leo in 'Marca'.
He once again shut down those who say he is thinking of leaving Barcelona.Unlike his rival Cristiano who went looking for a new adventure in Turin, he is not planning on switching teams: "Everyone seeks their goals and their experiences. I never had the need to leave the best club in the world which is Barcelona, where I enjoy training, the games and the city. It's very complete and I've always had a very clear objective in this club I don't need to go looking for it somewhere else."
Van Dijk, Ter Stegen, De Jong, Falcao...
In the same interview, Messi is asked about several other footballers. He does not get into the controversy surrounding the Neuer-Ter Stegen 'battle' in Germany.
"They are two great goalkeepers. They read the play very well; with their feet, they could play as midfielders; and they are very fast at the goal. I know Marc well and I can talk about him, but I don't see Neuer training and I don't usually watch his games either," he said about goalkeepers.
"On the pivot, he feels more comfortable, but he adapted well. He likes to have the ball, to play short, to put the pass between the lines, he has a fast and strong stride. He's a very complete player," Messi said of a newer teammate, Frenkie De Jong.
Van Dijk was a nightmare for Messi in the Champions League: "He's a defensive player that knows how to measure times and wait for the right time to enter or endure. He's very fast and big, but has a lot of agility considering how tall he is."
He was also aksed about fellow South-American Falcao. "He's a great striker with a lot of goals. Wherever he scored goals, he is a very powerful area player in the jump and header, handles both legs ... He's an impressive player," he said.