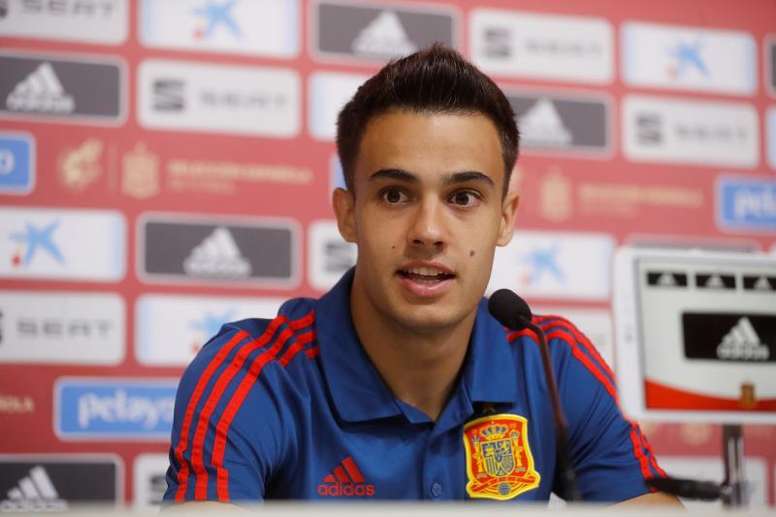 "I don't think of Zidane's opinion, I think of mine"
"I'm in a very happy moment of my career, enjoying every second of the call-up," he said at a press conference. "I don't think about Zidane's opinion, I think about mine and I'm very happy to be here. This is a prize. You never know what would have happened if I'd stayed at Real Madrid, it's football stuff," he added.
A year ago Reguilón appeared for the first time with Real Madrid's first team and now he is representing Spain. "It's been a very strange year because I went from playing a professional game a year ago to being called up for the national team. You have to assimilate it but I'm aware of where I am and I work harder every day," he explained.
"Playing in the national team is always an added pressure, it's representing your country and there's a lot of demands to it. The pressure is normal for any footballer, we are new people in the group and we are going little by little," he added.
That is Reguilon's current mentality, aware of the difficulties that he will no doubt encounter if he wants to make it into the final call-up for Euro 2020 with Jordi Alba, José Luis Gayá and Juan Bernat as competition.
"In the end, the decision to go to the Euro is the manager's, I will work to be here but it's not something that I'm worried about. There's a lot of good players in the national team, Jordi Alba and now Bernat also play in my position is Jordi Alba with a very high level and now Bernat, this is a long-distance race and I am very young. There is still a long way to go", he said.
Although he thinks he benefits from the profile of the two coaches, Julen Lopetegui in Sevilla and coach Robert Moreno. "They are two coaches who really like to have the ball, to dominate the game, and they are very similar. Robert has asked me to contribute to Sevilla and I'm trying to give it all in training."
Reguilon doesn't know if Sergio Ramos wants to play in the Olympic Games. "I haven't talked to him about Tokyo at all. I'll ask him, let's see what he tells me", he joked. And he is focused on defeating Norway or Sweden to obtain the qualify automatically for the Euro: "We know that they are two difficult matches in which we want to make sure we end up qualifying."