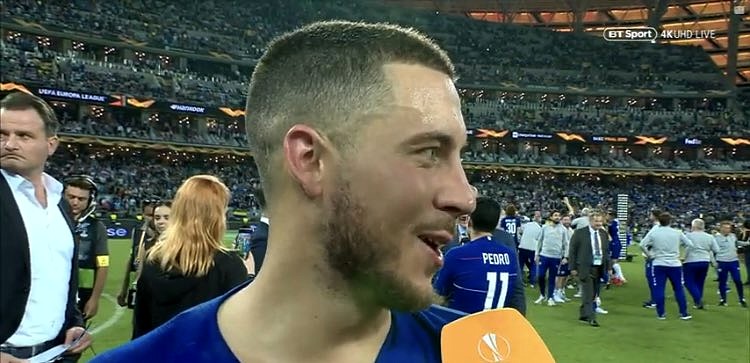 Hazard "I think this is a goodbye"
Eden Hazard has confirmed he is to leave Chelsea after victory in the Europa League against Arsenal by four goals to one. The Belgian, who scored two goals and gave an assist, all but confirmed his time at the club had come to an end.
"I think this is a goodbye. I've done this for seven years and I think now it is time for a new challenge," he said in an interview to BT Sport.
He also said that an announcement will be made on his future in the next few days, but that he made his decision two weeks ago. When pressed further, he said this: "I'm just waiting on both clubs to decide now. I think it's goodbye..
He did not the talk about his future distract him though. "My target today was to win the trophy that's it, that's the only thing that was on my mind." he continued.
The 28 year-old joined Chelsea from Lille in 2012. In 352 appearances, he scored 110 goals and he won two Premier League titles, one FA Cup, one Carabao Cup and two Europa Leagues.
Hazard has been widely linked with a move to Real Madrid for next season. He did not reveal his destination, but there is no doubt the odds of him going to the Bernabeu have shortened drastically after these latest comments.