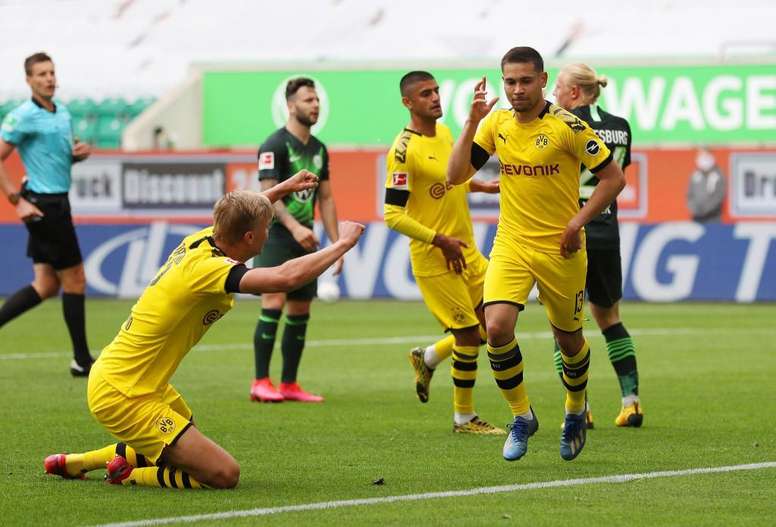 Guerreiro and Hakimi seal win to keep Bundesliga fight alive
Borussia Dortmund defeated Wolfsburg 2-0 and continued their succesful run behind closed doors since the Bundesliga restart. The team did not have a brilliant performance this time, and golden boy Haaland did not make any meaningful contributions, but they did show that their physical performance and work are above other teams in Germany.
The first half was very tight and there were hardly any chances. Guerreiro made it 1-0 and Achraf closed the game with a 2-0 score.
Before that, the first half was even, with a Wolfsburg team that was too defensive and a Dortmund team that, as it immediately took the lead, did not have the urgency or desire to fight for more. This time there was no derby and the opponents were not as motivated.
The 1-0 win came in an action that made it clear that Haaland is human. Brandt, Achraf and Hazard combined brilliantly and the Belgian's death pass was not taken by the Norwegian, who shot into the air. However, the Norwegian's presence in the box is enough to make any rival fear, which is why Guerreiro, unmarked, came in right on time and scored the first goal beautifully.
However, mot much else happened in the first part: no other goals, barely any chances and not even a single corner.
The match gained intensity in the second half, despite the fact that the opportunities remained scarce. Steffen forgave in a one-on-one with Bürki and there went the Wolfsburg's only clear chance in the clash.
Without much interest in attacking, Dortmund let the minutes pass and a counter-attack by Sancho, with a great breakaway by Haaland to leave space and a great finish by Achraf, put the final nail on Woflsburg's coffin.
With ten minutes remaining, the hosts were left with 10 men because of Klaus' rigorous dismissal and Wolfsburg were looking hard for a goal to get them into the game, but alas, the goal did not come. Now it's Bayern's turn.
May 23, 2020