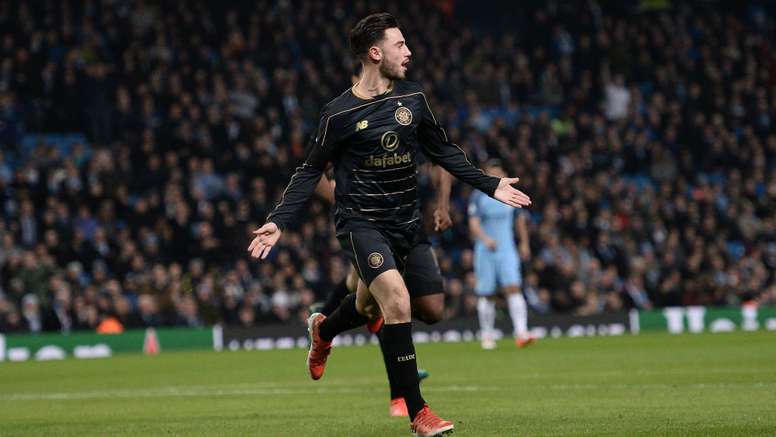 Guardiola evasive on Roberts future but Rodgers talks up youngster's Man City chances
Pep Guardiola refused to be drawn on whether Patrick Roberts has a future at Manchester City, though Celtic boss Brendan Rodgers has no doubt the youngster can have a "big career".
Roberts is on loan at Celtic from City and scored the opening goal in the 1-1 draw between the two sides in the Champions League on Tuesday night.
The 19-year-old signed for City last year but joined Celtic on an 18-month loan deal in January.
City signed up young attacking talents Leroy Sane, Gabriel Jesus, Marlos Moreno and Oleksandar Zinchenko during the summer, while the club also have a number of prospects out on loan at other clubs around Europe.
Guardiola, with his mood perhaps somewhat soured by his side's latest home draw, did not seem too keen to discuss Roberts' performance after the match.
"He scored a good goal," he responded curtly.
Asked later if the youngster has a future at the club, he replied: "We are going to talk about it at the end of the season."
When pressed further on whether Roberts' performance has any bearing on his future, he said: "We know his quality but the decision is not about one game. It is for one season for the perspective.
"We are going to speak with him, the managers, between each other we are going to decide. He has good quality with the winger, one against one. He worked defensively. He has, of course, potential. I am so happy with his performance, of course."
If Guardiola did not seem overly effusive in his praise, then Rodgers, Roberts' current boss, certainly did.
The Northern Irishman hailed the teenager and his ability to perform in a difficult match against his parent club, and insisted he has shown he made the right choice by going out on loan.

"It couldn't have been easy for him but the kid showed his quality. He showed he's in the right place at this stage of his career. It's no good him sitting on the bench. It's great that City allow him to play in a game like this.
"You've seen a top, young English talent here. A brilliant goal, pressed the game well and showed all his qualities. I'm very proud of him in terms of his concentration and quality in the game."
Rodgers was also asked if Roberts has the ability to carve out a career at City: "He certainly has the quality, there's no doubt about that.
"He signed his agreement before I came in for 18 months and the idea was that you get to his age and you need to play and get experience. You come to Celtic, 60,000 every other week and a huge club with big expectancy. He's dealing with that remarkably well. He's won titles and is understanding about becoming a winner.
"I'm sure he'll come back here in the summer and Pep and his staff will have a real good look at him. They will be really encouraged with what they've seen here. He's technically gifted, tactically he's improving and that element of his game. Physically he looked strong. You've got a big English talent there and I'm sure there's a big career for him."