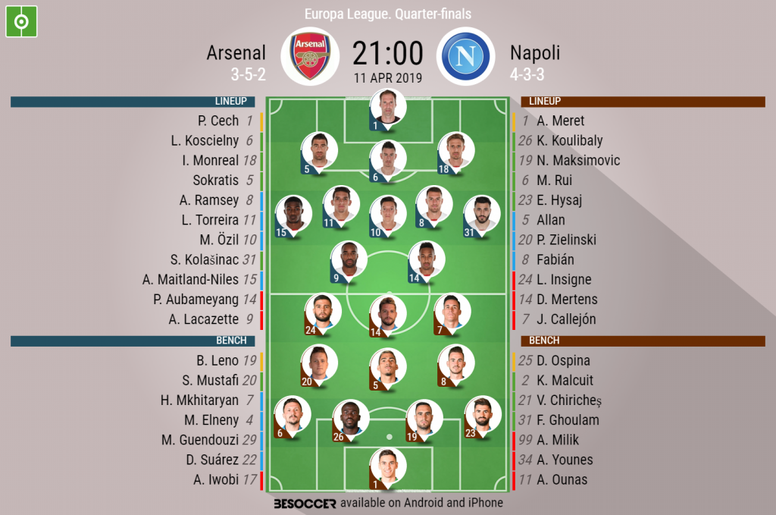 Arsenal v Napoli - as it happened
Post.
As always, thank you very much for joining our live coverage of tonight's Europa League action! We hope you join us for the second leg!
94'
FT: Arsenal 2-0 Napoli. A deserved win for the Gunners despite some late pressure from Napoli. The Italian side will hope the home advantage is enough for the second-leg while Arsenal will try to put their recent away form behind them!
93'
Koscielny is down and will be feeling the effects of an earlier knock to the head from his own keeper as he came out to clear.
90'
Four minutes of added time to be played!
88'
Napoli have found some spark from somewhere in the closing minutes of this match and Arsenal are under some pressure now!
85'
Napoli are back up in Arsenal's half with Ounas whose shot requires saving! Cech gets there and hangs onto it for as long as he can, giving Arsenal a chance to regather.
80'
CHANCE ARSENAL! Aaron Ramsey narrowly misses the target as he gets a good connection on the cross. It flies over the crossbar and Arsenal are unlucky not to have a third! Unai Emery now rallying his men to victory!
79'
How the tables have turned ... Arsenal are now more concerned with ensuring they don't concede an away goal!
77'
Elneny replaces Lucas Torreira, who receives huge admiration from the fans. Great performance!
76'
Kolasinac has done well for Arsenal all evening and this time flies down the left to overlap Ramsey. His cross almost comes off but there are so many Napoli defenders in the box now and it goes out for a throw in.
72'
Napoli respond almost instantly with Insigne whose cross finds Zielinski. He slides in to chip it over Cech and it flies over the bar as well. Insigne may have been offside in the build up ... shock.
70'
Having said that, Meret makes two excellent saves in a row! The second of which denied Ainsley Maitland-Niles from five yards out.
69'
Arsenal are suffering with a problem they've had all season. Maintaining the same level of intensity.
68'
Insigne tries to chip Cech who catches with ease, but he's offside ... again.
67'
Arsenal now make a double substitution to bring on some fresh legs to try and push on in this game. Iwobi replaces Lacazette. While Ozil, who looks knackered, is off for Mkhitaryan.
66'
First substitution is for Napoli as Mertens comes off for Milik.
64'
Arsenal have to be careful that they don't let this lead go. Despite taking the away goal advantage to Italy in the second leg, it's unlikely they'll be able to do anything with it, given their recent away form!
63'
Zielinski hacks the ball across the face of goal from the left and Monreal makes a nervous clearance.
62'
Napoli are finding their way into this game now as Insigne chips a lovely ball over the top of the defence. Mertens is inches away from meeting it with a header that might have beaten Cech.
59'
WHAT A CHANCE!!! Aaron Ramsey winds up a beauty which Meret somehow gets behind to deny Arsenal their third! Thrilling stuff at the Emirates!
55'
Napoli are definitely looking stronger than before but they're caught offside again.
53'
Cech concedes a corner allowing Koulibaly to threaten his goal with a header! The Arsenal keeper has to be sure so tips it up but it was always going over.
52'
The ball is in the back of the net for Napoli but Insigne, who put it there, was about 5 yards offside!
50'
Napoli have enjoyed more possession in the last five minutes it seems than they did during the whole first half!
48'
A rare break for Napoli who fly down the right wing with Insigne but Koscielny is there for the block. Napoli corner.
47'
Not quite the start I had in mind for Napoli as Hysaj is booked for a needless foul on Lacazette.
45'
We're back underway for the second-half as Napoli have the kick off! Will they be able to present Arsenal with a challenge this half?
45'
HT: Arsenal 2-0 Napoli! The Gunners absolutely trounced Napoli in terms of possession, creativity and chances, claiming two goals to show for it. Unai Emery will be wanting more of the same after the break, while Carlo Ancelotti will need a major rethink ahead of the second-half! Stay tuned!
45'
Napoli leave it late to create a strong chance. Callejon pulls it back for Insigne whose shot is miles over the bar. That says it all really for Napoli.
42'
Napoli's only shot of the evening, that of Rui, flies miles over Cech's crossbar. Nothing to worry about really.
39'
Arsenal are spoiled for choice in midfield as Napoli fail to close off any channels. We're approaching half-time and Carlo Ancelotti has some major thinking to do.
37'
Ozil and Ramsey linking up nicely before the Welshman fires it across the danger area. Napoli nervously clear.
34'
Lacazette has a free shot from around 15 yards out. He scuffs the shot and the chance goes amiss. Arsenal are relentless though and Napoli haven't found a way to cope just yet.
32'
Napoli have a corner, taken by Mertens but the effort is poor and fails to reach the first post...
30'
Ozil tries to play in Maitland Niles but the pass is just behind him. The youngster is looking really promising tonight!
28'
Arsenal's pace and precision is causing all sorts of problems for Napoli. They're struggling to get out of their own half too when in possession.
24'
GOOOOOOAAAAAAALLL ARSENAL!!! Lucas Torreira this time leaves Fabian for dead and releases a shot. It takes a huge deflection off Koulibaly but it's in! Arsenal fans are in full voice now!
22'
Maitland Niles battles with Rui on the left wing before the Napoli man gets a cross in. None of his teammates are in the box so Koscielny can chest it down to Cech.
20'
Lacazette feels he should have had a penalty after being brought down in the box but contact was minimal and the referee waves play on.
18'
Arsenal looking comfortable in possession. but Napoli certainly won't just hand it to the Gunners!
15'
GOOOOOAAAAAAL ARSENAL!!! Ramsey takes the lead for the home side after a lovely sequence of play that started with Ozil in midfield. It was Maitland-Niles' final cross which set Ramsey up nicely! Great start for the hosts!
11'
Napoli break down the left with Zielinski but Koscielny is there to intercept. Napoli corner.
9'
Napoli up in the box now and Zielinski pops it in for Callejon but he's miles offside. Cech was there for the block though! Great vision to come off his line.
7'
Napoli now with some possession but Arsenal press high and the Italian side is confined to midfield at the moment.
4'
Arsenal with possession at the moment. Lacazette and Ramsey making the most of it so far but Koulibaly intervenes.
2'
Maitland-Niles whips a cross in from the right flank but gets slightly too much air time on it. Good start though!
1'
WE'RE OFF! Arsenal get us underway and they press high immediately!
Prev.
The players are out. Handshakes all round. Here we go!!!
Prev.
The players line up in the tunnel as we approach five minutes til kick off! Any score predictions?
Prev.
Meret takes Ospina's place between the posts after the former Arsenal goalkeeper suffered a head injury last month.
Prev.
Sokratis is back from suspension for Arsenal, who has first experience of Napoli. Granit Xhaka sits this one out through injury.
Prev.
Napoli are a force to be reckoned with, given that they are the highest ranked eliminated team from the Champions League. Their domestic form has been better but they still have a strong side out this evening with the likes of Koulibaly and Insigne.
Prev.
Napoli starting XI: Meret; Hysaj, Maksimovic, Koulibaly, Rui; Callejon, Allan, Ruiz, Zelinski; Insigne, Mertens
Prev.
This is Arsenal's toughest clash so far in their quest for European glory this year. As a result, Unai Emery has put a strong line-up out at home to face Napoli. Ozil has performed well as of late and earns a start alongside Aaron Ramsey in midfield.
Prev.
Arsenal starting XI: Cech; Sokratis, Koscielny, Monreal; Maitland-Niles, Torreira, Ramsey, Ozil, Kolasinac; Aubameyang, Lacazette
Prev.
Welcome to our live. minute-by-minute coverage of tonight's Europa League quarter-final first leg between Arsenal and Napoli! Stay tuned for team news and line-ups!