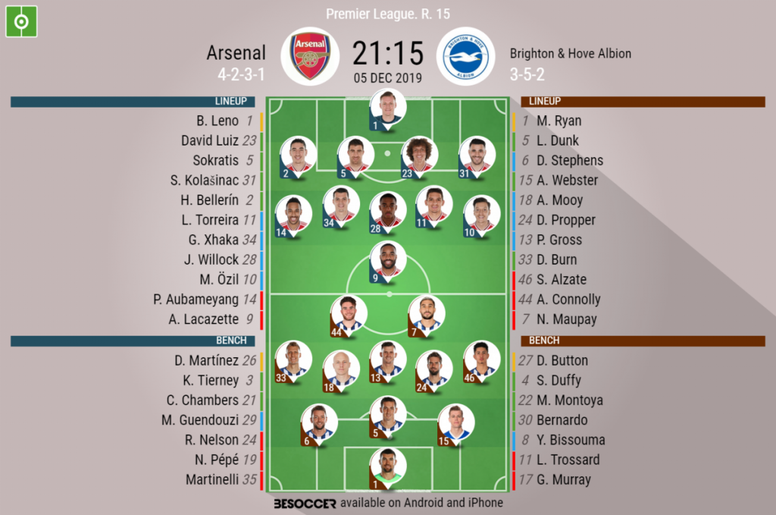 Arsenal v Brighton & Hove Albion - as it happened
Arsenal

Brighton & Hove Albion

94'
FT: Arsenal 1-2 Brighton!! All over at the Emirates. Lacazette levelled for Arsenal five minutes after the break before David Luiz thought he had made it 2-1, but the VAR saw he was miles offside. Arsenal were the better side in the second period, but Maupay scored the winner for the away side ten minutes to pile more misery on Arsenal. That's all from us, join us again soon for more action!
94'
Brighton keep the ball on the far side and the referee blows for full-time! The Emirates crowd are fuming and rightly so.
94'
Ball into the box by Arsenal and Ryan catches.
93'
Brighton on the counter break through Trossard who runs 40 yards before firing over.
92'
Arsenal attack, but Brighton clear what is being thrown at them. 90 seconds left.
91'
Four extra minutes and some fans are already leaving.
90'
Pepe's free-kick just goes wide of the GK's right hand post. Corner as it took a deflection. Aubameyang has returned from the dressing room after leaving the pitch for something.
89'
Trossard makes a needless foul on Pepe on the edge of the box. Dangerous this.
89'
Brighton sub: Duffy on for Alzate.
88'
Webster and I think Dunk getting treatment after clashing heads.
87'
What a save by Ryan to deny Martinelli! It was a great header from Tierney's cross and the ex-Valencia GK was brilliant there.
84'
Brighton attack again and Arsenal have to clear. Arsenal stopped dominating after drawing level.
80'
Maupay scores for Brighton!! Good play by Brighton and Mooy's cross from the far side is headed into the net by Maupay from 10 yards out!
80'
Brighton sub: Trossard on for Gross.
79'
Brighton attack again through Mooy, he gives it to Maupay, but they can't get a shot off.
78'
Arsenal have been the better side in the second half, but a draw would be a fair result.
77'
Arsenal sub: Lacazette going off and Martinelli is on.
76'
Pinball from the corner which is finally cleared.
75'
Alzate was going for Montoya, but it's atually Connolly going off.
74'
Mooy gets a corner for Brighton.
72'
Arsenal sub: Tierney on for Kolasinac.
72'
A nasty slide tackle by Alzate is made on Kolasinac. Lucky not to get booked.
69'
Lacazette picks up a ball on the far touchline and he crosses to Ozil who fires wide.
69'
A Brighton free-kick is headed at the goalie.
67'
Pepe dispossesses the Brighton man and then Arsenal get a corner after Aubameyang's effort is deflected behind.
64'
The goal has obviously been taken away by the VAR! Back to 1-1.
64'
Arsenal score through Luiz, but this is coming back!! Ozil's cross is headed home by Luiz, but Luiz and two or three others are miles offside. That was a howler by the linesman.
62'
Foul by Burn on Pepe, which sees the Brighton man accidentally step on Pepe's ankle.
61'
What a chance for Brighton! Maupay passes to Alzate, his cross in is headed by Mooy and Maupay touches inside the six yard box and then Leno saves it for a corner.
60'
Gross cautioned for a clear and cynical handball to prevent Ozil getting away.
58'
The free-kick ends up in the keeper's hands.
57'
Torreira is down injured after making a late challenge on Connolly.
54'
Brilliant play by Bellerin who runs onto his own pass and Aubameyang is not far away from getting on the end of the Spaniard's cross!
53'
Brighton attack now and Connolly's effort is deflected for a corner.
51'
Arsenal level the scores! Lacazette heads the corner at the near post and the ball goes in at the far post! Kolasinac doesn't touch it. Brighton wanted offside by Kolasinac for interfering and a possible foul by him on Propper, but it's been given the all clear. Definitely wasn't offside, but could have been a foul on Propper.
50'
Pepe gets down the far side for Arsenal, he passes to Bellerin and the Spaniard wins a corner.
48'
The corner is half-cleared to Torreira on the edge of the box as he is about to put his foot through it, Maupay gets there at the vital moment to clear.
47'
Lovely backheel from Ozil and Arsenal win a corner.
46'
Brighton get us going again!
45'
Welcome back everyone! We have a HT sub here. Pepe is coming on for Arsenal here. Willock makes way.
45'
HT: Arsenal 0-1 Brighton! Half-time and the Seagulls lead through Webster's goal nine minutes before the break. Potter's men have been the much better team in the first period. Ryan had to make a tremendous save to deny Willock and Aubameyang has looked dangerous a couple of times, but very little apart from that from the Gunners. Back for more in 10 minutes!
45'
Gross' delivery is headed away, the whistle goes and the crowd make their frustration clear.
45'
One extra minute. Sokratis is penalised for a foul on Connolly by the corner flag.
45'
Lacazette goes down wanting a penalty, but the ref isn't interested! It was Aubameyang again down Brighton's left, Torreira got on the end of the cross and he laid it off to Lacazette. No penalty.
44'
Attempts: 4-8, on target: 2-5.
42'
Arsenal cut open again!!! Mooy gives it to Connolly and when he tries to square for Maupay, Xhaka I think knocks it behind for a corner. Maupay was furious as he wanted the ball earlier.
41'
Ryan!!!!! Aubameyang is brilliant down this near side and he crosses to Willock whose header is excellently saved by the Aussie from close range.
39'
Brighton have a free-kick now which goes straight to Leno. Arsenal counter and Brighton clear for a throw-in.
36'
Brighton score!!! Webster!!!!!! Burn gets his head to the corner, the ball falls to Connolly who chests it down just outside the six yard box, he completely misses his kick, but Webster behind him fires home! You can't say it hasn't been coming!
36'
Stephens gives it to Mooy on the edge of the box and it's deflected for a corner.
34'
Propper tries his luck from a similar distance! This is straight at the goalie though.
33'
Maupay!!!! That was dangerous! The '7' strikes from 25 yards out and the German has to dive to his left to save it! Arsenal not impressive at all.
32'
Brighton have a free-kick. but they waste it.
31'
Free-kick to Arsenal in their own half.
28'
Arsenal's turn now! Torreira is fouled on the edge of the box, an advantage is played and Aubameyang fires wide.
27'
Arsenal living dangerously.
26'
Almost 0-1!!! The corner is cleared away and then Brighton continue to attack and Connolly is inches away from getting on the end of Maupay's cross at the far post. Offside was given though.
25'
What a brilliant run down this near side by Connolly!!! He manages to get to the edge of the box and then Kolasinac dispossesses him. Corner for Brighton.
24'
Gross's corner is headed towards goal by Webster and it's easy for the GK.
24'
Kolasinac concedes a corner kick on Arsenal's left. Brighton not sitting back here.
22'
Gross hits the free-kick powerfully, but straight into the wall.
20'
Free-kick to Brighton right on the edge of the box after Bellerin pulls back Connolly. The Brighton man wanted a pen, but it was just outside. It was a lovely pass by Stephens.
19'
Burn on the run for Brighton and he gives to Connolly whose shot is comfortably caught by Leno.
18'
Xhaka, Kolasinac and Ozil with one touch football over on the far side, but Ozil was offside.
14'
Arsenal the better team so far, but Brighton also attacking.
12'
What a save by Ryan!! Great build up play between Aubameyang and Lacazette sees the former's shot brilliantly stopped by the keeper. Lacazette was offside in the build up though.
11'
David Luiz's strike from outside the box is saved by Ryan and then he spills it after a foul.
10'
The corner kick in sees Lacazette nudged in the back as he heads wide of the post. The Frenchman wanted a penalty and the defender took a chance.
9'
Ozil's cross from the far side looking for Aubameyang is headed behind by Burn for a corner.
6'
Mooy wins a corner for the visitors off Sokratis.
6'
Ozil's delivery is easily cleared.
5'
Aubameyang attacks down the near side, he gives it to Bellerin and his pass is turned behind by Stephens for a corner.
3'
Mooy cross in from this near side is cleared by Kolasinac now. Arsenal also attacking. Very open.
1'
Danger for Arsenal as David Luiz misjudges a long ball forward after a lack of communication and Connolly wants a penalty!
1'
Arsenal get us underway from left to right!! Arsenal in their usual kits, Brighton in the black.
Prev.
The players make their way out here!
Prev.
Brighton lost 2-1 at Liverpool last time out. Alzate and Maupay come in for Montoya and Bissouma.
Prev.
It's 10 degrees in the capital this evening.
Prev.
Graham Scott is the referee while Jonathan Moss is the VAR.
Prev.
10th v 16th. 19pts v 15pts.
Prev.
Bellerin, Sokratis and Torreira are the three changes from Arsenal's last game, the 2-2 draw at Norwich. Chambers, Mustafi and Guendouzi out.
Prev.
Brighton XI: Ryan (GK); Stephens, Dunk, Webster; Burn, Mooy, Gross, Propper, Alzate; Connoll and Maupay.
Prev.
Arsenal XI: Leno (GK); Kolasinac, D Luiz, Sokraits, Bellerin; Ozil. Torreira, Willock, Xhaka, Aubameyang; Lacazette.
Prev.
Good evening and welcome to live coverage of the Premier League clash between Arsenal and Brighton from the Emirates Stadium. Will Ljungberg win his first home game? Stick around to find out!