Ajax fans turned away by Italian police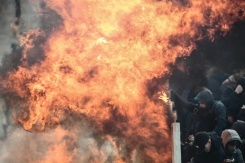 The fans were stopped aboard buses on the outskirts of Turin on Monday.
Ajax and Juventus fans clashed in the build up to the first leg of the Champions League quarter-final in Amsterdam last week, with over 130 arrested, putting the police on high alert.
Turin police say the fans aboard the buses were also found in possession of armored gloves, mouth guards and various types of fireworks and smoke bombs.
"We're fighting against every type of violence inside and outside stadiums," Ministry of the Interior Matteo Salvini tweeted. "Certain delinquents should never step foot in a football ground again!"
Salvini added that the fans who were not arrested will be led away to the border, according to a security decree.
More than 2,000 Ajax supporters are expected to attend Tuesday's match at the Allianz Stadium, which hangs in the balance after a 1-1 draw at the Johan Cruyff ArenA.