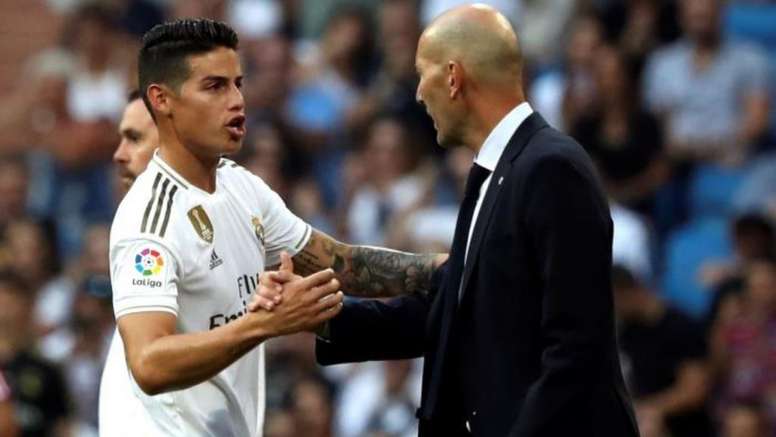 Zidane is falling in love with the new James Rodriguez
To make two unwanted or discarded players feel needed and provide good performances again is one of the most important virtues a manager should have. And that's exactly what Zinedine Zidane has done with both Gareth Bale and James Rodriguez. He tried to give them a pre-season starts so that all interested clubs would see they can still perform up to the expected level and would, therefore, sign the Real Madrid rejects. After both transfers failed, now Zidane wants them at their best.
The Welshman has already shown he's up to the task by scoring several goals, although in the past he has also experienced success under the French coach. The Colombian's case is quite different, as he was never really part of Zidane's plans nor did he have a place in his starting line-up.
Now, the Madrid coach is delighted with the way the 'cafetero' performs. He gives everything in training and has shown a lot of motivation, which is why he was given a place in the starting line-up against Villarreal.
Aditionally, he has reportedly been hard at work to make sure that his recovery from injury is as quick and smooth as possible, to the point where Zidane is reportedly looking forward to putting him back in as a starter.
His current condition should give him a few minutes of playing time again against Levante, although in no case will the coach force him, as it would be too dangerous to expose him to a possible relapse.
James, beloved in the dressing room and among the fans, and with Zidane is his pocket now,. , is looking to keepo the good streak going and to solidify his status as an important player in Madrid and a useful attacking weapon.
With offensive doubts at the start of the tournament, the Colombian's left foot is a great tool for Zidane, who can exploit it at the service of his team-mates in crosses and from set-pieces as well as in shots on goal.