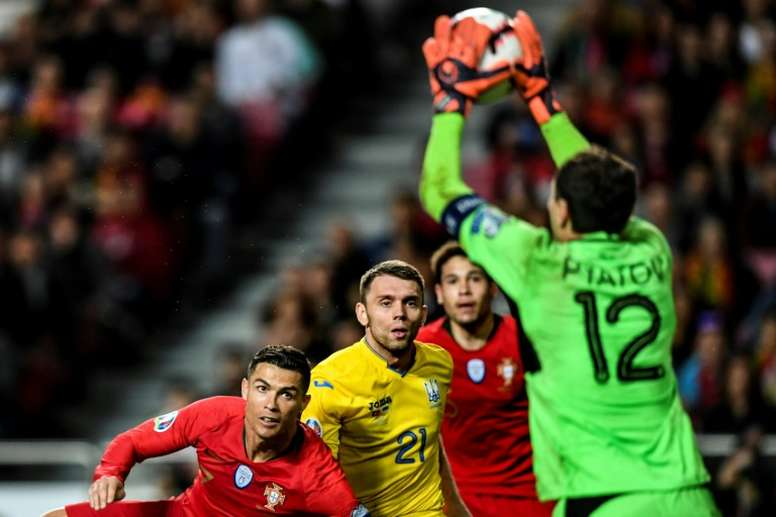 The hero was Pyatov and not Ronaldo
The spotlight was on him. Ronaldo was back in the Portuguese headlines ahead of their Euro 2020 qualifying group stage clash against Ukraine.
His country were expecting great things upon his return to national football after a break earlier in the year. But, after a clash of forces, it was not that Ukraine won, but that Portugal lost.
The problem was that Ronaldo lacked alternatives. The team desperately relied on both him and Bernardo Silva to come up with the goods but neither could deliver in front of a Pyatov who put up a solid wall against Portugal.
Unexpected star
The match swiftly changed focus and became all about the Ukranian goalkeeper who made it clear that he would make the European champions work hard if they wanted a result.
After half an hour, he had denied Cristiano Ronaldo twice and continued his superb form into the second half. Each time the Portuguese built an attack, Pyatov was there to deny their efforts and crush their spirits in front of goal.
He slowly but surely silenced the home crowd and his plan to be the star of the evening was coming to fruition, and the Portuguese could do absolutely nothing about it.
Up at the other end however, Rui Patricio who had next to nothing to do for the majority of the match, came very close to costing Portugal the game in the final moments of the game. What a story that would have been.
Ronaldo, Dyego Sousa, William Carvalho, and Sousa again all failed to clinch a victory for their side against Pyatov. Portugal did not win because Pyatov would not let it happen.