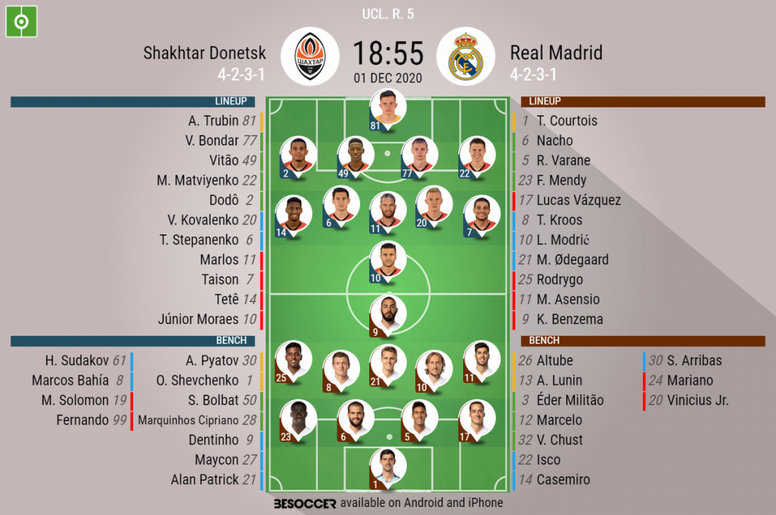 Shakhtar Donetsk v Real Madrid - as it happened
Shakhtar Donetsk

Real Madrid

Post.
That's all from us, thanks very much for joining us and we hope to see you again soon!
94'
FT: Shakhtar 2-0 Real Madrid!! All over in Kiev!! What a performance by Castro's men in the second half. RM started well and did alright in the first half, but Shakhtar picked up in the second and Zidane's men couldn't cope with Shakhtar's counters. Goals from Dentinho and Solomon gave Shakhtar the points and they have it in their own hands on the last day. RM will not if Gladbach beat Inter later this evening. It's a major setback for the Spanish club.
94'
The set piece is dealt with and Madrid are caught offside from the second ball.
93'
RM get a corner now, but it's too late. One goal is no good.
92'
Vazquez passes to Vinicius whose shot hits the defender and then hits the RM player before going out for a goal kick.
90'
Kroos free-kick is terrible and goes wide of the far post.
89'
Vinicius gets a free-kick just to the side of the area after a foul by Maicon.
87'
RM don't deserve to be losing 2-0, but the Ukrainians have been clinical. A bit like what happened v Gladbach. Poor goals to concede. RM haven't been great though.
86'
Modric is penalised for a foul now.
85'
RM will not have it in their own hands on the last day if Gladbach beat Inter tonight. If they don't, all three could have their destiny in their own hands. Shakhtar definitely will. And Inter aren't out of it yet either. It's a fascinating group.
84'
The substitute Dentinho has got injured and Alan Patrick is on.
82'
Can you believe it?? It's 2-0!!! It's once again on the counter! Maicon starts the move giving the ball to Solomon and the Israeli runs from halfway into the box and then beats Courtois to his right! Brilliant goal and now RM need help from Inter.
80'
Isco goes for an overhead kick and he's penalised for dangerous play.
80'
Asensio goes for goal and it goes just over the bar. It takes a deflection and it's a corner.
79'
Vinicius goes down this near side after Tete loses the ball and Bondar comes across to bail his teammate out.
77'
RM triple sub: Isco, Vinicius and Mariano on for Odegaard, Rodrygo and Benzema.
76'
Odegaard looks to find Benzema, but the ball runs through to the GK.
74'
RM win a corner here. The set piece is taken short and Mendy's strike is straight at the keeper.
73'
Shakhtar double sub: Maicon and Solomon on for Marlos and Taison.
72'
Madrid are attacking, but Shakhtar look very solid in defence.
71'
Tete!!! Marlos passes to Tete and his effort from just outside the area is easily caught.
70'
Lovely move by Mendy inside the box and Bondar stops his progress.
69'
Shakhtar will have it in their own hands on the last day with a win here and they face Inter. If Inter lose today, the Italians will have nothing to play for.
68'
Tete's shot is deflected by Mendy and Courtois prevents it going out for a corner.
67'
Another dangerous Shakhtar move! Tete gets to the by-line, he cuts back for Kovalenko and Varane slides in to make an important block.
66'
Benzema is caught offside here. That was a tight one.
65'
RM could be in trouble if they lose here so getting a leveller is vital.
63'
RM putting plenty of pressure on the Shakhtar defence, Rodrygo's pass is cut out, the ball breaks to Mendy and his shot goes well wide.
60'
Varane is penalised for a foul and he's already been booked. Dentinho is caught in the head by Varane's boot.
59'
Kroos heads a free-kick at the GK.
58'
The goal is huge because as it stands, RM would not have it in their own hands on the last day if Gladbach beat Inter this evening. If Gladbach don't win, they still would.
57'
Shakhtar score!!! Can you believe it? Dentinho scores! RM have a corner, they lose the ball, Shakhtar counter through Marlos and the move ends with Kovalenko passing to Marlos who lays off for Dentinho to finish! That's a huge goal!
56'
A cross field pass is headed behind by Dodo for a corner.
55'
Mendy is penalised now and it's a free-kick for the hosts.
53'
Taison!!!! The Shakhtar man gets to the ball before Vazquez, he runs into the box and Courtois has to go down to make a lovely save! Shakhtar's best opportunity of the match so far by a distance.
52'
What an opportunity for Real Madrid!!! Lovely one touch play ends with Benzema's ball in headed over by Nacho. Mendy started the move with lovely footwork.
50'
Benzema goes for goal from inside the D and it's regulation for the goalie.
49'
Shakhtar are showing much more attacking intent as we thought. A draw would not be that bad a result for RM as they'd only need a draw at home on the last day. The Ukrainians really need to win this one.
48'
Kovalenko passes to Taison, Matviyenko runs into the area and his cutback is blocked by the sliding Vazquez for a corner.
46'
A long ball sees Matviyenko shield the ball by the byline and get fouled.
46'
RM get us going again! No changes.
45'
HT: Shakhtar 0-0 Real Madrid! No score in Ukraine at half-time. Madrid have been the better side, but their momentum was broken by Moraes' injury. Asensio has come the closest with a shot striking the post and then another saved by Trubin while an early Taison shot was the closest Taison came. The hosts, who lost Moraes in the first half. will have to be more ambitious after the interval. Back for more shortly!
45'
45+3: Mendy looks to find Benzema, he's unable to and the ref blows for half-time!
45'
45+2: Lucas Vazquez wins a corner off Taison. It's taken short and Odegaard's shot is easy for Trubin.
45'
Three extra minutes as RM win a corner.
44'
It's snowing heavily now in Kiev!
43'
Good chance for Benzema now which goes over the bar!
42'
Dentinho is getting some treatment here.
41'
Varane sends another Shakhtar man to the ground as the pair both go for the ball, play goes on and the RM man wins a corner. I don't think he was so much at fault this time. Still painful though.
39'
Taison gives the ball to Tete in a rare Shakhtar attack, but his path to goal is blocked.
37'
Free-kick to RM 30 yards from the goal.
36'
Shots: 1-6, on target: 0-4.
35'
Real Madrid the better side, but it looks this will be goalless at the interval.
33'
Vazquez gets a corner for RM, but nothing comes of it.
30'
Asensio!!! Mendy passes to Asensio who plays a one-two with Odegaard and then sees his shot tipped over by Trubin! Nice stop.
29'
Nacho heads the set piece and it's easy for the GK.
29'
Vazquez's ball in is headed behind for a corner by Dodo.
27'
RM are caught offside now.
25'
Shakhtar sub: Junior Moraes is unable to continue and he's replaced by Dentinho.
24'
Matviyenko and Marlos are not on the same wavelength and a Shakhtar attack breaks down.
23'
Vazquez sends a cross into the box and a Shakhtar player heads away. RM have been less dominant since the injury stoppage.
20'
Nice defence by Rodrygo to prevent a dangerous cross into the box reaching Matviyenko.
20'
Free-kick to the hosts here in Real's half.
18'
Moraes has returned and is limping heavily. He must surely be returning only until Dentinho is ready.
16'
Moraes is not going to be able to continue here. It wasn't a red as the Brazilian's touch was too strong, but it wasn't a great challenge.
15'
It was a poor challenge by a Frenchman and the Shakhtar man is in trouble after getting kneed on the right thigh.
14'
Yellow card for Varane for a cynical foul on Moraes. Nacho's pass was underhit and Varane had to do that.
11'
Trubin!!! RM pass the ball around patiently, Modric plays a lovely through ball for Benzema and his effort is well saved by the keeper.
10'
L Vazquez fouls Kovalenko and Shakhtar get a free-kick in their own half.
8'
Taison goes for goal after a nice team move and his effort goes over Courtois' net.
6'
Zidane's men are dominating proceedings here so far. It's not snowing at the moment although it was earlier.
5'
Off the post!!!! Shakhtar lose the ball, Rodrygo passes to Benzema who lays off to Asensio inside the six and the Spaniard's shot strikes the near post.
3'
Shakhtar attack, but Kovalenko is penalised for a handball.
2'
Rodrygo threatens again, but he misses his kick.
1'
Lovely play by Real Madrid sees Rodrygo go down this near side and his cross is cut out by the defence.
1'
Shakhtar get us going from right to left in the orange! RM in the white.
Prev.
The players make their way out here in Ukraine!
Prev.
RM were beaten 1-2 at the weekend in the league while Shakhtar won 0-1 at Dnipro.
Prev.
Three alterations for Shakhtar from the Gladbach match as well. Alan Patrick and Solomon drop out for Kovalenko and Taison, but the big news is that Pyatov doesn't play in goal. 19 year-old Trubin starts instead.
Prev.
RM make three changes from the Inter win. Carvajal and Hazard (both injured) plus Mariano are replaced by Rodrygo, Asensio and Benzema.
Prev.
Real Madrid beat Inter 0-2 in their last CL match while Shakhtar were thrashed by Shakhtar once again. Just 4-0 this time.
Prev.
Real Madrid were stunned 2-3 at home by Shakhtar back on matchday one, but things haven't gone well for the Ukrainians since then.
Prev.
This is a huge game for both sides. Real Madrid are 2nd in Group B on seven points while Shakhtar are in 3rd on just four points. RM are through with a win, they would need a point on the last day if they draw, a loss could make it difficult for them. Shakhtar, on the other hand, really need to win this one. A loss eliminates them and a draw would make leave their CL hopes hanging by a thread.
Prev.
It's -1 and snowing in Kiev for this one. Ovidiu Hategan of Romania is the referee while Pawel Gil of Poland is the VAR.
Prev.
Real Madrid XI: Courtois (GK); Mendy, Nacho, Varaen, L Vazquez; Rodrygo, Kroos, Odegaard, Modric, Asensio; Benzema.
Prev.
Shakhtar XI: Trubin (GK); Matviyenko, Bondar, Vitao, Dodo; Taison, Kovalenko, Marlos, Stepanenko, Tete; Junior Moraes.
Prev.
Hello and welcome to our live coverage of the Champions League clash between Shakhtar Donetsk and Real Madrid!