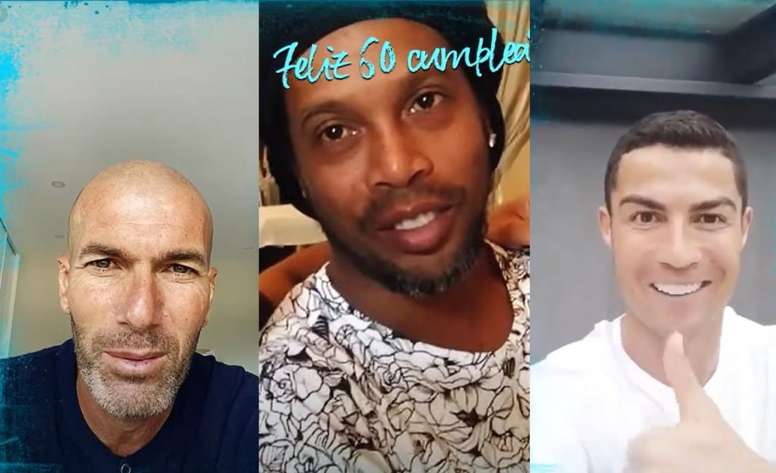 Ronaldo, Ronaldinho, Zidane, 156 stars wish Maradona happy birthday
Diego Armando Maradona turns 60 this Friday and he is currently in charge of Gimnasia La Plata in Argentina.
Several current and past players have sent the legend affectionate messages.
One of them has come from former French player and current Real Madrid coach Zinedine Zidane: "Maradona, whatever happens, we love you loads. 86 is recorded here for ever, the best, the best I've ever seen in my life. Take care, I send you a very big hug. See you soon, bye," the Frenchman said.
October 30, 2020
Crisitano Ronaldo also sent him a message: "Hi Diego, how are you? Listening to a bit of cumbia (Colombian dance music). Happy 60th birthday and wish you the best, bro. Hope everything goes well and enjoy your life. A hug, bro, the number one, but after 'El Bicho' (Ronaldo himself), eh? A big hug, bro. Bye!"
October 30, 2020
A total of 156 celebrities have taken part in the very special video to say happy birthday to the Argentine. In 'Eternally Maradona', made by Francis Magan, famous football stars such as Gento, Koeman, Van Basten, Ruud Gullit, Maldini, Andrés Iniesta, Iker Casillas, Simeone, Del Piero, Mourinho, Mágico González, Iván Zamorano, Valderrama and Vicente Del Bosque as do other famous people unrelated to football like Alejandro Sanz, Carlos Latre and Julio Iglesias.