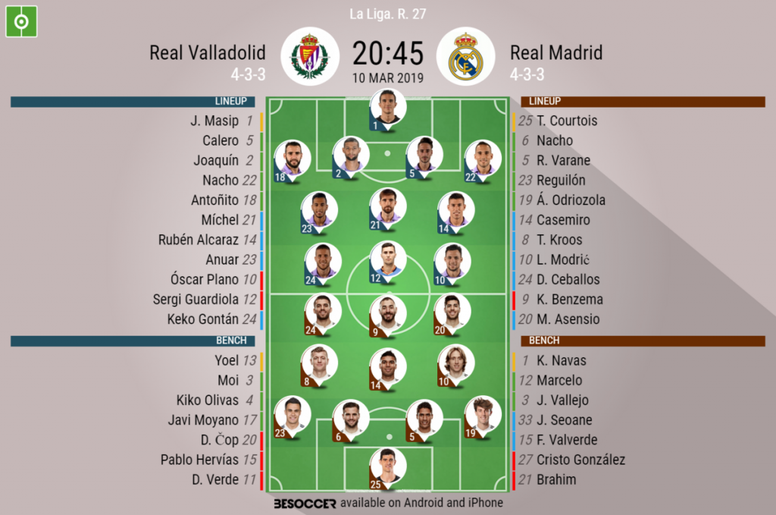 Real Valladolid v Real Madrid - As it happened
Real Valladolid
Real Madrid

93'
FT: Real Valladolid 1-4 (10) Real Madrid!!! That's it! it's all over. What a brilliant game. Valladoldi gave Real Madrid a game for 51 minutes and started the second half brilliantly, but the Benzema goal at the start of the second half changed things and Real Madrid were far better in the last 40 minutes. A convincing win for Solari's side, but Valladolid put up a good show. Thanks for joining us and see you soon!
93'
Marcelo goes in the referees' notebook for bringing down Daniele Verde.
90'
Three minutes of injury time!
89'
Valladolid started the second half well, but once the second Real Madrid goal went in, the home side couldn't recover.
88'
R Madrid double sub: Jesus Vallejo takes the place of Varane. Marcelo replaces Reguilon.
85'
Valladolid sub: Enes Unal comes on and Plano goes off
85'
Goal for Real Madrid!!! Modric!!! It's an amazing run by the Croatian, who receives the ball from Benzema, does a few stepovers, beats Joaquin and then slots it in the far corner. Superb. 1-4
84'
Chance for Real Madrid after a cross by Odriozola, but it comes to nothing.
83'
Super defence just now by RM's Nacho! His namesake had put in a threatening looking cross.
80'
Second yellow to Casemiro!!! He stopped Oscar Plano taking a quick free kick after fouling him and Gil Manzano sends him off. He doesn't get out of the way and Madrid are down to 10.
77'
Off the post by Valladolid!! Verde with the corner and Sergi Guardiola finds the post with his strike! So close...
76'
Valladolid with a final flurry now in the last five minutes!
75'
Brilliant run by Asensio, who looked for Valverde.
74'
R Madrid sub: Kroos is replaced by Fede Valverde.
73'
Valladolid sub: Keko goes off and Duje Cop comes on.
72'
Oscar Plano with a lovely run through the middle, but Reguilon sends it out for a throw.
70'
Huge shout for a penalty for Valladolid, but the referee gives offside! He's spot on. Verde put in the cross and it was offside.
69'
Casemiro sees yellow for blocking off Oscar Plano! That's his fifth of the season and he will miss the next match.
68'
It's been a bit scrappy now in the last few minutes. Real Madrid look to have this under control.
64'
Courtois cautioned for timewasting
64'
Valladolid effort goes wide now! Poor in the final third.
63'
Anuar leaves the field and Daniele Verde comes on. Anuar has played very well.
61'
The difference between the two teams is that Solari's side have taken their chances. Otherwise, there hasn't been much in it.
60'
Yellow card for the Valladolid Nacho after a poor challenge after losing the ball.
59'
Goal for Benzema!!! 1-3!!!! Kroos' delivery was brilliant and Benzema jumped from the middle of the six-yard box to head into the corner. They were looking very dangerous.
59'
All Real Madrid now here. They have just forced another corner.
57'
What a glorious chance for Real Madrid! Asensio put in a pinpoint ball for Ceballos and Masip tipped it over. There was no offside. That was a vital save.
56'
Asensio is caught offside from a Modric pass! The linesman waited until Asensio had shot wide before raising the flag.
54'
Corner to Real Valladolid! Nacho clears away the corner! The penalty give away was needless going back to that goal.
52'
Benzema sends Masip the wrong way from the spot! He sent it to the goalie's right. It was a needless penalty to give away because there was plenty of cover. Plano panicked.
51'
Penalty to Real Madrid!! Odriozola was brought down by Oscar Plano! Clear.
49'
Anuar once again!! He chested down a long ball in the penalty area, but Courtois came out to narrow the angle and he couldn't shoot properly before Courtois came.
48'
Valladolid have coming out firing in the second half.
47'
What an opportunity for Valladolid! Gontan made a brilliant run, he lays it off for Antoñito, whose cross for Anuar is slightly too high and he couldn't reach it.
46'
Real Madrid got us back underway!
46'
Welcome back everybody! There are no changes for the second half.
45'
HT: Valladolid 1-1 Real Madrid! Wow, what a half of football that was. The home side dominated the first 30 minutes in which Sergi Guardiola saw two goals disallowed for offside, one of them given by the VAR and Rubén Alcaraz blazed over a penalty kick committed by Odriozola. However, shortly after Anuar's strike. Varane struck from a corner and the away side then grew into the game. Please join us in 10 minutes time for the second half!
45'
Reguilon goes in the book for a clear foul on Rubén Alcaraz.
45'
Odriozola forces another corner, but nothing comes of it.
45'
Three added minutes because of all the VAR stoppages.
45'
Now Caasemiro tries his luck from outside the box and Masip is forced to dive down to his right. What a save!
45'
Great intervention by Masip!! Panic stations for the hosts now after superb play by Benzema, he found Modric and then his cross was batted away by the GK.
44'
Out of nothing Valladolid break! A rapid move finishes with Anuar's poor effort going straight to Courtois.
43'
Ceballo's cross goes straight to Masip!
42'
Handball committed by Valladolid's Nacho when Odriozola tried to beat him!
40'
Real Madrid definitely finishing the stronger now. Valladolid may rue those missed opportunities later on.
38'
The Varane goal seems to have lifted the away side, who are now enjoying their best spell of the game.
37'
Kroos takes it. Casemiro leaps and can only head it wide.
36'
Reguilon's cross is diverted for a corner by two Valladolid defenders!
34'
The corner was put in, Guardiola headed it towards his own goal, Masip tried to punch on the bounce, but Nacho got there first. Varane was there to pick up the pieces.
33'
Real Madrid almost equalise!!! And now from the corner, Varane scores a very scrappy goal. Masip wants a foul, but there isn't one
32'
Keko puts in another ball, but to nobody. Keko is playing very well and the hosts are targeting Madrid's left.
31'
Joaquín goes down behind the goal after a coming together with Benzema, but he gets up without any trouble.
29'
Valladolid score!!!! And this one does count!!! Anuar scores! Keko puts in a spectacular cross in to the far post, Guardiola at the far post stretches out to reach it and square it perfectly to Anuar. A wonderful goal and fully deserved.
28'
Reguilon shoots wide!! He played a nice one-two with Ceballos on the edge of the box, but the end product was disappointing.
26'
Courtois claims a Valladolid cross! I think it was Michel who crossed it.
24'
Benzema fires wide of the goalie's right hand upright after Luka Modric found Benzema. Good step over by Ceballos to let Benzema have the ball.
22'
Real Madrid are trying to pick up now after a terrible start. They are lucky to still be level.
20'
I have absolutely no idea how this game is still 0-0.
19'
Call stands!!! No goal! 3 close shaves for the away side now.
18'
Valladolid score from a Guardiola header after the corner was taken short!! It's going to VAR, but the call will stand, I believe.
16'
Real Madrid have had two very close shaves. They are being carved open far too easily.
15'
It's been chalked off!!! No goal!!!!! Still 0-0! Keko was offside.
14'
Valladolid score!!!!! Through Guardiola, but this one may be chalked off for offside! Lovely pass to Keko, who was offside and he squared for Guardiola to tap in.
13'
Odriozola was booked for the foul, by the way.
12'
Alcaraz takes it!!!! And he sends it for two points!!!! Oh, sorry, this is football. What an absolutely awful penalty. He smacked it over the bar and found row Z!
11'
Pen to Valladolid! For a silly pull back by Odriozola on Oscar Plano.
10'
Keko passes for Guardiola, but he's offside.
9'
What a chance for Casemiro!!! The first chance of the game! It was a dangerous cross from Kroos and Casemiro couldn't reach it before the defender.
8'
Both teams taking it in turns to attack.
7'
Corner for Valladolid after a mazy run by Sergi Guardiola down the far side. His cross was cut out by Nacho.
4'
Both teams attacking here! A very open and even start.
2'
Corner for Real Madrid after Modric put in a brilliant ball for Dani Ceballos!
1'
Michel delivers the free kick from the near side and is headed over for a corner, but the flag went up.
1'
We are underway here and Valladolid have an early free kick!
Prev.
Jesús Gil Manzano is the ref and Alejandro Hernández Hernández is the main VAR in Madrid.
Prev.
The players are now out on the pitch and the crowd sing the Valladolid club anthem!
Prev.
The teams are in the tunnel and the game will be getting underway very shortly. Enjoy!
Prev.
In fact, all the lighting hasn't been restored at the José Zorrilla, but the ref says there is sufficient light to play and the host broadcaster has also confirmed there is enough light for them even though it's not ideal.
Prev.
Real Madrid after 15 points off Barcelona so have no chance of winning the title, and have an 8 point cushion over 5th place Sevilla, but a loss today would mean further criticism on Real Madrid.
Prev.
There have been a few issues with the floodlights this evening. The teams had to warm up in the dark and the game at one point was in doubt, but the problem has been fixed and the game WILL go ahead as scheduled.
Prev.
To make things worse, Ramos and Marcelo apparently had a mass argument yesterday in training. Tensions are running high in the Madrid camp.
Prev.
This is an absolutely huge game for Real Madrid. They have been knocked out of the Copa del Rey and Champions League in a week and lost last week's Clásico to leave themselves well of the pace in La Liga. There is talk of it being Solari's last game as Real Madrid manager. Even a win may not be able to save him.
Prev.
Solari's side will line up like this: Courtois (GK); Odriozola, Varane, Nacho, Reguilón; Modric, Casemiro, Kroos, Ceballos; Asensio, Benzema.
Prev.
The home team will line up as follows. Masip (GK); Antoñito, Joaquín, Calero, Nacho; Anuar, Míchel, Alcaraz; Keko, Óscar Plano, Sergi Guardiola.
Prev.
Good evening and welcome along to our live coverage of the La Liga clash between Real Valladolid and Real Madrid from Estadio José Zorrilla. Stay tuned for the latest info and line-ups!