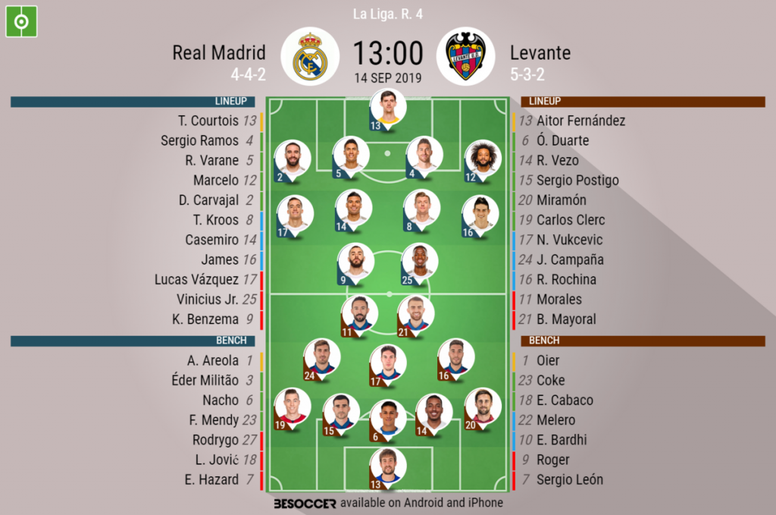 Real Madrid v Levante - as it happened
Real Madrid

Levante

95'
FT: R Madrid 3-2 Levante! What a thrilling game! Mayoral scored early in the second half and Levante started well, but RM were still in control. Melero then scored from a set piece and there was a grandstand finish in the final 15 mins. Levante had two chances to level in injury time, but Courtois denied them. That's all from us! Thanks for your company and see you again soon!
95'
RM have a throw and are taking their time over it. And it's all over! What a thrilling finish!
95'
RM are really holding on now.
94'
Levante hit the side netting!! Morales is played in on this near side by Miramon, I think he wanted to cross, but it found the side netting!
92'
What a stop by Courtois!! Campaña's free-kick is headed towards goal by Vezo and Courtois makes a diving save to his left to prevent it being 3-3!
92'
Militao fous Mayoral on the edge of the box after RM waste the counter.
90'
Miramon puts a dangerous cross in which a Levante man can't get on the end of and five added minutes go up.
90'
Carlos Clerc is carded for bringing down Hazard as he was making a dangerous run.
89'
James is flagged offside.
86'
Morales is stopped by Marcelo after trying to pass him near the by-line.
85'
James hits wide off the goal after receiving a cross field pass.
84'
Corner for RM, but nothing comes of it.
83'
RM sub: Benzema off, Jovic on. The Frenchman gets a standing ovation.
82'
James passes to Vinicius who gives to Benzema, and then Kroos feeds James who fires over!
81'
Morales goes into the area and tries to beat the defender, but Varane dispossesses him.
80'
Brilliant defending by Carvajal as Morales gets a corner.
80'
Vezo is booked for a foul from behind on Hazard. He's the first Levante man to go in the book.
78'
Benzema scuffs a shot wide for the hosts! It will be a nervy 10 minutes for them.
76'
Shots: 20-4, on target: 13-2. Levante clinical!
75'
It's 3-2!!!! Unbelievable!!! The set piece is taken short and Campaña's ball in is headed home by Melero at the far post! RM had this under control but it's game on now!
74'
Morales beats Carvajal on the far side to win a corner.
73'
Real Madrid break and win a corner at the other end after good play by James and Vinicius.
72'
Corner for Levante after Militao is forced to clear.
71'
Vinicius sees his shot saved by Fernandez after a beautiful pass by James!
69'
Real Madrid are in complete control here after Levante started the half well.
68'
Morales is caught offside!
67'
Roger and Melero on for Rochina and Duarte
66'
Hazard sees his shot saved after a lovely run!
64'
Still checking. The goal won't stand, but the VAR is still checking. Checking how many times RM were offside in that move I think.
63'
It's miles off, but it's taking a while as they have to draw lines for 3 or 4 separate offside situations.
62'
Vinicius scores, but it's disallowed! Hazard plays in Vinicius, his shot is saved, it breaks back to James, he's off, he and then Vinicius are both denied before the Brazilian finally taps home.
60'
RM sub. Militao on for Ramos as well.
59'
Hazard coming on! Casemiro goes off and Hazard is on.
57'
Benzema hits the post!!! Lovely play by the Frenchman and his curling shot hits Fernandez's left hand post. Vinicius' rebound then hits the side netting.
56'
Levante sub: Vukcevic off and Bardhi on.
55'
Carvajal makes a mess in his own area! He's dispossessed, but Campana hits well wide. Levante wasted that.
55'
And they win a second corner!
48'
Levante scores!!!! Clerc passes from the far side and Mayoral hits home! Mayoral isn't off, but Morales is and makes a play at the ball. It could be disallowed, but the goal is confirmed by VAR. Mayoral didn't celebrate.
47'
Vezo brings down Vinicius. The free-kick is taken quickly, but Levante are alert and head away.
45'
Welcome back! Real Madrid get us going again!
45'
HT: R Madrid 3-0 Levante! The home side have absolutely outplayed their opponents. Levante were brave in the first 10 minutes, but were then blown away after that. Benzema (2) and Casemiro have all but sealed the three points for Zidane's team. Join us for more in 10 minutes!
45'
Two added minutes. VAR checked whether Benzema was offside, but he was on.
45'
Marcelo hits a thunderous strike, but it is blocked.
44'
Vinicius goes down on the edge of the box, but the ref isn't interested.
43'
The goal is finally given. I'm not sure what they were reviewing to be honest.
42'
Neither Vinicius nor Casemiro nor offside, it must be another offside.
41'
VAR checking something, but I don't kinow what.
40'
Casemiro makes it 3-0!! Real attack, the Levante defence are torn apart and Vinicius passes to Casemiro to tap home.
39'
Vazquez is penalised for handball after the ball hits his leg and then his arm. Very harsh booking.
36'
Benzema is penalised for handball as he tries to play in Vinicius.
34'
Marcelo is down injured after landing awkwardly. It's a problem with his neck I think.
32'
It was a simple one on one situation after James saw Benzema to his right.
31'
And it's two!!! Benzema again!!! James plays him in and it's easy for the home side!!! It all starts after a long punt forward is flicked on by Postigo straight to James. This could be a long afternoon for Paco Lopez's side.
29'
Campaña's free-kick is poor, Levante lose the ball and Vezo is pulled back by Ramos. The Real man wanted a yellow, but the ref said no.
28'
Poor challenge by Casemiro on Campaña as he slides in and brings him down. Deserved.
28'
James is penalised for a foul on Campaña on the edge of the Levante area.
25'
Benzema scores!!! And it was coming! Vazquez finds Carvajal on the near touchline, he crosses it into the box where Benzema rises higher than Duarte to head home!
22'
RM are peppering the Levante goal now.
21'
Lucas Vazquez strikes the post!!!
21'
Fabulous save by Fernandez to deny Benzema! The Frenchman strikes from the D and Fernandez has to dive to his left to palm away.
20'
Half hearted shouts for a penalty after James goes down. Nothing given.
19'
Vukcevic is injured after being fouled by Casemiro.
18'
By the way, it's been raining in Madrid since kick off.
18'
Real Madrid on top, but Levante haven't just come to defend.
17'
Great save!! Kroos see his effort from the set piece saved by Fernandez before the rebound is deflected behind.
16'
Vinicius plays a lovely one-two with Marcelo before winning a corner off the defender.
16'
Nothing comes of the set piece.
14'
Levante go on the attack again and Marcelo is the hero this time!
13'
Toni Kroos!!! He tries his luck from 25 yards! It goes well wide though.
11'
Bit of pinball in the Levante box as the away side try to clear their lines. In the end, the deflecton favours them and it goes to the GK.
10'
Benzema is almost played in at the orther end, but the goalie comes out and claims.
9'
Superb play by Morales down RM's left after Miramon plays him in and his cross in is turned away by a defender.
8'
James is caught offside in Levante's area.
7'
The free-kick in finds a Levante man and it hits Duarte before going out for a goal kick.
6'
Dangerous position this for Levante after Ramos brings down Rochina on the far side.
5'
Free-kick to Levante in midfield. They take it quickly and then Varane's pass back to his keeper is almost underhit.
2'
Chance for RM!!! Vazquez makes a charging run down the flank, plays it to Benzema in the middle and his shot from inside the D is cofortably saved by Fernandez.
1'
Campaña makes a run down this near side, he passes to Clerc and the cross is cleared away by Ramos.
1'
Levante gets us going from right to left!
Prev.
The captains shake hands are we are ready!
Prev.
The players are out on the pitch here in Madrid!
Prev.
Levante are unchanged from their win over Valladolid.
Prev.
5th v 4th, 5pts v 6pts out of a possible 9.
Prev.
Vinicius and Vazquez get starts for RM today while Modric is out injured and Bale is suspended after seeing red at Villarreal before the international break.
Prev.
Remember RM have CL at PSG on Wednesday night.
Prev.
The referee is Ricardo de Burgos Bengoetxea and Xavier Estrada Fernandez is the VAR.
Prev.
Levante side: Aitor Fernandez; Clerc, Postigo, Duarte, Vezo, Miramon; Campana, Vukcevic, Rochina; Morales and Mayoral.
Prev.
The teams are in!! Real Madrid XI: Courtois (GK); Marcelo, Ramos, Varane, Carvajal; James, Kroos, Casemiro, Vazquez; Vinicius and Benzema.
Prev.
Good afternoon and welcome to our live coverage of the La Liga game between Real Madrid and Levante from the Santiago Bernabeu! It was 1-2 last season and Levante needed just 13 minutes to go 0-2 up. Will history repeat itself? Stick around to find out.