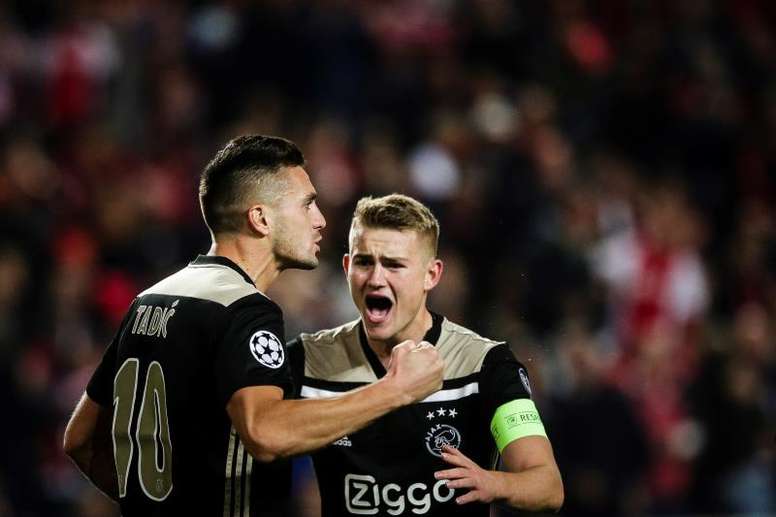 Real Madrid crash out to gutsy Ajax
Santiago Solari had a point to prove coming into this match after many critics and fans began to question his ability at Real Madrid. Sergio Ramos was not available after receiving a suspension for a booking in the first-leg of this Champions League tie, so Varane took his place.
In the build up to this game it seemed as though Ajax had all the work to do as they chased a 2-1 defeat in the first-leg. They didn't let the pressure get the better of them as they were the dominant side from the first blow of the referee's whistle. It took the visitors just seven minutes to eradicate the deficit with a goal from Hakim Ziyech.
Real Madrid failed to react positively and Ajax capitalised accordingly, beginnning to stamp their authority on the match. Their defensive display was gutsy but it didn't need to be anything special as Real Madrid failed to find a final, all-important finish.
18 minutes in and Ajax had their second after some absolutely dire Madrid defence. Ramos might have wished he hadn't got himself suspended for this second-leg as Ajax didn't need to be asked twice to obliterate Madrid's defence at every chance they were afforded.
Lucas Vasquez's night came to an early close as he was substituted for injury and Solari brought on Gareth Bale. A similar situation happened just 10 minutes later as Asensio came on for Vinicius Jr. The two substitutions offered Madrid a bit of respite from Ajax's incessant attacks, as they were able to create more chances for the home side.
Gareth Bale's effort was the closest of the first-half for Madrid as he romped his way down the left wing to release a shot which clattered Onana's post. This would be the last definitive forward momentum Madrid would have for the second-hald and Solari headed down the tunnel for a much-needed team talk.
Whatever was said at half-time in the Madrid dressing room had somewhat of an impact for the first five minutes of the match as both Asensio and Benzema's efforts shyed just wide of the post. The game settled back into the routine of the first-half and Ajax began to find their feet again.
Madrid failed to make their periods of possession count but Dusan Tadic didn't need to be asked twice as he released an absolute worldie of a shot into the top-left hand corner to beat Courtois and put Madrid's chance of a comeback well out of reach.
As with most matches these days, VAR made a timely apperance as the referee double checked a decision on whether the ball had gone out of play in the lead up to Tadic's goal. A lengthy six minutes later, and the goal was deemed legal.
We have to give the Spanish giants some credit as Solari's men managed to rally themselves together and claw one back with Marco Asensio but as 70 minutes passed Madrid needed a further two in order to advance to the quarter-finals.
Ajax, however, did not let the goal dampen their attacking pressure and found themselves with a late free-kick which Schone lined up to take. What was to come next would be the nail in Madrid's coffin as the midfielder treated us to an unbelievable goal.
By that point the tie itself was dead and buried but the referee had one last addition to Madrid's nightmare as he awarded Nacho with two yellow cards, one after the other, and sent the Spaniard walking. After 93 minutes played, it had no impact on the rest of the night's action but merely served to sum up Madrid's underwhelming, disappointing and lack-lustre performance.
An Ajax side similar to that of 1995 returned to inflict a memorable performance, although Solari will want to forget every minute of it as his team fail to continue their campaign to lift the Champions League trophy for what would have been the fifth year in a row. Tonight will be a restless night's sleep for Madrid's boss, that's for sure.