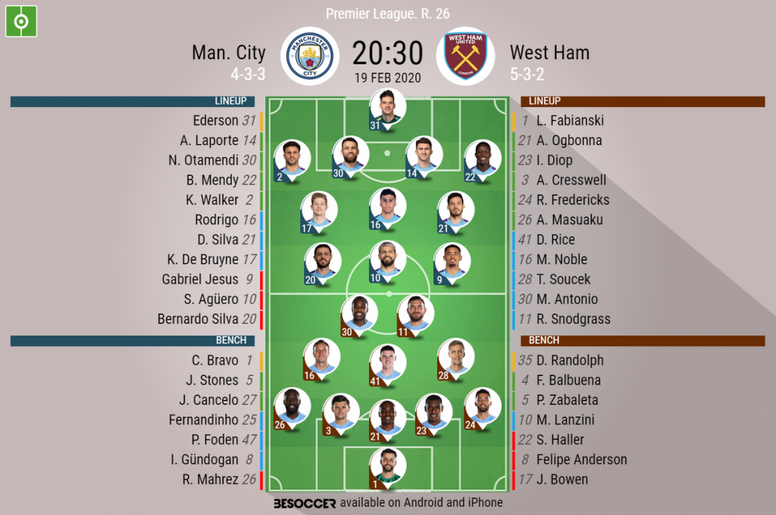 Man City v West Ham - as it happened
Manchester City FC

West Ham United

94'
FT: Man City 2-0 W Ham!!! Finished at the Etihad and it was an extremely comfortable win for the home side. Rodrigo scored with a header in the 30th minute and then De Bruyne added to City's tally in the 62nd minute after good play with B Silva. D Silva went off injured, but it didn't seem too serious. W Ham did not have a shot on target in the whole match and it's obvious to see why they are in the bottom 3. Thanks for joining us tonight and we hope to see you soon!
93'
Jesus passes to Foden who attempts to backheel it back to Jesus. It goes to the GK though.
91'
W Ham haven't had a shot on target so far.
90'
The game is heading to a very quiet ending here.
87'
W Ham have finally done some attacking, but there's an evident lack of quality. W Ham aren't being threatened at all.
85'
Man C sub: Foden is on for D Silva. Hopefully it's nothing too serious.
84'
David Silva has picked up a leg injury and he won't be able to continue. Seems to be a thigh problem.
84'
Mark Noble goes for goal from 30 yards, it's miles over and it leads to ironic cheers from the home crowd.
82'
Man C win a corner off Bowen.
81'
78% possession for the home team.
80'
W Ham sub: Bowen on for Snodgrass. Far too late.
79'
Man City sub: De Bruyne is replaced by Gundogan.
77'
What a save by Fabianski!!!! De Bruyne plays an outrageous pass to Jesus who chests down and Fabianski makes a spectacular save from point blank range. Then, the Belgian runs 60 metres to win the ball at the other end.
75'
The West Ham fans look very unhappy in the stadium. Moyes has not brought on any strikers, nothing has changed since HT and the team are in the bottom three. They are in serious trouble.
74'
Antonio goes for a speculative effort from distance, but it's terrible.
71'
West Ham just can't get the ball off them.
70'
Vital intervention by Zabaleta! Aguero's cross is headed away as Jesus is about to pounce.
69'
Lovely play by City! They are enjoying themselves now near the West Ham area.
67'
There's a relaxed atmosphere around the Etihad now.
65'
Man City sub: Laporte is replaced by Stones.
64'
Jesus is caught now by Soucek.
62'
De Bruyne makes it 2-0 for City! B Silva plays a one-two with De Bruyne then takes a heavy touch and the Belgian runs in to beat Fabianski at his near post! Been coming.
61'
B Silva goes for goal now and his strike hits the stanchion post.
60'
W Ham sub: Fredericks goes off and is replaced by Zabaleta who is given a massive ovation.
58'
Zabaleta is getting ready to come on as Frederick's right shoulder seems to have popped out.
57'
Fredericks makes a run into City's half and Rodrigo makes shoulder to shoulder contact to send the Hammer's man to the ground. Then he gets hit with the ball to make things worse.
56'
A ball into the box by City is touched by a City man and the ball then strikes Jesus' arm.
54'
Aguero's shot goes wide and the ball rolls along the line, but doesn't go out. The ballboy picks up the ball and not realising and a drop ball is given.
54'
Aguero!!! De Bruyne gives the ball to Aguero inside the box and his shot across the GK goes narrowly wide!
53'
Rice plays a pass looking for Antonio and Otamendi slides in to clear.
50'
Declan Rice sends a ball into the box and then there is a head clash in the box with Rodrigo with Soucek!
49'
Man C with all the possession early on here.
47'
Chance for City! De Bruyne gives the ball to Walker with a splendid pass to the far side and Walker's cross is kicked away by the sliding Fabianski!
45'
HT: Man C 1-0 W Ham!!! Half-time at the Etihad! City in complete control here. Rodrigo scored from a corner after 30 minutes while Jesus and Aguero could have scored before that. Aguero should have also had a clear pen after being pulled back by Ogbonna. W Ham had done nothing going forward apart from one dangerous ball in by Antonio. Back for more in 10 minutes!
45'
Walker smashes well over from distance after a Hammers man heads the free-kick out to him.
45'
Masuaku makes a very late challenge on B Silva and City have a free-kick just on the corner of the box.
43'
Chance for W Ham!!! Rice passes the ball to Antonio and his cross in is very nearly tapped home by Rice and Snodgrass!
42'
Mendy's foul on Snodgrass sees West Ham get the ball after a couple of minutes.
39'
Chance for Man C!! B Silva attacks down the near side and D Silva bravely gets there before the goalie, but it goes wide
38'
B Silva sends another ball into the box after beating Masuaku brilliantly and Ogbonna heads away.
35'
Still 1-0 and West Ham are hardly getting out of their own half.
32'
David Silva wins a corner off Diop.
31'
Attempts: 8-0, on target: 4-0.
30'
Rodrigo makes it 1-0!!! De Bruyne's corner is headed by Rodrigo at the near post and the ball strikes the far upright before going in! Laporte was there at the back post to tap in, but he wasn't needed.
29'
Diop almost turns the ball into his own net from the corner.
29'
Mendy shoots and Fabianski makes a fine save to his right to knock it for a corner.
26'
Man City dominating and it looks pnly a matter of time before they score.
24'
Man City in complete control here, but still 0-0.
22'
West Ham get a corner, but it's cleared.
21'
Rice loses the ball in his own half, D Silva passes to Aguero who is pulled ball by behind by Ogbonna who even puts his hands in a rather delicate area! That was a stonewall pen.
20'
Massive penalty shout after Aguero is pulled back twice from behind as he's about to shoot! Kevin Friend isn't interested.
18'
B Silva shoots from inside the box and it's blocked.
17'
City counter at breakneck speed through De Bruyne, he has Aguero to his left and Jesus to his right, he looks for the Argentine and it's a terrible ball.
16'
Antonio is flagged offside.
15'
Cresswell perhaps lucky he didn't concede a pen there. His hand came down on the ball for a few seconds. The fact he was off balance saved him.
15'
De Bruyne's cross is held by Fabianski.
14'
Another chance for City and a huge chance for handball!! De Bruyne's pass finds Jesus inside the box, his first chance is blocked by Cresswell who puts his hand on the ball as he loses his balance and then he gets up to deflect the second effort for a corner.
13'
Top save by Fabianski!!! De Bruyne goes for goal from just outside the box and the keeper slides to stop with his legs.
12'
De Bruyne sends a ball into the box, it's deflected and Fabianski catches.
11'
West Ham try and work it towards the City goal, but a misplaced pass sees the ball go out for a throw in.
8'
Aguero!!! Mendy passes the ball from the far side to De Bruyne, he lays it off for Aguero and his strike with the outside of his foot goes narrowly wide!
7'
89% possession for the home team!
6'
Nothing comes from the resulting corner.
6'
What a chance for City!!! D Silva gets the ball and plays a fantastic pass to Jesus inside the box, but he tries to get too fancy by going round the goalie and that gives time for Fredericks to get back.
3'
West Ham finally get out of their own half after Rice sends a pass to Antonio, but Antonio fouls Laporte and City get the ball back.
2'
Man City are dominating possession and territory early on here.
1'
Man C attack and De Bruyne attempted pass to find Walker is too strong. Goal kick for the Hammers.
1'
Man City get us going from left to right in their sky blue shirts! West Ham in the black!
Prev.
The players are out here at the Etihad!
Prev.
It's eight degrees and cloudy in Manchester this afternoon.
Prev.
West Ham drew 3-3 v Brighton after throwing away a two goal lead late on. They make just the one switch. Masuaku is in and Haller drops to the bench.
Prev.
Man City lost 2-0 at Tottenham in their last game and they make five changes. Fernandinho, Zinchenko, Gundogan, Sterling (injured) and Mahrez are replaced by Laporte, Mendy, D Silva, Jesus and B Silva.
Prev.
The two teams last met back in August and Man City ran out 0-5 winners.
Prev.
2nd v 18th. 51pts v 24pts.
Prev.
Kevin Friend is the referee while Andy Madley is the VAR.
Prev.
West Ham XI: Fabianski (GK); Masuaku, Cresswell, Ogbonna, Diop, Fredericks; Noble, Rice, Soucek; Antonio and Snodgrass.
Prev.
Man City XI: Ederson (GK); Mendy, Laporte, Otamendi, Walker; D Silva, Rodrigo, De Bruyne; Jesus, Aguero and B Silva.
Prev.
Hello and welcome to live coverage of the Premier League match between Man City and West Ham from the Etihad Stadium. This time the match will go ahead!