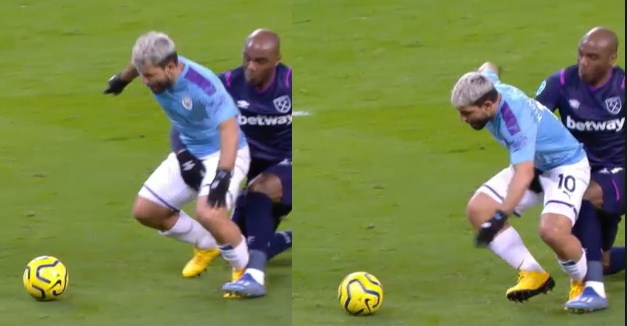 Ogbonna grabs Aguero between the legs... and it wasn't a penalty!
There are penalties that are difficult to justify, and penalties that aren't given but can't be explained. Ogbonna on Aguero was the latter, because it wasn't a grab, it was two, one of them on Aguero where the sun doesn't shine (let's imagine).
Aguero got the ball in the box, he turned and left his opponent on the floor, Ogbonna never gave up, and he committed the penalty pulling the other team's striker.
He grabbed him by the shirt, to then put his hand down to what he thought what his waist, while he fell. No, it wasn't Agueros' waist, it was between his legs.
February 19, 2020
Ogbonna subjected Agüero to a thorough search, something that outraged the Argentinean, but not because he had been groped, but because the referee did not point to the spot.
But as there is VAR, City let it go. The game would be stopped for it and justice would be done. Hopes were dashed, because almost two minutes later, when West Ham forced a corner, the game continued. VAR missed the action, to City's outrage.