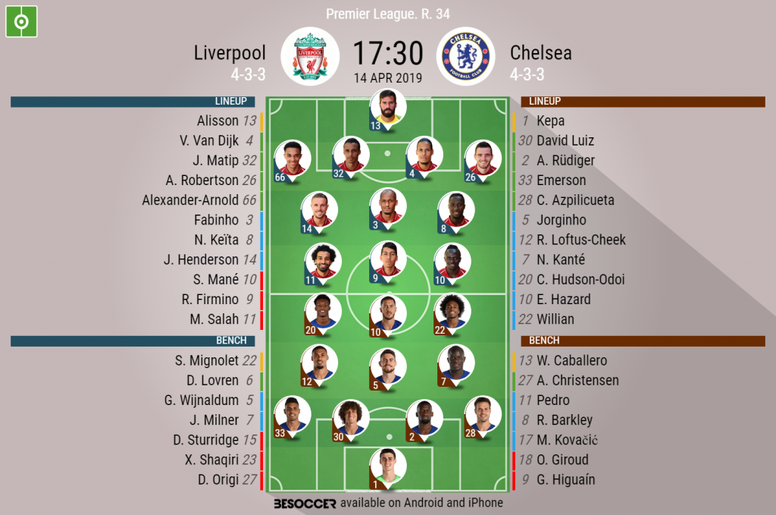 Liverpool v Chelsea - as it happened
Liverpool

Chelsea FC

Post.
Thanks for joining us for our live coverage, hope to see you again soon!
Post.
Liverpool go back to the top of the Premier League table and are now running out of games to drop points in, Chelsea remain in 4th for now, but Arsenal can overtake them with a win at Watford tomorrow.
93'
FT: Liverpool 2-0 Chelsea. Liverpool were superb for 10 minutes and punished Chelsea with 2 fantastic goals. Chelsea had a superb 10 minutes and were unable to score, that is the difference between the team now at the top of the league and a team struggling for a top 4 spot. Fairplay to Liverpool, and that Mo Salah goal will be remembered for some time.
92'
3 minutes of stoppage time.
89'
Mo Salah is treated to a standing ovation after his screamer, with Xherdan Shaqiri coming on.
83'
This game looks up now, Chelsea have had their chances and have not taken them, there was even the slip from 5 years ago from Andy Robertson and they survive that, the title is going down to the wire.
80'
Roberto Firmino has a good effort saved, then Chelsea get down the other end and Hazard has his cross blocked by Alexander-Arnold, it's been a strange game.
78'
Liverpool have a corner, having had the first one dealt with by David Luiz. Unsurprisingly they are in no rush to take it.
76'
James Milner comes on for Jordan Henderson.
75'
Ross Barkley comes on for Ruben Loftus-Cheek.
72'
Hazard causing real problems now he's down the left hand side, I'm sure Sarri will have been looking on regretting his decision to have him at striker...
67'
Georginio Wijnaldum comes on for Naby Keita.
65'
CLOSE! Salah again, but this one is well saved by Kepa, I have absolutely no idea what the score might be in this game but it is compelling viewing.
62'
Higuian breaks free and is defended well, Chelsea suddenly are all over Liverpool!
60'
CLOSE! AND ANOTHER ONE! Hazard again, but this time it is well saved by Alisson, this game is totally nuts now, and there is still half an hour to go!
59'
CLOSE! Eden Hazard hits the post! What a chance that is! Those have to be taken by Chelsea if they want to get back into this game, that may also have been the wake up call Liverpool needed...
57'
CLOSE! This is getting embarrassing now for Chelsea as Roberto Firmino almost makes it 3 in 5 minutes, Chelsea need some ball here...
56'
Gonzalo Higuain comes on for Callum Hudson-Odoi, presumably Hazard moving out to the left hand side.
53'
GOOOOOOOOOOOOOOOOOOAAAAAAAAAAALLLLLLLL! WHAT A GOAL! Mo Salah that is special! You do NOT save them! Everytime there is a doubt about this Liverpool side they do something special, that is certainly special!
51'
GOOOOOOOOOOOOOOOOOAAAAAAAAAALLLLLLLL! It's a huge goal in the title race with Sadio Mané scoring yet again! David Luiz won't want to see that one again as he gets nutmegged before Henderson puts in a perfect cross and Mane heads in, 1-0 Liverpool!
49'
It's a miss by Naby Keita and that is quite some miss too by the Guinean, not sure if that ball is still in Liverpool or not...
46'
Chelsea are back onto the field and are looking very relaxed with a few laughs being had, Liverpool follow and are now out at Anfield, what can the second half bring?
45'
HT: Liverpool 0-0 Chelsea. Despite all of Liverpool's possession they could only muster one shot on target, Chelsea will be the happier of the two sides without a doubt, with Willian and Sadio mane coming closest.
45'
3 minutes of stoppage time.
45'
Kepa makes a superb save from a Firmino effort, think the Brazilian was offside anyway but the ball in by Alexander-Arnold and the save by Kepa were both superb.
44'
Yellow card for Cesar Azpilicueta for a challenge on Sadio Mane and that has infuriated Maurizio Sarri, Michael Oliver needing to calm him down.
40'
Antonio Rudiger goes down again and this time he cannot continue, Andreas Christensen comes on for the German.
38'
CLOSE! Sadio Mané has a real chance there and sends it wide of the Chelsea goal, he should have scored that really!
37'
Liverpool for all their possession are yet to really penetrate the Liverpool defence, Chelsea however have been close on a few occasions on the counter attack...
33'
Liverpool are well on top in this game, yet it was them who nearly conceded just now.
30'
CLOSE! That's the chance of the game so far, and it came from Chelsea on the counter attack, Willian picking the ball up following a mistake from Liverpool and the Brazilian blasts it wide with Hazard waiting, once again Van Dijk was there to cut the passing lane.
27'
Liverpool have a corner after a couple of good efforts, one of which almost deflects into the back of the net. It remains 0-0 however.
24'
Hudson-Odoi getting forward again and causing problems, he is certainly not afraid to have a go, Rudiger looks alright by the way.
21'
Antonio Rudiger is down with a knee injury after being pushed over by Sadio Mane, he appears to be in quite a lot of pain and Andreas Christensen is warming up.
19'
Callum Hudson-Odoi plays a ball over the top for Hazard but it is far too much and the Belgian is clearly getting frustrated after a couple of heavy challenges, he gets another go after and it is straight at Alisson, this is end to end stuff but nobody has had a real chance yet.
17'
There it was, the possession statistic, Liverpool with 65% in the fast 17 minutes, still 0-0 though.
16'
Of course they now have retrospective bans in the Premier League, and with Salah clearly diving there, he may face the 3 match ban that is the punishment should he be found guilty.
14'
Mo Salah goes to ground there and he really ought to be booked for that, David Luiz goes in for a reckless challenge but does not connect with Salah and he falls to ground, he's got away with a booking there...
12'
CLOSE! Callum Hudson-Odoi has an effort saved, not sure if it was a shot or a cross but it was saved by Allison and almost straight into the path of Willian, N'Golo Kante went bursting forward there in brilliant fashion as always, what a player he is.
10'
Hazard is brilliantly tackled by Fabinho in the midfield there, the Belgian staying down with a shin complaint, Captain Azpilicueta trues to argue for a foul but referee Michael Oliver quite rightly waves him away.
8'
I would love to see the possession stats of this game so far, Liverpool have had all the ball in the first 8 minutes, I think Chelsea can probably count how many times they touched it on their 2 hands...
6'
CLOSE! Excellent play by the home side and a fantastic ball in by the ever fantastic left back Andy Robertson, Mo Salah with a good effort but well saved and held by Kepa.
5'
Chelsea with a nice little passage of play there, in the end they cannot quite get the ball to Hazard in time and he is offside. If anyone remembers the Liverpool v Tottenham game of a few weeks ago, this feels like that...
4'
Liverpool with all the ball so far in the early exchanges, they have not been able to penetrate the Chelsea defence yet though.
Prev.
The title race is likely to go down to the wire, every point matters, Chelsea defeated Liverpool in 2014 at Anfield to dent their hopes then, can they do it again today?
Prev.
The connotations of this game are massive, Chelsea are clinging onto top 4 hopes, with Manchester United and Tottenham both winning yesterday, whilst Arsenal face Watford at Vicarage road tomorrow. Liverpool were top of the Premier League table this morning, but are now 1 point behind Manchester City after they defeated Crystal Palace earlier.
Prev.
Liverpool have kept the same team as they played in the victory over FC Porto, with just the one change, Andrew Robertson is called into the side at Left back.
Prev.
So then, Chelsea have called Ruben Loftus-Cheek and Callum Hudson-Odoi back into the starting line-up, with Eden Hazard in the middle, the same position he played when Chelsea defeated Man. City earlier on this season.
Prev.
Liverpool team: Alisson; Alexander-Arnold, Matip, Van Dijk, Robertson; Fabinho, Keita, Henderson; Mane, Firmino, Salah.
Prev.
Chelsea team: Arrizabalaga; Azpilicueta, Rudiger, David Luiz, Emerson; Kante, Jorginho, Loftus-Cheek; Hudson-Odoi, Hazard, Willian.
Prev.
Team news will follow shortly!
Prev.
Hello and welcome to this live coverage of Liverpool v Chelsea in the Premier League.