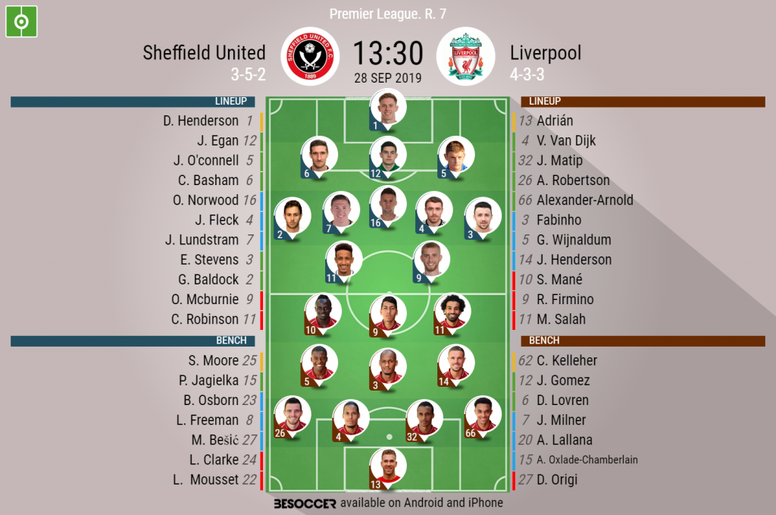 Sheffield United V Liverpool - As it happened.
Sheffield United

Liverpool

Post.
Thank you for joining us this afternoon; more Premier League action coming your way soon!
94'
FT: Sheffield United 0-1 Liverpool. A huge mistake from Sheffield United goalkeeper Henderson gives Liverpool the victory, although undeservingly. Klopp's men were not at their best today, with particularly average performances from the usually exceptional Mane and Joel Matip. Conversely, Sheffield United did not look like a Championship team at all, with a wonderful team effort making them the better side despite the result.
93'
Oxlade-Chamberlain is the last Liverpool change here. Time wasting from Klopp... He comes on for Mane, who had a terrible game.
90'
4 min of added time in Bramall Lane!
89'
Several chances at once here as Origi cuts inside to drag a shot wide into the side netting, then Salah has a shot blocked. Up the other end, McBurnie rises high to head wide from Baldock's cross. Can Sheffield United nick a point here?
89'
Clarke almost gets on the end of another through ball through the middle but Adrian spots this one earlier and races out to kick away. United have been excellent today. It's not their fault their keeper had one fatal moment of butterfingers.
87'
Milner comes in for Firmino.
86'
Clarke almosts gets his first Premier League goal!! A deep pass from one of his teammates reaches the striker right on time for him to score, but his shot goes over the bar. It also looks like it would have been offside anyways.
84'
Fabinho has an opportunity to send Alexander-Arnold into acres of space down the right, but seriously overhits the pass. Throw to United. Liverpool still not on it at all...
83'
Yellow card for Liverpool's goalkeeper Adrian for time-wasting.
80'
We reach the final 10 minutes of the game and it's still astonishingly levelled. Both the hosts and Liverpool are now trying their best to score a goal.
78'
Fun fact. Sheffield's latest sub Clarke is making his first Premier League appearance, at 34 years old. It's never too late folks!
78'
Henderson makes up for his mistake! Mo Salah was about to double Liverpool's lead as he reached a head to head with the goalkeeper, but he makes another wonderful save and the crowd goes wild!
76'
Clarke comes in for Norwood, who's had a very good game today.
72'
As if they were trying to make up for their poor second half despite currently leading in the scoresheet, Mo Salah gets a good shot but it goes straight to Henderson's hands manages to stop it this time.
70'
Huge goalkeeping mistake for Sheffield United's Henderson as Wijnaldum's powerful shot escapes his own hands. Very unfortunate for Sheffield, who deserved the draw after an outstanding performance. Meanwhile, Klopp's men get a struck of luck they scarcely deserve in this second half.
67'
Another chance for the hosts! This time it's Fleck but Robertson clears it with a little help from Van Dijk.
65'
Adrian makes a wonderful save! Although it looks like it was heading to the post anyways, Norwood's powerful strike got very close to opening the score!
63'
O'Connell had just been booked for kicking the ball away, delaying the goal-kick and wasting a precious bit of time for Liverpool. You've got to love it.
63'
Henderson leaves for Origi... Can the super-sub open the score for The Reds?
60'
Mousset on for Robinson for the home side.
59'
Liverpool earns a free-kick in the defensive half, but the shot is completely wasted by Tren Alexander-Arnold.
56'
Mane looking like a completely different player today. Liverpool0s best actions have come from the Senegalese, but also thier worst.
53'
CHANCE FOR THE HOSTS! Norwood swings the corner in and McBurnie rises high to nod over! Another chance for Sheffield United goes begging. If Chris Wilder's side were just a bit more clinical up front, they'd be a force to be reckoned with in the Premier League. The Reds starting to really struggle here.
52'
Henderson and Matip accidentally crash into each other and Henderson goes down for a few minutes. Klopp looking frustrated in the sidelines.
51'
Van Dijk clears again. He's looking like a one man defence right now, and he's very unhappy about it.
49'
Very strange play here as Robertson and Alexander-Arnold switch flanks momentarily.
47'
Van Dijk gets on the end of a Sheffield corner to prevent anything coming of it. United get a throw on the right and Baldock's cross veers towards Adrian. The keeper claims it, and the home fans yell for a corner... But no corner here.
45'
HT: Sheffield Utd 0-0 Liverpool. A fine 45 minutes for United, who have asked Liverpool some serious questions. The league leaders will no doubt get a talking-to at half-time ... and yet Sadio Mane really should have two goals to his name. Lovely bit of Premier League football here, and more to look forward to in the next half!
45'
Matip saves Liverpool from an embarrassing start here! Robinson holds up the ball down the left and curls in an in-swinging cross. Lundstram climbs at the far post to nod it towards McBurnie, whose header comes off Matip. The hosts looking confident!
43'
WHAT A CHANCE! Salah squares to Firmino, he then plays Mane in who hits the post! Firmino gathers the ball but is thwarted as he looks to strike... How have Liverpool not scored?
41'
Sheffield still pushing and destabilizing Liverpool here. Norwood gets past the Livepool defence and manages a pass to Baldock, who then forwards it to McBurnie, but Van Dijk manages to clear it.
40'
Thrilling game despite the scoreline!
38'
Liverpool go on the counter quickly - that's when United look most vulnerable. Wijnaldum scoops an effort way over from distance but his shot is not the best.
36'
Norwood switches the play to Stevens on the left. He looks for Robinson who gets between Matip and van Dijk but mistimes his header! The striker should have done better there.
35'
Liverpool are trying to speed up their play. Another Alexander-Arnold cross is nodded away by Egan. Robertson fires a first-time shot across goal from range that's always heading wide.
33'
A stunning pass from Van Dijk goes all the way to Mane who has Liverpool's first real chance of the game, but the Senegalese player makes what is probably the worst touch to the ball of his career. he is head to head with the goalkeeper, but his shot is wide. In his defense, it does look like that's not what he meant to do.
32'
The rain has stopped at least! That should help both teams.
30'
Terrible foul to Mo Salah by Stevens, and Fleck follows up with an accidental toe-poke to his opponent's arm. Salah winces in pain, he's not happy either. that's a yellow in my books...
28'
United are rattling Liverpool here! McBurnie spots Robinson lurking at the far post and loops a cross towards him that van Dijk just about intercepts. Lundstram's follow-up from the right of the box is blocked. There's a mighty roar from the home fans. They're loving this and righfully so!
26'
Stevens caught napping. Salah curls one wide from inside the box but he doesn't get his shot just right and Sheffield escapes this time.
24'
Alexander-Arnold shoots but it goes over the bar! First real chance for the Reds here as Sheffield are clearly well organised and are proving slightly problematic. for them.
21'
What a chance from the hosts! The striker reaches the edge of the box and rasps a shot across Adrian and well wide left. He should have done better, with Liverpool extremely light at the back. The hosts ripped the league leaders apart there.
20'
Mane is penalised for putting in a high boot. United free-kick. Norwood finds Fleck who plays a slide-rule pass to Robinson. Robinson lets fly from just outside the box and isn't too far away. Liverpool aren't having this easy so far.
17'
Liverpool's wait until the 16th minute for their first shot of the game was the longest they've been held at bay in a match since they played Southampton this past April. United's gameplan is clearly working for now.
15'
A really good start from the home side! The hosts are defending well despite Liverpool's efforts, with Wijnaldum providing a good chance but it's deflected wide for a corner.
12'
Corner for Sheffield United as Henderson goes down and looks hurt.
7'
McBurnie gets down the inside-left channel and tries to jink past Matip in the box but can't beat the Cameroonian. United certainly aren't intimidated by their illustrious visitors.
4'
A good start to the game by Sheffield under the pouring rain! They get a first shot on target but it's comfortably stopped by Adrian.
Prev.
We are moments away from kick-off here in Sheffield and the rain us pouring down! Oh, England...
Prev.
A potential cause for concern for Sheffield United is their lack of an obvious talisman so far this season. The Blades have seven players on one goal this season, including forwards Robinson, Sharp, Mousset and McBurnie. Sharp scored 24 league goals in the Championship last season. Can he get going in the top tier?
Prev.
Liverpool picked up an impressive win too last Sunday. Their 2-1 win at Stamford Bridge against Chelsea wasn't all that convincing, but will surely prove a massive result when we look back on the season
Prev.
Sheffield United are unchanged from the side that enjoyed that smash-and-grab win over Everton last week. Likewise, Liverpool name the same team as the one that beat Chelsea 2-1 at Stamford Bridge last Sunday. Both teams are back to normal service after their EFL Cup games midweek.
Prev.
Sheffield United: Henderson, Basham, Egan, O'Connell, Baldock, Lundstram, Norwood, Fleck, Stevens, McBurnie, Robinson.
Prev.
Liverpool starting XI: Adrian, Alexander-Arnold, Matip, Van Dijk, Robertson, Henderson, Fabinho, Wijnaldum, Salah, Firmino, Mane.
Prev.
We're 25 minutes away from kick off! Let's look at those line-ups, shall we?
Prev.
Hello and welcome to our live coverage of this early afternoon's clash between Sheffield United and Liverpool as the Reds try to keep their unbeaten streak!