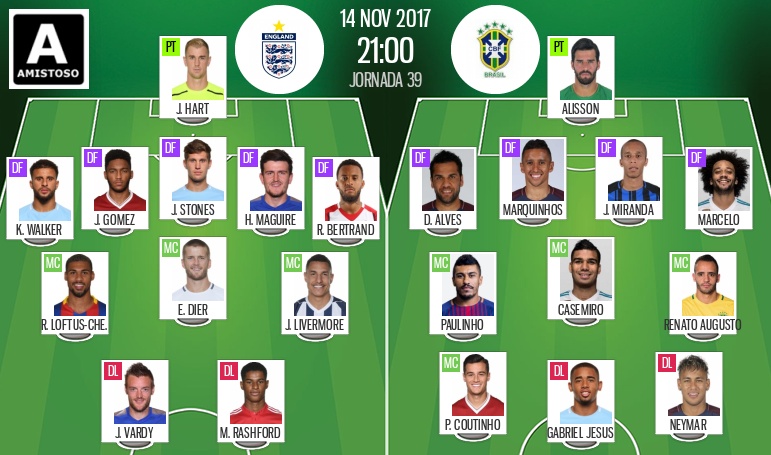 England V Brazil - As it happened.
Inglaterra

Brasil

93'
It's all over! England withstood the onslaught from arguably the best team in next summer's World Cup with plenty of positives to be drawn from the fixture by Southgate.
92'
England break, Walker cross into the box but Abraham cannot get there. It looks like a draw here...
88'
Young crosses into the box and Abraham flicks on for Solanke unmarked at the back post but Alisson is on him to block.
84'
Late surge from Brazil. Paulinho is found in the box but Hart is equal to his finish to beat it away for a corner.
80'
Young's first contribution is vital as he blocks Willian's shot when the Chelsea man was through on goal.
78'
Dier goes to curl it into the far post but it's always going wide.
77'
Positive start for Solanke, winning a free-kick in a dangerous position. Dier standing over it.
75'
Fernandinho splits England down the middle and goes for goal from 20 yards. Hart is beaten and the low ball skims the outside of the post. That was close!
74'
Jesus is replaced by Firmino.
74'
Solanke and Abraham on for Vardy and Rashford.
72'
England are trying to press a bit higher up on the pitch, but they will have to be careful not to concede in the final minutes.
67'
Willian replaces Coutinho. Fernandinho on for Augusto.
64'
Both teams making an effort to break forward now, but Brazil look very dangerous when Neymar picks up the ball in the final third.
58'
Good move from Rashford down the right as he tries to go past three Brazil players. He looks threatening.
56'
Alves is booked for a foul on Bertrand.
54'
Livermore booked for a foul on Neymar.
53'
Rashford is brought down by Casemiro. The free-kick finds Maguire in the box and his header is deflected into the hands of Alisson.
49'
Things get a bit heated up between Livermore and Alves, but teammates manage to cool the situation.
46'
That was the clearest chance of the game yet! Brazil break down the middle and the ball is threaded into the box for Jesus who pokes it goalwards for Hart to save.
45'
Brazil get the ball rolling again.
45'
Both teams are back out for the second half. It's still goalless at Wembley, is that about to change?
45'
Both teams return to the dressing rooms after a fast-paced first half that has somehow lacked clear chances. Southgate will be happy with his team's defending with Brazil's possession yet to break them down.
45'
Brazil with one last attempt forward. Coutinho feeds Neymar who gets a cross off at the byline but Hart gathers.
42'
Brazil pressing very high up on the pitch and England struggle a little to pass their way out.
39'
End-to-end stuff now, with Lingard giving England a more vertical approach and Southgate's men are able to get the ball in more dangerous areas.
34'
Loftus-Cheek is replaced by Lingard. The midfielder looks gutted as he limps off the pitch. It could have something to do with a thigh injury he has carried for some time...
31'
Neymar beginning to prove a nuisance. First, he nutmegs Livermore and then he finds Jesus in behind but the flag is up again.
28'
No clear-cut chances here, but England are being made to sweat. Brazil's long spells of possession beginning to pose a threat.
26'
Stones looks to be hurt after taking the ball from Neymar. He will play on.
22'
Neymar brilliantly finds Jesus in behind the defence with the outside of his foot bu the City striker is caught offside. That was a real chance...
18'
Paulinho has a go from the edge of the box and it flies into the stands.
16'
England try to reclaim some of the ball. Rashford with a promising strike from 25 yards but Alisson is firmly behind it.
12'
Alves' cross from the right is headed towards goal by Jesus but Hart gets down to save. Great intensity from the visitors.
9'
Brazil hogging the ball in midfield with the travelling supporters making plenty of noise.
5'
Brazil have settled on the ball now, with England camped inside their own half.
3'
Alves finds space in the right channel and fires a few yards wide from distance.
3'
Early bit of defending by Loftus-Cheek cancelling out Neymar. England break but Vardy's cross comes to nothing.
2'
2 added minutes. The keepers yet to be truly tested.
1'
Dani Alves is down after an early knock from Vardy. He's fine to continue.
1'
England get us underway here... giving the ball to Brazil straight away.
Prev.
Eric Dier and Dani Alves captain their sides here. Kick-off moments away...
Prev.
'God save the Queen' blares from the speakers at Wembley before players from both teams shake hands.
Prev.
A fine attendance in Wembley to welcome both teams. Brazil's national anthem first.
Prev.
A mild 11 degrees Celsius here and both teams have made their way back into the dressing rooms. Not long to go...
Prev.
The hosts were greeted by fans as they came out for their pre-match warm-ups...
Prev.
Brazil: Alisson, Alves, Marquinhos, Miranda, Marcelo, Paulinho, Casemiro, Augusto, Coutinho, Gabriel Jesus, Neymar
Prev.
England: Hart, Gomez, Stones, Maguire, Walker, Livermore, Loftus-Cheek, Dier (captain), Bertrand, Rashford, Vardy
Prev.
Good evening and welcome to England's second friendly after the goalless draw against Germany. Brazil will prove another stern test for Southgate's men after passing with flying colours on Friday.