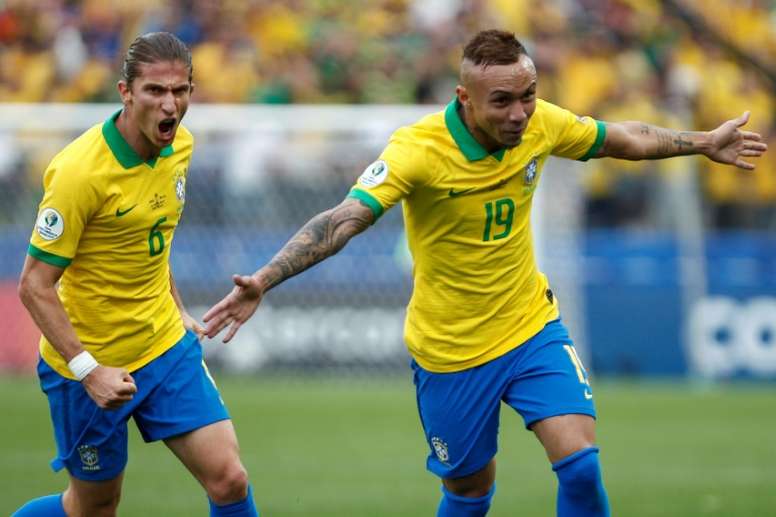 'Little onion' Everton making Brazilians cry with joy at Copa
But one player more than any other has given rise to renewed optimism within the Selecao ranks, and that's Everton -- a player reportedly courted by both Manchester clubs, City and United, and Paris Saint-Germain.
The dynamic 23-year-old winger has been a revelation for Brazil since earning a starting berth in their final Copa America group game against Peru.
He had already scored the third goal in a 3-0 win over Bolivia in the tournament opener after coming on as a substitute.
After the dire 0-0 draw with Venezuela, Everton was one of two changes made by coach Tite to Brazil's attacking triumvirate -- Gabriel Jesus was also promoted to the starting XI -- and rewarded his coach with another goal and swashbuckling performance down the left flank.
And in his home stadium in Porto Alegre, where he plays for Gremio, Everton was the one player who lifted the crowd onto their feet every time he got the ball in an otherwise frustrating blank against Paraguay in the quarter-finals, before Brazil won on penalties.
"He's the one who opens up the marking, who faces up to it," said Atletico Madrid full-back Filipe Luis, who's linked up well with Everton down the flank.
"Those who benefit are those players playing close to him."
That's a move that will likely materialize once this tournament is over for the player nicknamed "Cebolinha" -- little onion, a reference not to him making defenders cry but to his likeness to a cartoon character of the same name due to the tuft of hair on his otherwise shaved scalp.
His popularity amongst Brazilian fans is evident and largely because he's one of just three of the 23-man tournament squad still playing his trade in his homeland.
The other two -- reserve goalkeeper Cassio and second choice full-back Fagner -- have yet to feature, meaning Everton is the only home player gracing the Copa America that local fans are able to watch at close quarters.
Although that is almost certain to change soon enough.
"He's a player who's ready to play in Europe," said Felipe Luis.