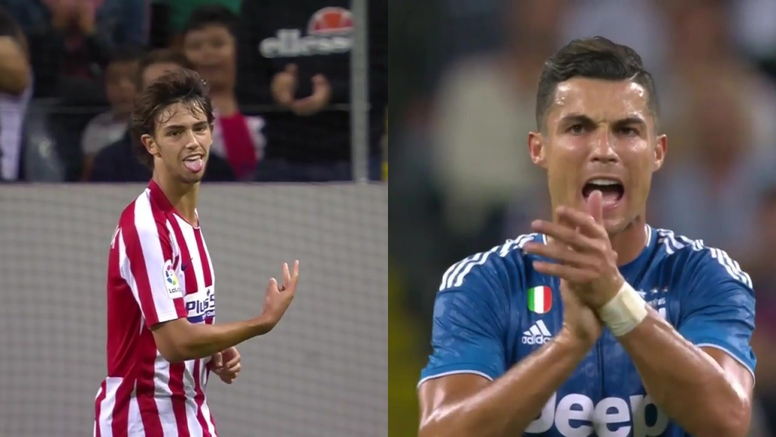 Joao Felix outshines Cristiano in pre-season friendly
CR7 always gets the media attention wherever he goes. Atletico's new Portuguese star will also gets lots of media attention in the future because of his immense quality. It is not a case of him being better than Ronaldo, but he used the occasion to showcase his talent once again.
Joao Felix's game against Juventus is still important despite it being only a friendly. His two goals compared to none scored by his opponent and friend Cristiano, is not irrelevant. You cannot compare the two at this moment in time, but it shows Felix will be a star of the future.
In fact, the ex-Benfica man is actually expected to make more goals than what he scores. However, in this match, he was more of a goalscorer than Cristiano Ronaldo. He went into the area and finished on both goals.
In the first of his goals, he came from a distance and shot first time with the inside of his foot into the corner. In the second, 10 minutes later, he showed lots of strengths: power, getting away from defenders, instinct and finishing.
Ronaldo hardly had dangerous chances. He had a shot from the edge of the area in the first half, but it went over. This Saturday, his compatriot Joao Felix was the centre of attention.
Five matches, four goals and three assists are his stats so far this season. Some of those are against past Champions League winners and big favourites to win the CL next season like Real Madrid and Juventus.
Many stars get worse as they age but Cristiano Ronaldo actually improved with age and he is still a top player.
But Atletico Madrid's 126 million euro signing has just begun what should be an exciting and memorable adventure at the Madrid based club. We do not know how much he will achieve, but he has a very promising future. In any case, he outshone Cristiano Ronaldo in this friendly in Sweden.