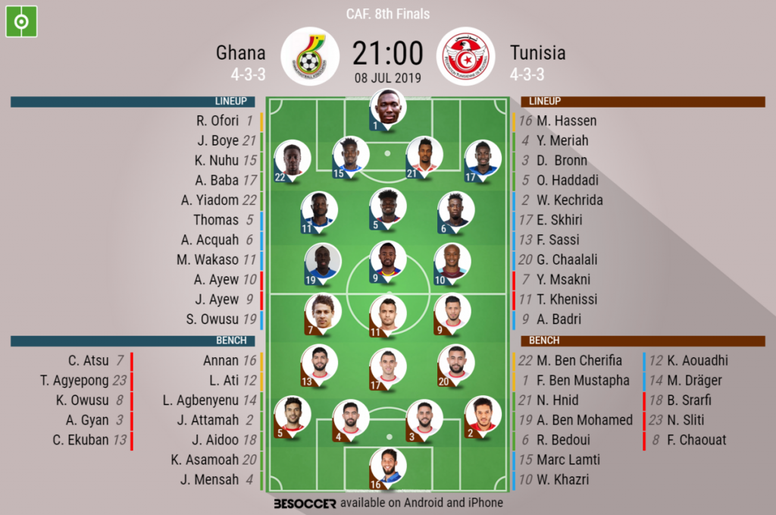 Ghana v Tunisia - as it happened
122'
Ghana 1-1 Tunisia (Tunisia win 5-4 on pens): That was entertaining! Ghana were better in extra-time, but Tunisia were brilliant at penalties and the goalie brought on for the pens saved Ekuban's penalty to send Tunisia through to play Madagascar in the quarters. Thanks for joining us and hope to see you again soon!
122'
He scores!!!! It wasn't a great penalty, he stuttered in his run up, he hit it to the keeper's right, but the goalie remained motionless! Tunisia win!!!! Tunisia win 5-4 on penalties!!!
122'
Match point. Sassi to take.
122'
Thomas Partey scores!!! Ben Mustapha dives correctly to his right, but it is just over his hands.
122'
Miss and lose now for Ghana.
122'
Meriah scores!!!! Ofori finally gets close to one and his dives to his right, but it is right in the corner and he can't reach!!! 3-4 after 4.
122'
Agbenyenu makes no mistake for Ghana! He sends the goalie the wrong way.
122'
Bronn sends it in the top corner!!! Brilliant pen. 2-3 after 3 each.
122'
Ekuban now. And it's saved!!! He got close to the first two and this time, he dives down to his right to save an average penalty.
122'
Khazri now. Both GKs were told to stay on their line prior to the shootout. He scores!!!! The GK goes to his right, the ball to his left.
122'
Jordan Ayew keeps his cool and the GK guesses right, but it's too high for him. 2-1
122'
Sliti scores for Tunisia!! In the top corner! GK went the wrong way.
122'
Wakaso to take first pen and he scores!! The GK goes the right way and he gets a good hand down to his right, but it still goes in. Should have been saved.
121'
And the referee does not allow play to resume after the sub!! It's time for pens.
121'
Tunisia sub: Ben Mustapha comes on for Hassen! Change of GK for the pens!
121'
Ayew then gets the ball back and passes for Kwabena whose shot is saved.
120'
Ghana win a corner here!!! Nothing comes of it.
116'
Ghana sub: Baba goes off, Agbenyenu on.
115'
What a chance!!!! Long punt forward is flicked on by Gyan and Jordan Ayew slices his effort wide. That was a golden opportunity!
114'
This is becoming rather dull now. It's going to penalties. No risks being taken.
111'
Tunisia make a rare adventure into Ghana area! Sliti's cross in is easily dealt with though.
110'
Tunisia are playing for penalties while Ghana are trying to find an opening, but I think we'll have a shootout.
108'
Ghana continue to attack, but a ball in gets deflected to the goalkeeper.
107'
Ghana sub: Owusu off, Kwabena on.
105'
Asamoah Gyan fires well over and that's the end of the first period of extra time!
104'
Ghana continue to press, but Tunisia are looking fairly solid in defence.
102'
Ghana make a dangerous move, but there's a foul in the area.
99'
Khaaaaaazri!!!! He tries his luck from 30 yards out and Ofori makes a great save to tip it over for a corner.
98'
Chaalali concedes a free-kick. Dangerous position for Ghana this! It hits the wall!
97'
Sliti makes a lovely 30 yard run and should shoot for goal, but he inexplicably passes for Khazri who is offside. A rare chance for Tunisia.
96'
Boye has a free header from a corner, but heads wide. Ghana dominating extra time here.
94'
Asamoah Gyan heads at the keeper after a lovely ball in by Wakaso.
92'
Yiadom shoots at goal and Hassen saves! Owusu then claims for a penalty for handball after his effort is blocked. Not for me.
91'
Extra time underway here!
90'
Ghana wanted to put a free-kick into the box and ref blows for extra time despite play being stopped for two minutes after the goal! Ghana are rightly fuming. Appalling refereeing.
90'
Chaalali crosses into the area and Ofori catches.
90'
Ghana attack and a dangerous ball into the box is cleared away. Ghana are going for a winner!
90'
We are back underway after the ref spoke to someone on one of the benches.
90'
Ghana score!!!! Unbelievable!!! The free kick is sent in and Bedoui heads it into his own net. Extraordinary. And Tunisia had just made a defensive substitution and Bedoui had just come on!!!
90'
Five extra minutes!!! The referee has had a terrible game, but he has done well with this.
90'
Tunisia sub: Khenissi makes way and Bedoui comes on.
90'
Nuhu is booked, but we don't know why. There should be lots of injury time. Minimum 5 minutes.
89'
Khenissi goes down now. The game is very stop start now and this is exactly what Ghana don't want.
86'
Wakaso finally gets his long overdue booking for a bad foul on Chaalali.
84'
Ghana sub: Andre Ayew is replaced by Asamoah Gyan.
83'
Tunisia sub: Sliti comes on for Msakni as he goes off injured on a stretcher.
81'
A lovely corner is put in by Ghana, but no teammate can get on the end of J Ayew's delivery.
80'
The keeper is getting treated.
79'
Ghana hit the post through Wakaso!
78'
Jordan Ayew is denied by Meriah after the goalkeeper had the ball kicked out of his hands by Kechrida.
76'
Khenissi is down injured and now goes off after being followed by Nuhu.
75'
Ghana sub: Acquah off, Ekuban on.
74'
That's a big blow for Ghana and they have just 15 or 20 minutes to find a goal.
74'
Khazri has been brilliant since he came on.
73'
Tunisia score!!!!!!!! It's been coming. Khazri gets the ball, passes to Kechrida and his square pass is hit home by Khenissi. Khenissi's strike takes a deflection off the defender, hits the post and goes in.
71'
Off the bar!!!!! Khenissi heads the corner at the near post and it strikes the bar!!! Two glorious opportunities for Tunisia!
70'
What a chance for Tunisia!!!! Kechrida passes the ball to Khazri, he beats the defender and squares it for Khenissi whose shot is goalbound before the ball hits a defender on the arm. Tunisia want a penalty, but not intentional!
68'
Tunisia sub: Khazri on for Badri.
67'
Badri sends a fantastic ball into the box and Khenissi is unable to get contact on the ball with his head as Yiadom puts him off.
66'
Ghana send in a free kick which is cleared away now.
64'
Baba tries to put a cross in after Jordan Ayew lays the ball off to him. The cross is poor though.
61'
We are still goalless here and despite the early flurry of the chances by Ghana at the start of the second half, it has calmed down a bit now. I think we could end up having extra time.
58'
Tunisia attack now, but the move ends in Ghana's half after Sassi is penalised for a foul.
56'
Andre Ayew is fouled by Kechrida.
54'
Tunisia get a corner and the ball in takes a couple of deflections before going wide. It hits Boye's arm actually and it was out. That could have been a penalty to Tunisia.
52'
Ayew heads a Wakaso long throw wide now and actually wins a corner. Ghana are really pressing now.
51'
Owusu!!!! He beats the defender on the far side and then nearly sneaks it in at the keeper's near post. Hassen is able to touch it wide!
50'
Wakaso sends in a long throw and Jordan Ayew heads over!
49'
Msakni is booked for that. Very harsh.
48'
Wakaso is fouled by Msakni and he requires some treatment.
47'
Ayew makes a nice run down the near side crosses into the box and it deflects off a defender before going to the goalkeeper.
46'
There's also talk of a Tunisian man heading that back in the disallowed goal, but I don't think that was the case.
46'
The second half is underway here!
45'
Do we think the Tunisian player's foot is playing him on? I actually think he's not offside.
45'
Tunisia started the half better and then Ghana came into the game and had a good spell. Hassen had to make a double save before Tunisia looked slightly on top again. Ayew then had a goal disallowed for handball and it wasn't handball, but possibly offside. I still can't tell whether the ref has got lucky or not.
45'
We have just seen it even though it looked offside, the Tunisian player's back foot could actually be playing him on. It would be one for the VAR 3D technology that one. It looked clearly offside, but the Tunisian man's back foot may be playing him on. It is highly controversial.
45'
HT: Ghana 0-0 Tunisia! The Ghana players surround the referee and they are still fuming about the goal.
45'
Ayew accidentally stamps on Skhiri's ankle as he jumps for the ball. Accidental though.
45'
We have just seen another replay and it's 100% not a handball, in fact, it isn't even close to it, but I think it's just offside. Poor officiating, but I think they have ended up getting lucky.
43'
It was corner which was half cleared, the ball was then passed to Thomas who controlled with his shoulder and squared for Andre Ayew to tap in. Handball was given, but it was actually offside.
42'
Ayew scores but it's disallowed for handball! It's not handball as Thomas uses his shoulder, but it was just offside. The officials have made two mistakes to end up getting the right decision!!! No VAR remember.
41'
What a shot!! Acquah hits a powerful shot which looked to be going wide, but the GK took no changes.
39'
Khenissi is down injured after taking a stray arm to the head from Nuhu.
37'
That's a bad foul by Acquah on Sassi, but no card issued.
35'
Tunisia attacking more now, but the goalkeepers have had very little to do up to now bar that double save by Hassen 20 minutes ago.
33'
Tunisia have a corner here, but it comes to nothing.
29'
Yiadom sends a good cross in, but the keeper gets there first.
27'
Boye is down here for Ghana. He suffered a strong challenge from an opponent and seems to have picked up a leg injury.
25'
Chance for Thomas!!! Chaalali is dispossessed by Acquah, he gives it to Thomas and the Atletico man tries a very ambitious effort from 30 yards which flies over.
23'
Badri is played in and then cuts it back into the area, but Nuhu gets there just before Khenissi and is brought down.
21'
Tunisia win a corner thanks to Khenissi! From the resulting corner, Badri takes, Khenissi flicks on and as Skhiri is about to flick on, Thomas makes a vital interception!
20'
Chaalali is brought down now by Wakaso. That was another poor challenge by Wakaso and he is lucky not to have seen a yellow card by now.
16'
Double chance for Ghana!!! Wakaso's ball is headed by Nuhu at the far post who finds the post and then Andre Ayew picks up the rebound and forces a superb save out of Hassen. Ghana really pressing now.
15'
Ayew earns a corner after his cross in is tipped away by Hassen.
13'
Wakaso sends another ball and Boye is unable to reach it at the far stick.
12'
Ghana win a corner from a free-kick after Haddadi heads it out.
11'
Boye is booked for that foul and deservedly so. He blocked the keeper as he tried to run out and start a quick counter.
11'
Wakaso's free kick is caught by Hassem who is then fouled by Boye.
10'
Free kick to Ghana now on the near side.
9'
Ghana get a free-kick which is headed away and then the second ball goes straight to the keeper.
7'
Dangerous move by Tunisia! Msakni makes a move and plays in Khenissi, but Yiadom makes a sliding challenge to stop him as he was bearing down on goal.
6'
Thomas Partey wins a corner off Sassi after good build up play with Yiadom. The set piece is headed away at the far post though.
4'
Tunisia in control here early on, but early days as of yet.
2'
The free-kick is launched in by Sassi and Msakni cannot get it before it goes out of play.
2'
Msakni is brought down by Wakaso and it's a free kick.
1'
Fast start here by Tunisia and Badri shoots from outside the box, but he scuffs it and it rolls through to the keeper. Can't really call it a chance.
1'
Tunisia get us going here in the red from right to left!
Prev.
The anthems have bee played and were are ready to start! A reminder that we will have extra time and penalties if we are level after 90 minutes.
Prev.
The players come out onto the pitch!!
Prev.
The referee for tonight's match is Victor Gomes of South Africa. A reminder that there is no VAR as it comes into play from the quarter-final stage. In other words, after this game.
Prev.
The match is from Ismailia and it is final match the venue will be hosting in this tournament. It is currently 29 degrees. A hot evening.
Prev.
Tunisia make four switches for tonight's game compared to the goalless draw with Mauritania. Aouadhi is replaced by Sassi while Sliti, Srarfi and Khazri also drop to the bench. Chaalali, Khenissi and Badri come in for them.
Prev.
Ghana make three changes from the victory over Guinea Bissau. Boye and Aidoo are replaced in central defence by Nuhu and Baba while Acquah plays instead of Kwabena in midfield.
Prev.
Tunisia entered the last 16 having drawn all three of their matches. They drew 1-1 v Angola and Mali before their game v Mauritania saw neither team able to break the deadlock.
Prev.
Ghana topped their group with five points after drawing 2-2 with Benin and 0-0 with Cameroon before defeating Guinea-Bissau 2-0 thanks to goals from Jordan Ayew and Thomas Partey.
Prev.
Tunisia team: Hassen (GK); Haddadi, Meriah, Bronn, Kechrida; Sassi, Skhiri, Chaalali; Msakni, Khenissi and Badri.
Prev.
The teams are in so let's get going. Ghana XI: Ofori (GK); Baba, Boye, Nuhu, Yiadom; Acquah, Thomas, Wakaso; A Ayew, J Ayew and Owusu.
Prev.
Good evening and welcome to our live coverage of the African Cup of Nations last 16 clash between Ghana and Tunisia from Egypt. A place in the quarter-finals is up for grabs and the debutants Madagascar await. Who will win? Stay with us to find out.