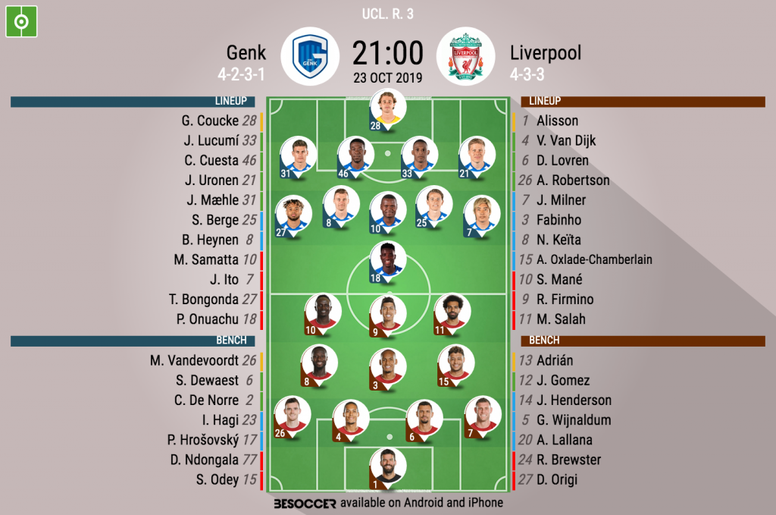 Genk v Liverpool - as it happened
Post.
As always, we thank you for joining us tonight! See you next time for some Champions League action.
90'
FT: Genk 1-4 Liverpool. Klopp's men deliver as expected, and the scoresheet would make you think it was a match resembling a thrashing, but Genk were a worthy rival in a wonderful night for Oxlade-Chamberlain.
90'
Ianis Hagi comes on to replace the impressive Junya Ito.
90'
Three minutes of added time!
88'
Then, moments later, Genk get a well-deserved consolation goal as Lovren should just pump the ball out of play in a difficult area on the right but he dithers and is dispossessed, leading to the ball working its way into the box. Odey does well to finish it off on the spin, striking the ball low past Alisson.
88'
A lot happened in two minutes! Let us break it down for you: Salah receives Mane's pass ball on the edge of the area with his back to goal, wriggles through a non-existent space between Colombian duo Cuesta and Lucami and drags the ball in off the far post with his right foot. Great goal.
87'
AND GENK FIRE BACK!!!!! THEY'VE SCORED AGAINST THE CHAMPIONS OF EUROPE!!!
86'
MO SALAH MAKES IT 4-0!!!!!!
84'
Odey receives a yellow for a tug on Keita. It doesn't look worthy of a booking...
81'
Genk respond by making their second change of the match as Odey replaces Onuachu.
80'
Divock Origi, who came through the ranks at Genk before leaving for Lille, is warmly applauded by both sets of fans as he comes on to replace Roberto Firmino. Prodigal son.
78'
The Reds had been looking for it... And there it is! Firmino finds Salah, who stabs a dainty through pass towards Mane charges onto the ball and lifts it confidently over Coucke on the run. Lovely goal.
73'
Wijnaldum coming on for goalscorer Oxlade-Chamberlain! Standing ovation from the hosts' supporters. Well deserved.
69'
Gomez is booked for trying to stop Ndongala from taking a quick throw-in.
67'
Dieumerci Ndongala replaces Theo Bongonda.
63'
Andy Robertson makes way for Joe Gomez as James Milner moves out to left-back. Klopp is clearly keen to give him a rest whenever he can.
59'
Sheer quality and creativeness from Oxlade-Chamberlain, who now scores his second goal of th game after a while away from the pitch. Firmino played a simple pass back to the goalscorer, 25 yards from goal, and he stabbed a first-time shot with the outside of the boot that curved around Coucke and went into the net of the underside of the bar. Glorious football.
56'
AND ANOTHER GOAL FOR OXLADE-CHAMBERLAIN!!!!!!!
55'
Genk's Colombian Lucumi and Cuesta centre-halfs are pretty impressive tonight. Scouts, this one's for you...
52'
Liverpool are clearly still on top though... The stats show they've had 400 passes to Genk's 100.
50'
Ito, whose movement is giving Robertson a few problems, wins a corner for Genk. Nothing comes of it, but they have picked up where they left off in the first half. Liverpool need to be more careful... The Belgians are not frightened by Klopp's men.
45'
HT: Genk 0-1 Liverpool. The visitors lead with one goal from Oxlade-Chamberlain, and they've had most of the possession since, but the hosts have had their fair share of opportunities and have shown they deserve their spot in European football. See you in 15!
45'
Two minutes of stoppage time here! Liverpool really need to find a way to win away from home... Good pace from the hosts on the counterattack, but this is not good enough from the UCL champions.
41'
Genk, and Samatta in particular, have played with infectious intent. Great stuff from the Tanzanian.
40'
WHAT A CHANCE FOR THE HOSTS!!! Ito's brilliant low cross from the right just evades the stretching Samatta in the middle. The ball runs beyond Bongonda, who retrieves it and hits a shot that is blocked by Milner. It would have probably been offside had they scored, but it was another exhilarating moment.
37'
Quiet period here as Liverpool are trying to find their feet to score another goal.
33'
Salah misses a great chance, heading wide from six yards after Lovren flicked on a right-wing corner. Poor heading there.
30'
Keita dives to win a foul in a good position, 25 yards from goal and to the right of centre. Salah shoots... But it's too high!
25'
It was apparently disallowed for offside in the build-up rather than a foul. I hope that's the case, because it was a storming header. We haven't seen a replay of the offside yet, but the referees spent al little while looking at it.
25'
VAR will have a look... possible off-side here. Still, what a beautiful header by Samata, who also happens to be the first Tanzanian player in the UCL!
25'
GENK SCORE WITH AN AMAZING HEADER BY SAMATA!!!!
24'
Couckie makes a vital block from Mane's close-range shot. That could have easily gone in... It came from a short-range one-two with Firmino, who added yet another beauty to his highlights reel with a rabona reverse pass.
21'
Corner for Liverpool, but they can't quite produce anything of it. Pace has slowed down since kick.off.
18'
Ito makes a wonderful solo run and with only Lovren and goalkeeper Alisson to go over, he loses his footing. Unfortunate for one of Genk's older players, who looks understandably frustrated.
15'
Liverpool have the possession but they don't look half as comfortable as they do in Anfield. Still, they're clearly looking for another goal, and they definitely have that extra "oomph" with Salah and Mane present tonight.
12'
Genk are have no option but to play on the break, launching long passes to the quick, muscular front pair of Samatta and Onuachu. I suspect Liverpool will face these tactics a lot away from home this season. It's certainly giving them some trouble...
9'
Another ball over the top catches Liverpool out, and this time it's Onuachu through on goal. The Genk forward can't beat Alisson, though, and the visitors get away with it again. What is going on?
5'
Chaos at the back from Liverpool as a simple ball over the top completely catches their defence out of shape. Samatta controls and bears down on goal but his shot is a poor one that flies well wide. Those mistakes don't always go unpunished...
2'
Well that didn't take long, did it? Oxlade-Chamberlain picks up the ball in the No.8 position and cracks a low shot into the bottom corner to give the Reds the lead. The keeper seemed to think that was going wide - he didn't even dive.
1'
AND LIVERPOOL GET AN OPENING GOAL!!!!!
Prev.
Almost underway here... Teams are out now!
Prev.
Meanwhile, Genk have not won in 14 attempts in the Champions League proper, going back to 2002, although they have drawn six of their seven games at home – including a worthy 0-0 against Napoli last month.
Prev.
It's an odd thing to say about the current UCL title holders, but Liverpool needs to tighten their game here. They have lost their last four group games away from home in Champions League, making qualification for the knockout stages – when they really come alive – tougher than it needs to be.
Prev.
Liverpool's goalkeepers out for their warm-up and there is already a healthy smattering of visiting supporters in the ground. Not a massive allocation at this 21,500-seater stadium, but they're sure to make themselves heard.
Prev.
Liverpool's team showing five changes from the weekend draw with Manchester United and there are plenty of talking points in there. Joe Gomez's omission will raise a few eyebrows, the 22-year-old missing out at both right-back and central defence despite the absence of Trent Alexander-Arnold and Joel Matip. James Milner and Dejan Lovren get the nod in those positions, while there is also plenty of change in midfield.
Prev.
Meanwhile, Liverpool are coming off a nervy - and surprising - draw against struggling Manchester United.
Prev.
The home side come into this fixture looking to build on their 0-0 draw with Napoli last time out in Europe. Liverpool, meanwhile, will be seeking to secure back-to-back victories after beating Salzburg 4-3 in their previous match in Group E.
Prev.
Genk starting XI: Coucke; Maehle, Cuesta, Lucumi, Uronen; Heynen, Berge; Ito, Onuachu, Bongonda; Samatta.
Prev.
Liverpool starting XI: Alisson; Milner, Lovren, Van Dijk, Robertson; Oxlade-Chamberlain, Fabinho, Keita; Salah, Firmino, Mane.
Prev.
Let's take a look at the line-ups shall we?
Prev.
Hello and welcome to our minute to minute coverage of this evening's Champions League clash as Klopp's Liverpool take on the Belgians Genk to assure their spot in the next round!